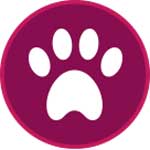 For February, Good Sam's 12 Months of RVing Calendar rounds up parks that cater to pets.
These select RV parks pamper RVers' faithful travel companions with dog runs, wash stations and other pet-friendly facilities. And because an estimated 50 percent of all RVers hit the road with their four-legged friends, it's no surprise that so many parks welcome pets along the road with a variety of animal-friendly features.
Parks in Focus: At Escondido RV Resort – Sunland in Southern California, a fenced-in, third-acre off-leash dog park features agility equipment and shade trees with benches. Pet-owning RVers who pull into Fort Stockton RV Park in Texas, will discover a dog run along with several nature trails that give pets the opportunity to experience new smells and sights.
---
Pet Travel Tip: Before making a reservation at a pet-friendly park, RVers are urged to note the park's restrictions on breeds. While staying, follow common sense when it comes to barking dogs. Find more pet tips in the 2016 Good Sam RV Travel & Savings Guide.
---
Recommended RV Parks for Pets (by state and city):
Arizona
Canyon Vistas RV Resort & Superstition Views Resort, Gold Canyon
Superstition Views Resort & Canyon Vistas RV Resort, Gold Canyon
Good Life RV Resort, Mesa
Sun Life RV Resort, Mesa
Val Vista Village RV Resort, Mesa
Valle Del Oro RV Resort, Mesa
Grand Canyon Railway RV Park, Williams
Fortuna de Oro RV Resort, Yuma
Sundance RV Resort, Yuma
California
Bakersfield River Run RV Park, Bakersfield
Bakersfield RV Resort, Bakersfield
Chula Vista RV Resort and Marina, Chula Vista
Sands RV & Golf Resort, Desert Hot Springs
Escondido RV Resort – Sunland, Escondido
Flag City RV Resort, Lodi
The Fair Park RV, Pleasanton
Mountain Gate RV Park, Redding
Santa Nella RV Park, Santa Nella
Florida
Little Willie's RV Resort, Arcadia
Gulf Coast Camping Resort, Bonita Springs
Blueberry Hill RV Resort, Bushnell
Dunedin RV Resort, Dunedin
Seminole Campground, Fort Myers
Sunseeker's RV Park, Fort Myers
Three Lakes RV Resort, Hudson
Ocala Sun RV Resort, Ocala
Georgia
Scenic Mountain RV Park & Campground, Milledgeville
Idaho
Village Of Trees RV Resort, Declo
Snake River RV Park and Campground, Idaho Falls
RedRock RV and Camping Park, Island Park
Suntree RV Park, Post Falls
Kansas
Deer Creek Valley RV Park LLC, Topeka
Louisiana
Shreveport/Bossier KOA, Shreveport
Maine
Saco/Old Orchard Beach KOA, Saco
Maryland
Fort Whaley RV Resort & Campground, Whaleyville
Massachusetts
Pinewood Lodge Campground, Plymouth
Missouri
America's Best Campground, Branson
Lazy Day Campground, Danville
Montana
Grandview Camp & RV Park, Hardin
Nevada
Lakeside Casino & RV Resort, Pahrump
New Jersey
Shady Pines RV Resort, Galloway
New York
Lake George RV Park, Lake George
Ohio
Cross Creek Camping Resort, Columbus
Oregon
Phoenix RV Park, Salem
Pennsylvania
Mountain Creek Campground, Carlisle
Texas
Fort Amarillo RV Resort, Amarillo
Treetops RV Resort, Arlington
Austin Lone Star RV Resort A Sun Community, Austin
Sandy Lake MH & RV Resort, Carrollton
Fort Stockton RV Park, Fort Stockton
Midessa Oil Patch RV Park, Midland
Stone Creek RV Park, San Antonio
I 35 RV Park & Resort, Waco
Utah
Shady Acres RV Park, Green River
Washington
Horn Rapids RV Resort, Richland
Wisconsin
Milton KOA (Formerly Hidden Valley RV Resort & Campground), Milton