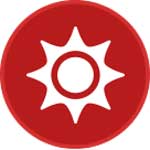 For January, Good Sam's 12 Months of RVing Calendar celebrates Snowbird RV parks across North America's Sun Belt.
These select January RV parks roll out the welcome mat for the estimated 1 million nomadic RVers who escape the winter chill in the Snow Belt in search of t-shirt-and-shorts weather.
Located sunny states from California to Florida, the Snowbird Parks on the list provide all of the perks needed to maintain and entertain their wintertime communities. Guests at these one-stop destinations can choose from a varied menu of fun and entertainment, from social mixers to tours of the nearby attractions.
Parks in Focus: Looking for rejuvenation? Weary travelers will get pampered at California's Springs At Borrego RV Resort & Golf Course, which features a Wellness Center offering acupuncture, mineral baths and holistic massage. At Emerald Beach RV Park in Navarre, Florida, a full calendar of activities—from Hawaiian Luaus to casino trips—keep guests busy through the winter.
---
Snowbird Tip: Before traveling, Research the snowbird park you're interested in to make sure it offers activities and programs that suit your interest. Find more snowbird tips in the 2016 Good Sam RV Travel & Savings Guide.
---
Recommended Snowbird RV Parks (listed by state, then city):
Alabama
Lake Osprey RV Resort, Elberta
Arizona
La Hacienda Sun RV Resort, Apache Junction
Sunrise RV Resort, Apache Junction
Superstition Sunrise RV Resort, Apache Junction
Quail Run RV Resort, Arizona City
Vista Del Sol RV Resort, Bullhead City
Casa Grande RV Resort & Cottages, Casa Grande
High Chaparral RV Park, Casa Grande
Palm Creek Golf & RV Resort, Casa Grande
Ho Ho Kam RV Park/Mobile Village, Coolidge
Arizona Oasis RV Resort, Ehrenberg
Pueblo El Mirage Golf & RV Resort, El Mirage
Silverado RV Resort (formerly Desert Valley RV Park), Eloy
Desert Gardens RV Park, Florence
Eagle View RV Resort At Fort McDowell, Fort McDowell
Arizonian RV Resort, Gold Canyon
Canyon Vistas RV Resort & Superstition Views Resort, Gold Canyon
Gold Canyon RV & Golf Resort, Gold Canyon
Superstition Views Resort & Canyon Vistas RV Resort, Gold Canyon
Cotton Lane RV & Golf Resort, Goodyear
Destiny Phoenix RV Resorts, Goodyear
Valley Of the Sun RV Resort, Marana
Apache Wells RV Resort, Mesa
Good Life RV Resort, Mesa
Mesa Regal RV Resort, Mesa
Towerpoint Resort, Mesa
Pleasant Harbor RV Resort, Peoria
Desert Shadows RV Resort, Phoenix
Phoenix Metro RV Park, Phoenix
Pioneer RV Resort, Phoenix
Sunflower RV Resort, Surprise
Far Horizons RV Resort, Tucson
Mission View RV Resort, Tucson
Prince Of Tucson RV Park, Tucson
Rincon Country East RV Resort, Tucson
Rincon Country West RV Resort, Tucson
Blue Sky RV Resort, Yuma
Shangri-La RV Resort, Yuma
Sun Vista RV Resort, Yuma
Sundance RV Resort, Yuma
Westwind RV & Golf Resort, Yuma
California
The Springs At Borrego RV Resort & Golf Course, Borrego Springs
The Lakes RV & Golf Resort, Chowchilla
Caliente Springs Resort, Desert Hot Springs
Sam's Family Spa, Desert Hot Springs
Sands RV & Golf Resort, Desert Hot Springs
Sky Valley Resort, Desert Hot Springs
Blackstone North RV Park, Fresno
Golden Village Palms RV Resort – Sunland, Hemet
Indian Waters RV Resort & Cottages, Indio
Indian Wells RV Resort, Indio
Shadow Hills RV Resort, Indio
Jackson Rancheria RV Park, Jackson
Desert View RV Resort, Needles
Needles Marina RV Park, Needles
Coyote Valley RV Resort, San Jose
Santee Lakes Recreation Preserve, Santee
Vineyard RV Park, Vacaville
Olive Ave RV Resort, Vista
Florida
Craig's RV Park, Arcadia
Cross Creek RV Resort, Arcadia
Little Willie's RV Resort, Arcadia
Imperial Bonita Estates MH & RV Resort, Bonita Springs
Horseshoe Cove RV Resort, Bradenton
Vista Del Lago RV Resort, Bradenton
Belle Parc RV Resort, Brooksville
Paradise Oaks RV Resort, Bushnell
Red Oaks RV Resort, Bushnell
Clearwater RV Resort, Clearwater
Big Cypress RV Resort, Clewiston
Sonrise Palms RV Park, Cocoa
Buttonwood Inlet RV Resort, Cortez
Kissimmee South RV Resort, Davenport
Beverly Beach Camptown RV Resort  & Campers Village, Flagler Beach
Paradise Island RV Resort, Fort Lauderdale
Indian Creek RV Resort and Manufactured Housing Community, Fort Myers Beach
Seminole Campground, Fort Myers
Shady Acres RV Park, Fort Myers
Siesta Bay RV Resort, Fort Myers
Sunseeker's RV Park, Fort Myers
Upriver RV Resort, Fort Myers
Woodsmoke Camping Resort, Fort Myers
Roadrunner Travel Resort, Fort Pierce
Sandhill Shores, Fort Pierce
Destin West RV Resort, Fort Walton Beach
Live Oak Landing, Freeport
Rainbow RV Resort, Frostproof
Central Park RV Resort, Haines City
The Boardwalk RV Resort, Homestead
Gulf Coast RV Resort, Inglis
Flamingo Lake RV Resort, Jacksonville
Pecan Park RV Resort, Jacksonville
Tropical Palms RV Resort, Kissimmee
Whisper Creek RV Resort, La Belle
Grand Oaks RV Resort, Lady Lake
Lakeland RV Resort, Lakeland
Rainbow Village RV Resort, Largo
Holiday Travel Resort, Leesburg
Camelot RV Park, Inc, Malabar
Aztec RV Resort, Margate
North Lake Estates RV Resort, Moore Haven
Crystal Lake RV Resort, Naples
Lake San Marino RV Resort, Naples
Marco-Naples RV Resort, Naples
Naples Motorcoach Resort & Boat Club, Naples
Pelican Lake Motorcoach Resort, Naples
Emerald Beach RV Park, Navarre
Navarre Beach Camping Resort, Navarre
Brighton RV Resort, Okeechobee
Silver Palms RV Resort, Okeechobee
Harris Village & Adult RV Park LLC, Ormond Beach
Fiesta Grove RV Resort, Palmetto
Winterset RV Resort, Palmetto
Daytona Beach RV Resort, Port Orange
Port St Lucie RV Resort, Port St Lucie
Sun N Shade RV Park, Punta Gorda
Hide A Way RV Resort, Ruskin
Wekiva Falls RV Resort, Sanford
Sun-N-Fun RV Resort, Sarasota
Whispering Palms RV Resort, Sebastian
Buttonwood Bay RV Resort & Manufactured Home Community, Sebring
Outback RV Resort At Tanglewood, Sebring
Lazydays RV Resort, Seffner
North Beach Camp Resort, St Augustine
Markham Park & Range, Sunrise
Tallahassee RV Park, Tallahassee
Bay Bayou RV Resort, Tampa
Happy Traveler RV Park, Thonotosassa
The Great Outdoors RV, Nature & Golf Resort, Titusville
Quail Run Resort, Wesley Chapel
Williston Crossings RV Resort, Williston
Happy Days RV Park, Zephyrhills
Leisure Days RV Resort, Zephyrhills
Georgia
Golden Isles RV Park, Brunswick
Cecil Bay RV Park, Cecil
Atlanta South RV Park, McDonough
Biltmore RV Park, Savannah
River's End Campground & RV Park, Tybee Island
River Park RV Park, Valdosta
Kansas
Air Capital RV Park, Wichita
USI RV Park, Wichita
Louisiana
Cajun Palms RV Resort, Henderson
Cypress Bend RV Park, Iowa
Pine Crest RV & MH Park of New Orleans, Slidell
Mississippi
Parker's Landing RV Park, Biloxi
Sun Roamers RV Resort, Picayune
Nevada
Duck Creek RV Park, Las Vegas
Las Vegas RV Resort, Las Vegas
LVM Resort, Las Vegas
Riviera RV Park, Las Vegas
Nevada Treasure RV Resort, Pahrump
Preferred RV Resort, Pahrump
Wine Ridge RV Resort & Cottages, Pahrump
New Jersey
Philadelphia South KOA, Clarksboro
New Mexico
American RV Resort, Albuquerque
Cedar Cove RV Park, Elephant Butte
Elephant Butte Lake RV Resort, Elephant Butte
Sunny Acres RV Park, Las Cruces
Oklahoma
Oak Glen RV Park, Chandler
Choctaw Casino Resort KOA, Durant
Roadrunner RV Park, Oklahoma City
Winstar RV Park, Thackerville
South Carolina
Camp Lake Jasper RV Resort, Hardeeville
Tennessee
Clarksville RV Park LLC, Clarksville
Texas
Casa Del Valle RV Resort, Alamo
Mont Belvieu RV Resort, Baytown
Sandy Lake MH & RV Resort, Carrollton
Colonia Del Rey RV Park, Corpus Christi
Traders Village RV Park, Grand Prairie
The Vineyards Campground & Cabins, Grapevine
Advanced RV Resort, Houston
Allstar RV Resort, Houston
Eastlake RV Resort, Houston
Fallbrook RV Resort, Houston
Lakeview RV Resort, Houston
Northlake RV Resort, Houston
Southlake RV Resort, Houston
Traders Village RV Park, Houston
Westlake RV Resort, Houston
Kenwood RV Resort, La Feria
Bentsen Grove Resort MHP, Mission
Hill Country Cottage and RV Resort, New Braunfels
Island RV Resort, Port Aransas
Greenlake RV Resort, San Antonio
Stone Creek RV Park, San Antonio
Travelers World RV Resort, San Antonio
Pecan Park Riverside RV & Cabins, San Marcos
Rayford Crossing RV Resort, The Woodlands
Lonestar Yogi, Waller
Snow To Sun RV Resort, Weslaco
Utah
WillowWind RV Park, Hurricane
McArthur's Temple View RV Resort, St George
Virginia
R & D Family Campground, Milford