Phillips RV Park, based in Evanston, Wyoming, has served RV travelers for the long haul.
Have you ever wondered what it would be like to run a business with only your family? How about running a family business for 80 years together? The Phillips family has owned, managed and operated Phillips RV Park by themselves for just that, 80 years.
Over those 80 years, Phillips RV Park has physically changed; but the family's desire to stick together and create a lasting impression on their customers has not.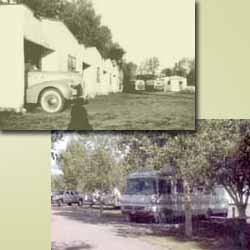 In the spring of 1936, Phillips Camp and Sinclair Service was established in Evanston, Wyoming, by Bona Elbert and Maggie Phillips. That winter, Bona Elbert Phillips passed away, leaving Maggie Phillips with five kids to raise and a business to run.
At this time, gas cost 19 cents per gallon, and ethyl cost 21 cents per gallon. Besides offering gas services, there were seven trailer spaces, tent camping and 11 cabins with adjacent open garages available to customers traveling the Lincoln Highway. Customers shared a community bath and shower house with running well water.
By 1945 the gas station was removed and it was renamed Phillips Cabins. At this time, cabins rented for $1.25 per night or $1.50 with linens. The cabins were heated with coal stoves and because there was no running water, water had to be carried to the rooms. Trailer spaces rented for 25 cents per night.
In 1947, the name was changed to Phillips Motel and Trailer Park, when six of the cabins were moved to the front of the property with the other five cabins and the garages, all of which were then turned into motel rooms making a total of 15. Electricity, heating and water were installed into the rooms and individual bathrooms were added, making them more modern.
In 1955, Maggie Phillips' son, Ranold Phillips, married Joyce Guild and became manager of the business; throughout the following years, their three daughters became involved with the business, until they graduated from high school. Also in the late '50s black and white TV's were added to all the rooms and a laundry building was built with a ringer washer and one dryer. Later on 3 washers and a dryer was installed.
In 1968, 28 full hook-up spaces were added. At this time the charge for a room with 1 bed was $4.50 per night and a room with 2 beds were $8 per night. Around this time, color TV's were installed.
During the Oil Boom in the late '70s and early '80s, prices for a trailer space were raised to $8 per night and monthly/weekly rates were offered; and a small playground was added. Highway signs were installed on both ends of town.
In 1982 the present day restroom/shower/laundry building was built.
By 1985, the motel rooms were torn down and the name changed to Phillips RV Park. Seventeen additional full hook-up spaces were then added. During the late '80s, the old laundry room was turned into an Internet room for customers.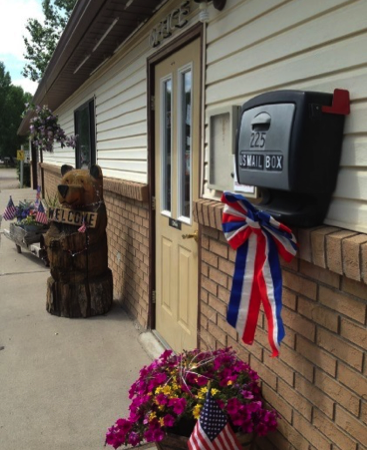 Underground sprinklers were installed in 1990, to replace above ground irrigation pipe for watering large areas of the lawn.
In 1992 the park office was enlarged and remodeled.
In the early 2000's cable TV, wireless Internet and a new playground was installed. Over the course of eight years more than 300 cottonwood trees were cut down due to old age and disease. As cottonwoods were cut down, new trees were planted.
In 2013, a new face to our sign out front and a new highway sign was installed.
For 31 years, Darla Phillips, a third generation family member, manages the business and is now being helped by her two children Courtney and Brian. Phillips RV Park now has 56 full-hook-up RV spaces with the family constantly looking for improvements. Recent projects have included installing more underground sprinkler systems, improving the dog run and building a waterfall from scratch.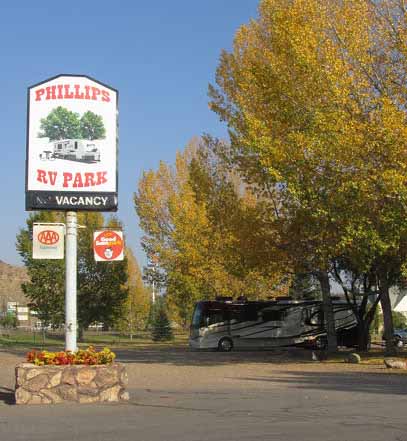 From 1936 to 2016 the Phillips family has worked together. Every year the 2nd, 3rd, and 4th generation Phillips family members strive to improve and maintain Phillips RV Park, as well as welcome every customer. In 80 years, Phillips RV Park has seen many changes since it first opened its doors; what will the future hold for this family legacy?
During the 2016 season Phillips RV Park will be celebrating their 80th Anniversary. Stop by and help us celebrate our 80th year! Planned activities will be held every Friday throughout the summer. We look forward to seeing you!
To make a reservation or if you have any questions please contact us by phone 800-349-3805 or email [email protected].
You can also visit our website for more information www.phillipsrvpark.com, or find us on Facebook.