Discover luxury camp for grownups at Cal Am's Valle Del Oro in Mesa, Arizona.
—or nothing at all! With two large heated pools and two whirlpool-spas, a state-of-the-art fitness center, a fantastic wood shop, tennis courts, water volleyball, bocce ball and horseshoes, a softball field and a ballroom, guests can have their pick of the finest amenities.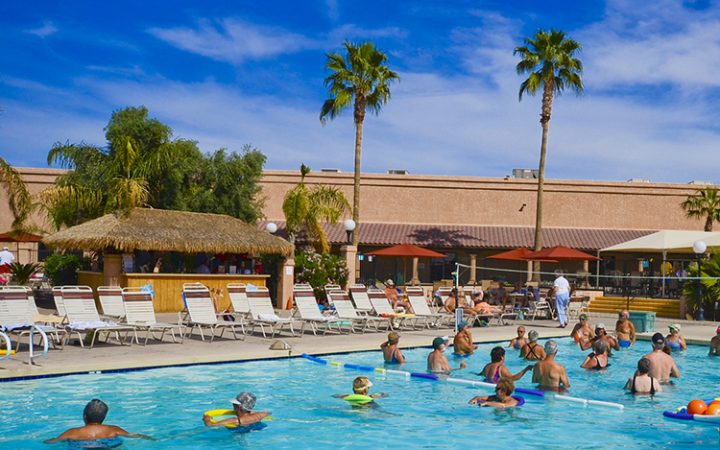 Join a hiking or biking club, take a ceramics, stained glass or computer class, or take advantage of discounted rates at several local golf courses. This premier Mesa, Arizona, community is filled with friendly neighbors and staff, and a small-town, caring atmosphere. The sunny, bright days are filled with more activities than you can imagine (more than 100 choices!) so you'll never be bored.
Keep yourself busy in the billiards room, country store, computer lab, fitness center, laundry facilities, lapidary facilities and wood shop. Get the competitive juices flowing playing horseshoes, shuffleboard, softball, pickleball or tennis. After a full day of activities, relax in the pool or hot tub—then turn in for the night and do it all again the next day.
Picture the gamut of world-class amenities mere steps away, all at one RV resort. With everything from the largest ballroom on a Cal-Am property—making events and celebrations larger than life—to a garden scale railroad park that's a miniature to-scale world, it's at Valle del Oro. Go out and join a game. Hire your own personal trainer. Or just elevate the art of lounging. The sun-kissed "Golden Valley" is a luxury camp for grownups. Better put "play" on your calendar.