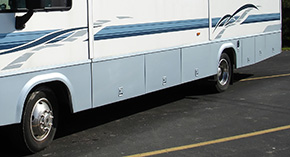 Basements in motorhomes are life-savers when it comes to storage. They can store so many needed items, some that you just would not want to store within the living quarters of the coach, like a spare tire, oil, antifreeze, tool chest, lounge chairs, beach umbrella, hoses, electrical extensions, etc. But how much you can store does not just depend on the available basement volume, but really relies on exactly how you store those items.
Most of today's Class A coaches are 102 inches in width, yielding about 101 inches of basement from side to side. This means the storage area center is around 50 inches from the access doors. Unfortunately, our arms can only reach and grab about 25 inches. So, if we are to use this center space, some items may require us to partially climb into the storage area. Inevitably we will find ourselves leaving much of this "no-man's land" vacant as it is just too awkward to access.
So, how can we capture this potentially empty space and make it easily accessible?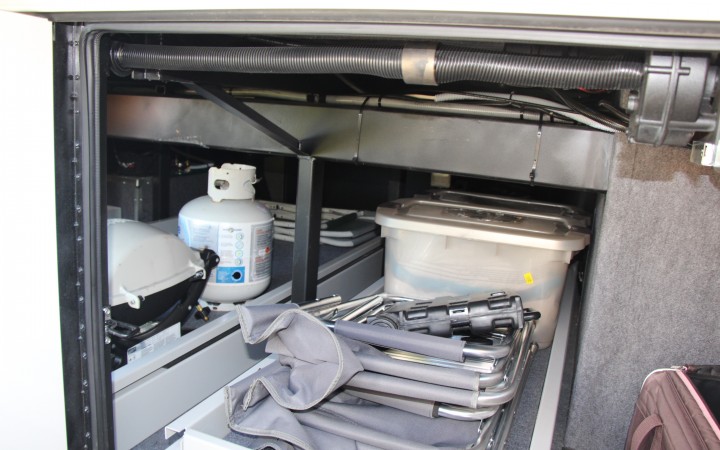 The installation of sliding storage trays is certainly one great method. These are shallow trays that basically conform to the floor space in a basement section. They are fastened to rails on both sides and allow the entire tray the ability to be pulled out, on either side, to about half their length. This gives you total access to the middle area without any obstructions. The slide locks when it is returned into the basement.
But there are several drawbacks to this solution. First, 4 to 5 inches or more of the basement height is taken up by the slide mechanism. Likewise, several inches are lost in the overall width, again needed for the mobility mechanics. Additionally, this adds extra dead weight to the vehicle, reducing the allowable net weight it can carry. This feature, of course, adds to the cost whether ordered on a new coach or aftermarket.
However, there is another possible solution. Purchase some large plastic storage bins and place all your items in them. These large bins can easily be accessed from either side and will allow full use of the entire storage area. They also keep items dry and secure from mice or like perils.
Okay, one more tip. Store items that you use more often closer to the access doors. This will help alleviating the need to move other pieces each time. Also, if you use the plastic bin solution, be sure to label each clearly describing the entire contents. This will help speed up retrieving the needed item.
Better basement organization can not only help you access what you need quicker, but it also will allow you to carry more if you so desire.