By Bob Difley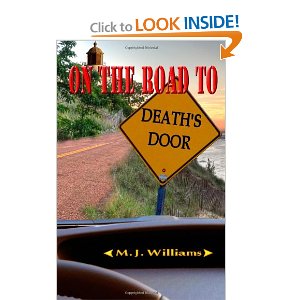 It's not often that a novel comes along that includes the heroes or perpetrators using an RV, but in M. J. Williams' new mystery novel, On the Road to Death's Door, the hero (Stan) and heroine (Emily) are recent retirees and have just taken up fulltime RVing in their Winnebago motorhome. Stan  retired from teaching college history and she is a retired homicide investigator and they have driven their Winnebago to a Florida resort for a family reunion of his former college buddies in Wisconsin's scenic Door country.
While Emily leaves Stan to tip a few beers with his buddies, she goes off on one of her passions–shopping garage sales–a questionable hobby for someone living in a motorhome. However, the danger of overloading her rig with the rug she bought to go perfectly under their awning and which is rolled up on the roof becomes of secondary importance when they later throw the rug off the roof and a dead body rolls out of the rug .
Everyone seems to be involved in who dunnit, including the curmudgeon local sheriff and all the college buddies–a hippie priest, a politician and would-be governo of the state, and a business executive. The case becomes more complicated as more bodies turn up and retired cop Emily becomes more involved–and it becomes even more obscure who the killer is and why, and who else may be in danger.
You can find this entertaining read on its Amazon page for $10.95 in paperback or $2.99 for the downloadable Kindle version.