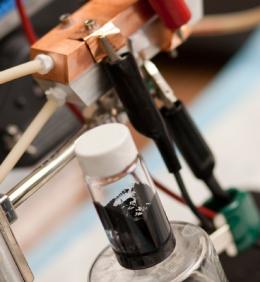 By Bob Difley
A radically new approach to the design of batteries, developed by researchers at MIT," reports Physorg.com, "could provide a lightweight and inexpensive alternative to existing batteries for electric vehicles and the power grid. The technology could even make 'refueling' such batteries as quick and easy as pumping gas into a conventional car."
The new battery uses a method called a semi-solid flow cell, where solid particles are "suspended in a carrier liquid and pumped through the system. In this design, the battery's active components — the positive and negative electrodes, or cathodes and anodes — are composed of particles suspended in a liquid electrolyte. These two different suspensions are pumped through systems separated by a filter, such as a thin porous membrane."
The report states that "one important characteristic of the new design is that it separates the two functions of the battery — storing energy until it is needed, and discharging that energy when it needs to be used — into separate physical structures. (In conventional batteries, the storage and discharge both take place in the same structure.) Separating these functions means that batteries can be designed more efficiently . . . "
If this design works out as tests have indicated, it will have the effect of reducing the size of EV batteries to half their size. It will also reduce the cost making EVs more competitive with gas or diesel vehicles. It also would permit refueling by pumping out the liquid slurry and pumping in a fully charged replacement. Another option would be to swap out the depleted battery for a charged one, similar to what we do now with barbecue propane tanks.
These new semi-solid flow batteries could provide ten times the improvement in energy density over present liquid flow-batteries that have a very low density, and lower the cost below lithium-ion batteries.
Check out my website for RVing tips and for my ebooks, BOONDOCKING: Finding the Perfect Campsite on America's Public Lands, Snowbird Guide to Boondocking in the Southwestern Deserts (now $6.99 and also available in a Kindle version), and 111 Ways to Get the Biggest Bang out of your RV Lifestyle Dollar.