Minimalism on the road always looks nice when you're perusing the internet, scoping out pictures of camper vans to add to your Pinterest board. But what does it actually mean to apply minimalism to your own life, especially when you factor in long-term travel? It can feel overwhelming to even know where to begin, which is why we compiled some incredibly practical ways you can begin to implement minimalism in your life. Even if your goal isn't to have a Pinterestworthy camper van, you'll be able to travel more easily and often with fewer material things weighing you down.
Before You Hit the Road
Know how much to get rid of
It can be tempting to go all-or-nothing with paring down your belongings, but remember to be realistic about what you do still need. Getting more streamlined doesn't equate to owning nothing, and there are items in your life that make things more convenient or comfortable, so don't sacrifice your quality of life in your attempt to own less.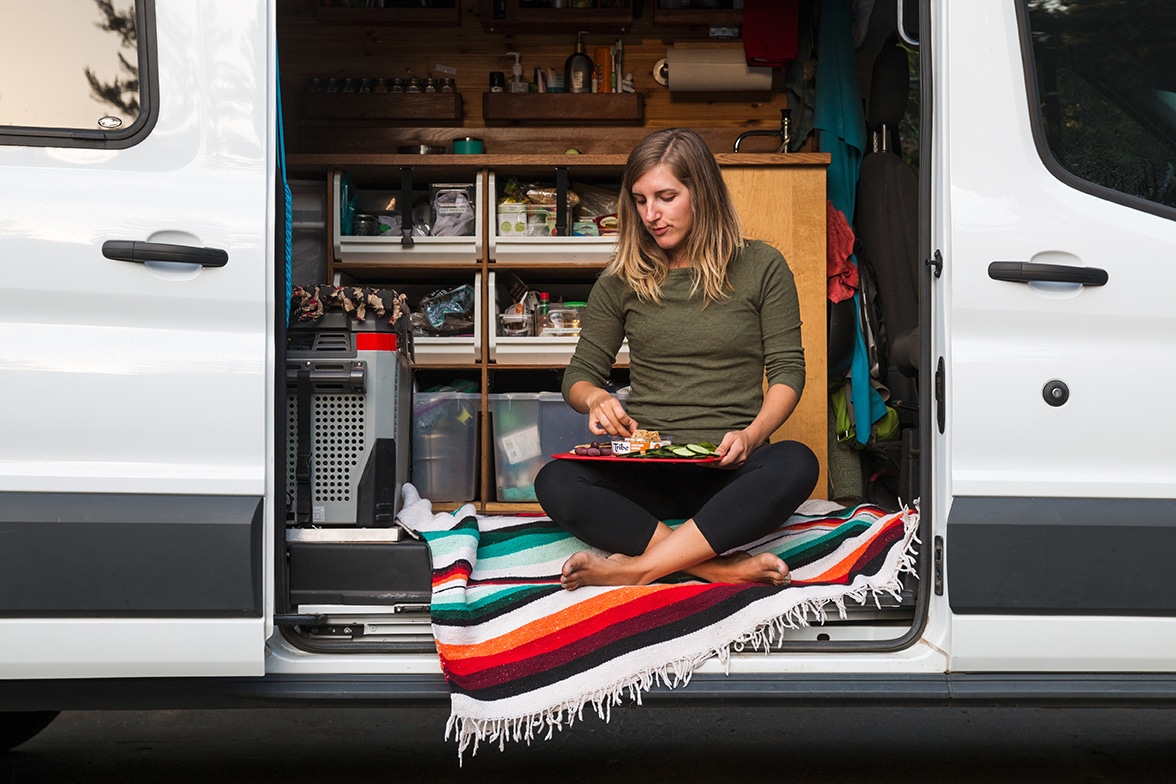 One technique you can try is to make a pack list of everything you think you'll need on the road — and we mean everything you think you'll need — and separating those items out from everything else. Try living with those items for a week or two and see what else you consider essential by the end of your trial run before you start selling and gifting. It'll save you from the heartache of buying back something you just recently discarded.
Look at it as a way to start an extra travel fund
If you're having any kind of struggle with getting rid of a few items, weigh your interest in them against all of the experiences you want to create out on the road. Garage sales aren't the only way to sell your gently used belongings anymore. There are a few incredibly effective venues for making money from your things: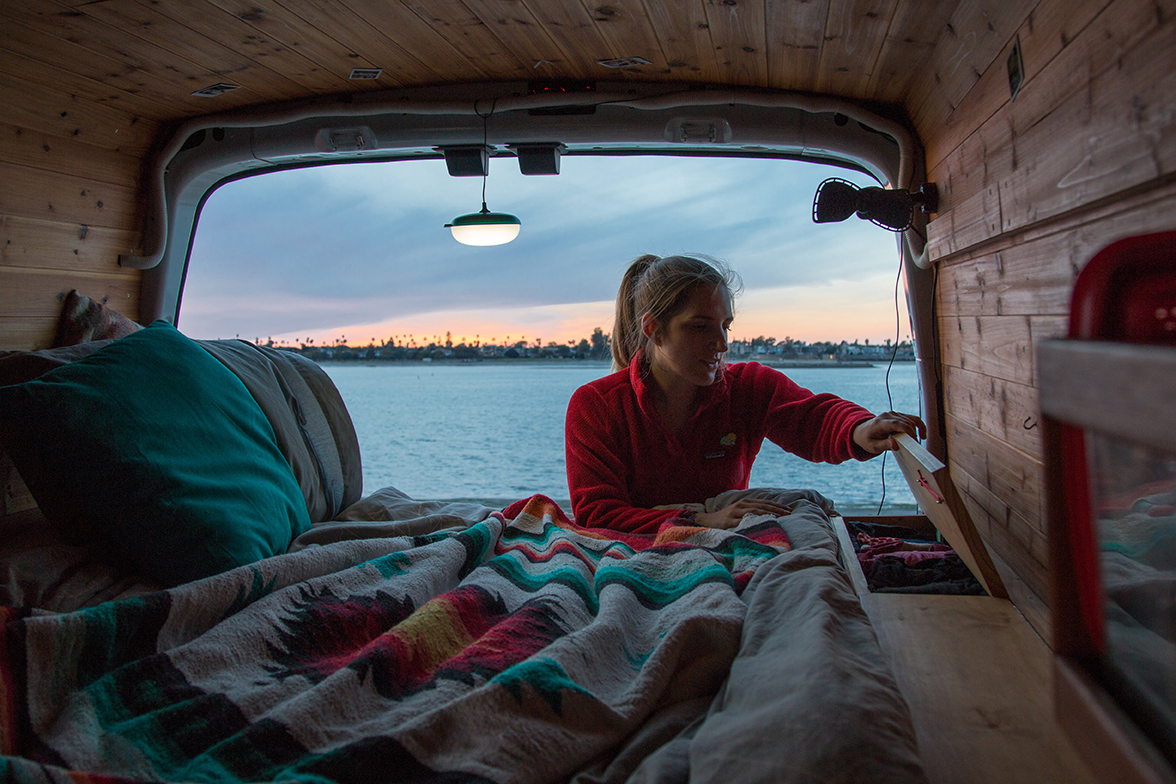 Item-specific consignment stores. Whether you have trendy clothes you're not wearing anymore or some outdoor gear that needs a second life, there's a consignment store for that! Head to the local one in your area as a starting point. Stores like this typically won't accept everything you bring in, but it's a great first drop-off location.
Online re-sell platforms like Poshmark. If you don't have a consignment store that will take the clothes you want to sell (or if you'd prefer to stay at home), you can sell items straight from your closet. All you need are some photos of the piece of clothing you're selling and to download the proper app.
Local social media marketplaces. There are many ways to sell your used goods through social media — no matter how many people you have "following" you! Many local Facebook Marketplaces, for instance, can be a quick and effective way to list and sell items, in addition to old standbys like Craigslist.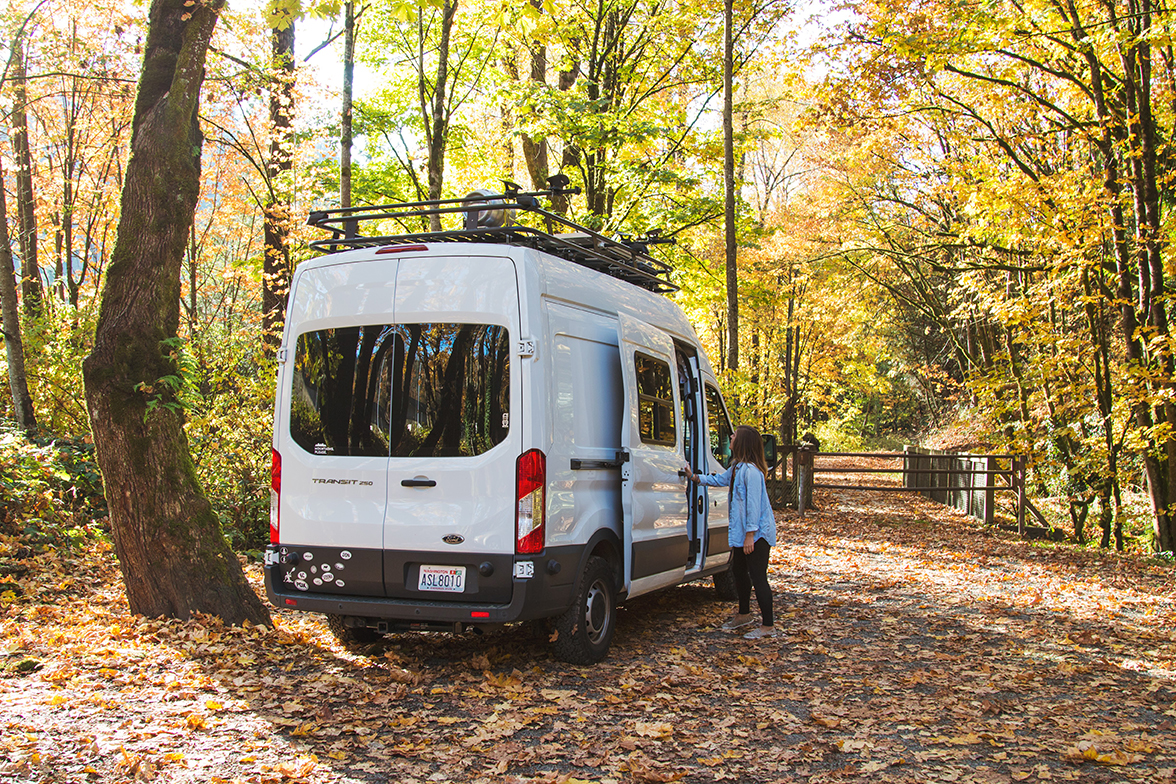 Recognize the immense gift of sharing
When appropriate, sometimes giving away your used goods is the most rewarding thing to do. Here are a couple ways to make gifting your items fun and make you feel good at the same time.
Check with your local nonprofits, including Goodwill. If you have a particular cause in mind that you want to donate to, you'd be surprised how much they need, especially on the administrative side of things. Aside from being able to write these items off for your taxes, it also feels nice to donate basic essentials to a cause you care about.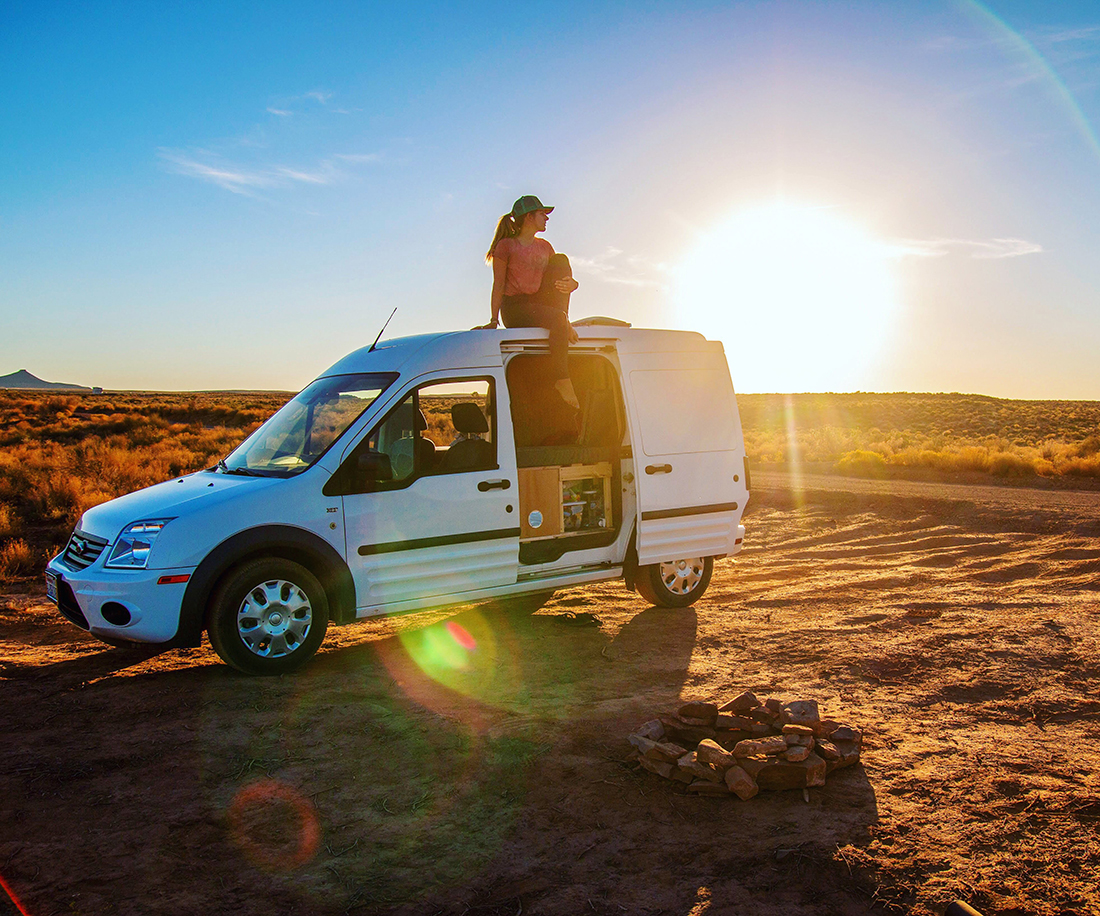 Host or attend a clothing exchange. Sometimes knowing that someone you care about will get genuine joy and use out of your belongings takes the sting out of getting rid of them to begin with. That's why clothing exchanges are so much fun! Invite your friends over and encourage everyone to bring gently used clothing that they want to get rid of. All attendees can try on clothing and take what they need, so even though you might walk away with a few items that are new to you, hopefully they're something you feel you can use in your travels and, on the whole, you will have far less than before you started.
See if there is anything that can be repurposed
If you're building out a camper van or deciding how to outfit one, you'd be surprised at how many household items you have that may actually serve an important but different purpose on the road. This isn't an excuse to hold onto everything, but rather consider this another mental checklist item when you are deciding what to do with something you plan to get rid of — especially if it's going to go into the trash! You never know what could make a good paint pan, unique countertop or clever drawer pull.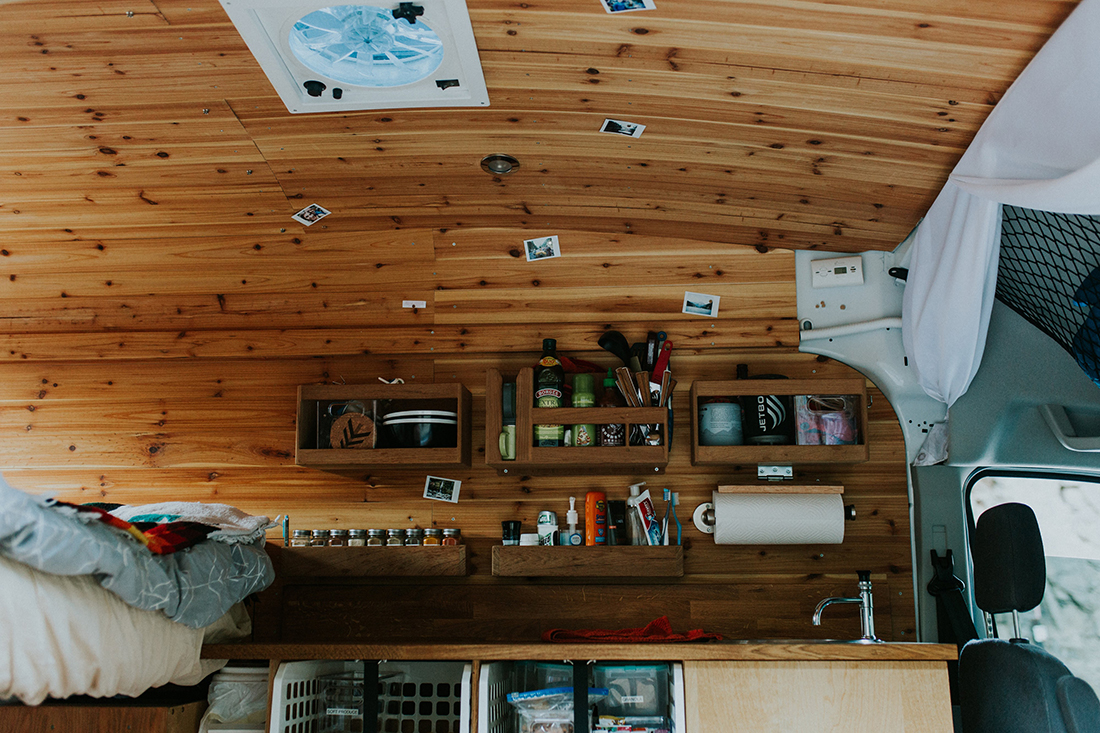 While You're on the Road
Go through everything you own on a regular basis and decide what you truly need
As a general practice, good minimalism hygiene depends on developing a pattern of behavior. That's why it's a good idea to regularly go through your items, even once you hit the road. You can empty out every bin in your camper van once monthly and sell or donate most things you haven't used in the past month. As a reminder, selling things is a good way to make some extra cash if you have something to sell, or at the very least make some extra space (which carries its own value). You'll also know where everything is located in your camper this way, which can be a challenge for a lot of travelers due to the small space.
Digitize any papers you need to keep while traveling, including ones you collect on the road
You already know about the inevitable papers you collect when you have a permanent address, but you'd be surprised at the amount of papers you still might get when you're on the road. Receipts, invoices from a trip to the doctor, maps, notes from strangers giving you tips on where you have to go next — it all adds up. For the things you can digitize, keep a folder in cloud storage and send phone images of your papers to it. That's one less thing to hold onto!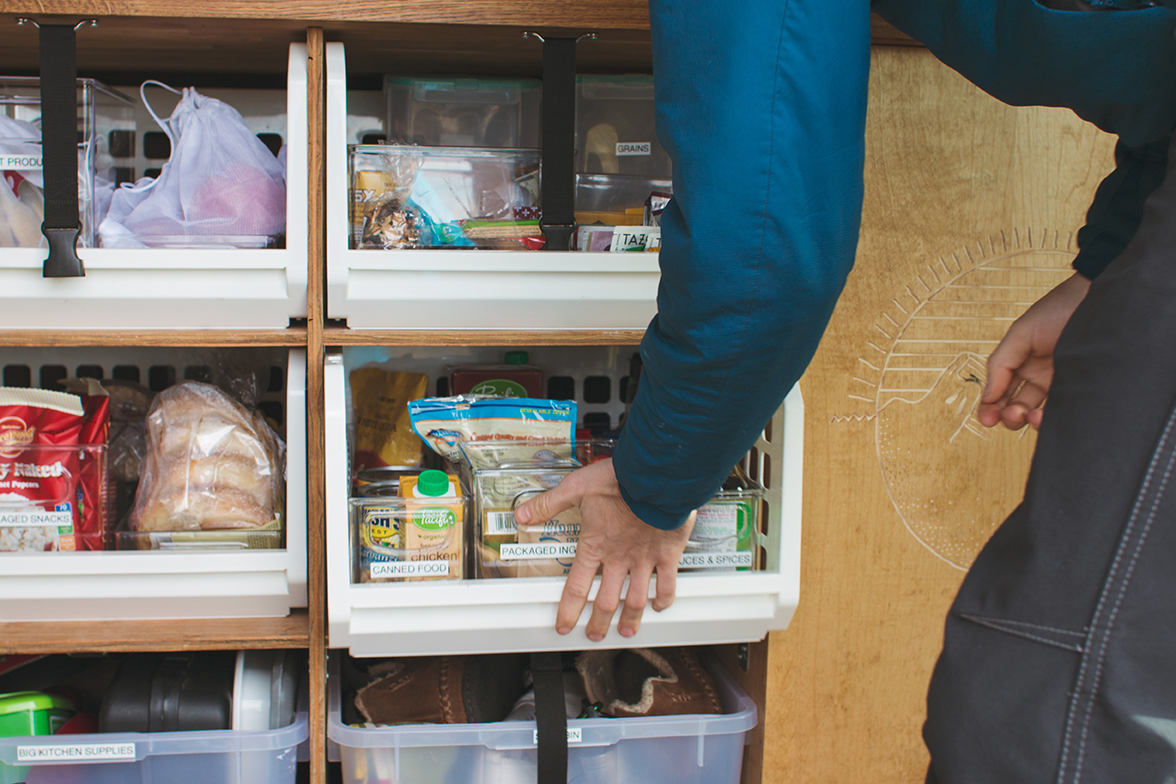 Create organized spaces that are transparent so you can see what's inside
One of the best decisions you can make is to keep things minimal in your camper by creating storage systems that are open or transparent. From bathroom kits and backup battery boxes to the pantry and kitchen area, designing your tiny space to be able to see what you have available at all times is important — especially snacks. It's crucial to be stocked up! Although keeping things looking minimal with plain, white walls and cabinet doors in front of everything can give the impression of minimalism, an open storage system will truly keep things from getting out of hand and hidden behind a door.
Minimalism on the road — If you need to buy something, make sure you love it
If you only have a handful of things, make sure you love them and they're going to last a long time. This is one of the things I've enjoyed the most about being minimalist with my belongings because I find myself feeling gratitude for every item I own, instead of wanting something more or better.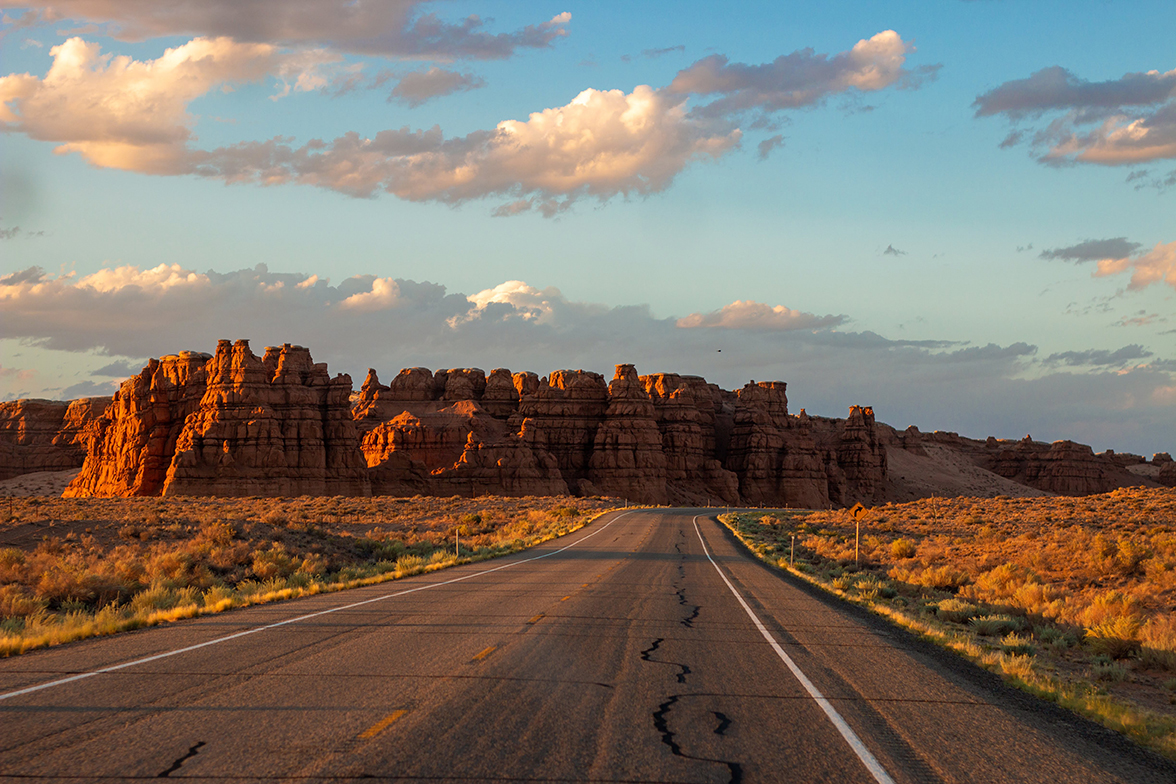 If you need to buy something, be prepared to get rid of something else if you can
It's an easy rule to remember, but sometimes a hard one to execute because we are conditioned to keep extra things around as "backup" items. Need new running shoes? Great, but that means the other ones go. They're not your backup shoes "just in case" you need them later for day hikes. They've served their purpose.
All photos by Laura Hughes.