Spring Break. Those two words conjure up images of travelers waking up from winter hibernation and hitting the road for fun in warm weather. Some places get crowded very fast, but savvy travelers can avoid the chaos and take a spring break at their own pace in these spots. Discover family-friendly getaways or peaceful spots for couples.
Northern Arizona
Early spring is an ideal time to explore northern Arizona. The peak crowds haven't yet descended on local attractions and the temperature is cool and crisp — perfect for outings in places like the Grand Canyon and towns like Flagstaff.
Grand Canyon Hiking
Don't settle for sweeping views of the canyon from the lofty observation point on the South Rim. Take a hike deep into the canyon and see the 277-mile-long marvel from a different perspective. Hit the South Kaibab Trail to Ooh Ah Point, a 1.7-mile out-and-back trail, which leads hikers past beautiful wildflowers and leads to some stunning views (as the name implies). Prefer to let someone else do the walking? South Rim Mule trips are offered year-round, but make reservations early: spots fill up quickly.
Verde Valley Wine and Wonders from the Past
Between Phoenix and the Grand Canyon, the Verde Valley contains a wide menu of adventures for travelers. While Sedona is known for its red rock buttes and canyons, it's also a haven for spas, shops and art galleries. Take the Verde Valley Wine Trail into towns like Cottonwood and Jerome to discover unique vintages.  Explore Native American past at the Montezuma Castle National Monument and Tuzigoot National Monument, a pueblo more than two stories tall.
Choose from the following Northern Arizona RV Parks:
| | |
| --- | --- |
| Vista Del Sol RV Resort, Bullhead City | Antelope Point Marina RV Park, Page |
| Verde Ranch RV Resort, Camp Verde | Desert Shadows RV Resort, Phoenix |
| Verde River RV Resort & Cottages, Camp Verde | Quail Run RV Park, Quartzsite |
| River Sands RV Resort, Ehrenberg | Sunflower RV Resort, Surprise |
| Eagle View RV Resort Asah Gweh Oou-o At Fort McDowell, Fort McDowell | Grand Canyon Railway RV Park, Williams |
Northern California
The Golden State's most spectacular mountains and forests are found in the North. Walk among towering redwoods near the coast or savor world-class wines in lush valleys.
Exploring Redwood National and State Park
Explore the land of the giants. These two contiguous parks are home to some of the tallest trees on earth. Set out on the Tall Trees Grove Loop trail, a 3.3-mile route that features a river and leads hikers into a cathedral-like environment of towering trunks. Also popular is the Lady Bird Johnson Grove Trail, a 1.3-mile loop with colorful wildflowers growing in the shade of the trees. The trailhead is located close to Highway 101, making it a popular spot.
Trekking Wine and Whale Trails
Some of the top winemakers on the planet are located in Northern California, and if the big crowds at Napa and Sonoma wineries get you down, try an off-the-beaten-path location like Hollister, east of Monterey Bay. The Hollister Wine Trail introduces visitors to fantastic vintages without the big crowds and expensive fees.
If you want to watch one of the most majestic animal migrations on the planet, visit the Mendocino Coast Botanical Gardens. This 47-acre expanse of lush landscaping also serves as a vantage point to the Pacific Ocean, where gray whales can be seen migrating north during March.
Choose from the following Northern California RV parks :
| | |
| --- | --- |
| The RV Park At Rolling Hills Casino and Resort, Corning | Jackson Rancheria RV Park, Jackson |
| Village Camper Inn RV Park, Crescent City | Pismo Coast Village RV Resort, Pismo Beach |
| Pomo RV Park & Campground, Fort Bragg | Coyote Valley RV Resort, San Jose |
| Riverwalk RV Park & Campground, Fortuna | Santa Nella RV Park, Santa Nella |
| Marin RV Park, Greenbrae | Coachland RV Park, Truckee |
| Casa de Fruta RV Park, Hollister | The RV Park at Black Oak Casino Resort, Tuolumne |
Colorado
Tall mountains and exciting towns make Colorado a top spring destination. The cool, fresh spring air will inspire you to check out some of the state's most beautiful destinations.
Durango to the Million Dollar Highway
The town of Durango is the starting point to one of the most scenic drives in the Rocky Mountains. The 236-mile San Juan Skyway is a loop drive that takes travelers through Telluride, known for its Old West-style streets and gorgeous views of surrounding mountains. The stretch of U.S. 550 linking Ouray to Silverton is known as the "Million Dollar Highway," so named for the stunning views at every turn. Because of the road's sharp drop-offs, motorists with a phobia of heights are advised to stay away.
Fishing Near Denver
The reservoirs and lakes between Fort Collins and Denver are filled with walleye and smallmouth bass. Cast a line from popular spots like Carter Lake, Horsetooth Reservoir and Boyd Lake State Park. If you're in the Denver metro area, try your luck at Cherry Creek State Park, Chatfield State Park and Stanley Lake, or venture into Boulder Creek to catch a bounty of rainbow and brown trout.
Choose from the following Northern Colorado RV parks: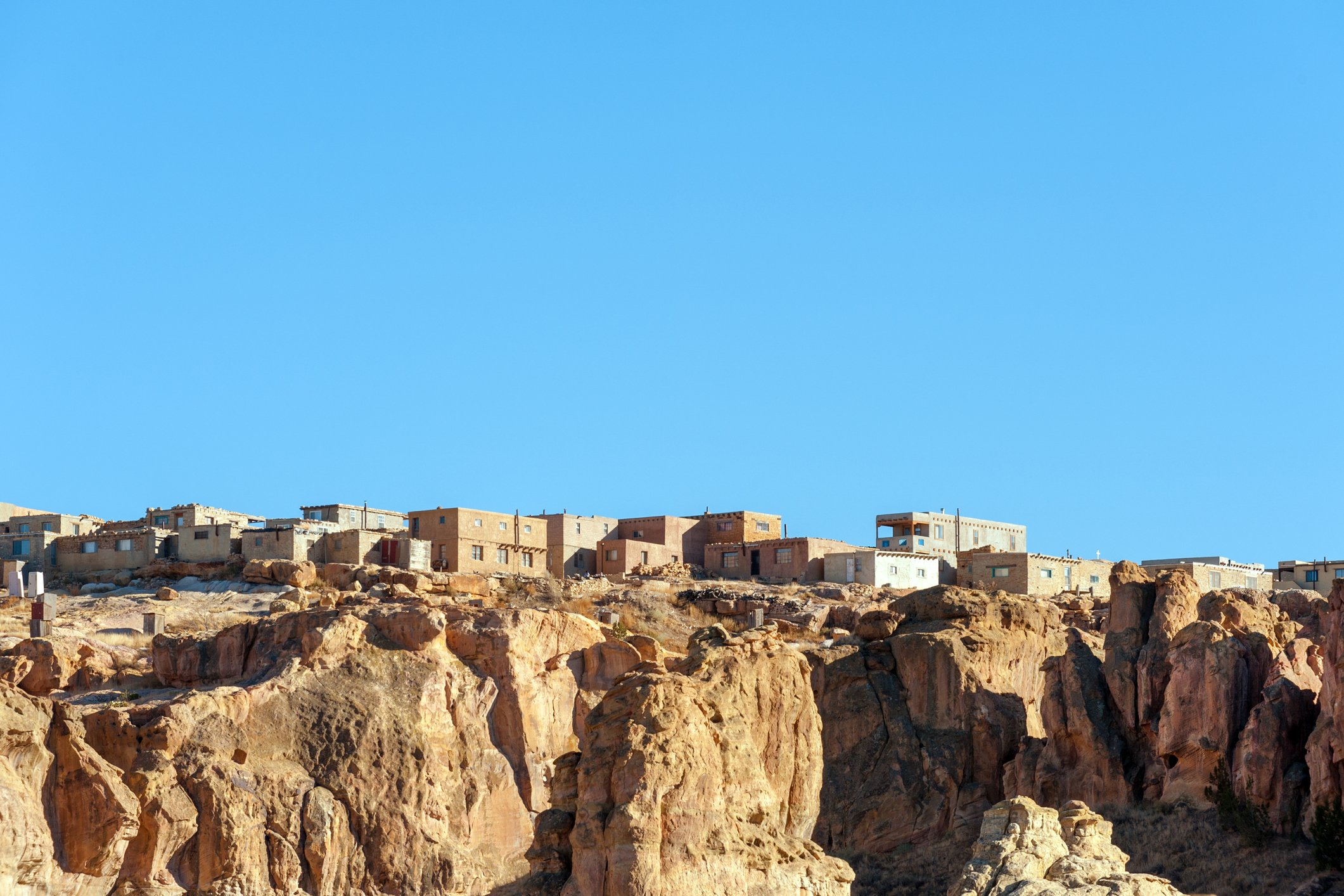 Acoma Pueblo (Sky City). Getty Images
New Mexico
With a timeless history involving indigenous peoples and Spanish settlers, New Mexico is like a window into the past. Conversely, the state's thrilling natural attractions will keep you living in the moment.
Whitewater Rafting on the Rio Grande
It wouldn't be spring break without a little sun and water now, would it? Class III whitewater rapids churn in the Racecourse, a stretch of the Rio Grande River that thrills both newbies and veteran rafters. Sign up with New Mexico River Adventures and get ready to get wet in a beautifully rugged desert setting. After drying off, peruse an art gallery on Canyon Road in Santa Fe.
Soar in Sky City
West of Albuquerque, Acoma Sky City preserves the buildings, customs and cultures of the region's earliest residents. The Acoma people have occupied this area for more than 2,000 years, making it one of the oldest continuously inhabited communities in the U.S. Tour Pueblo structures, see a Pueblo dance and buy impeccably crafted pottery. Back in Albuquerque, savor the finest Tex-Mex cuisine on the planet.
Choose from the following New Mexico RV parks :
Utah
Explore the Beehive State, where trails lead to unforgettable vistas and friendly towns that put a new spin on the American West.
Hike to the Angels Landing in Zion National Park
With plummeting gorges and towering peaks, Zion National Park ranks among the most photogenic national parks. Get the ultimate Zion experience by embarking on the Angels Landing trail, a 4.4-mile out-and-back trail that leads hikers to jaw-dropping vistas of the surrounding landscapes. The final stretch involves chains bolted to the cliff that serve as handholds; if you have a fear of heights, don't try it. You can stop at Scout Lookout and enjoy the gorgeous views.
Nearby, the charming town of St. George will help get your feet back on the ground with golf, great restaurants and historic Mormon sites. The St. George Dinosaur Discovery Site at Johnson Farm.
Bike and Bound in Moab
More than 150 miles of biking trails snake through slick rock and desert landscapes, making this eastern Utah town a must-visit for bikers. Advanced cyclists can set out on the slick-rock Bike Trail, a challenging course across sloping rock surfaces and tricky landscapes. For an easier biking excursion, take the M Loop Trail, a scenic route that crosses diverse terrain and dishes out plenty of desert scenery.
Choose from the following Utah RV parks :