LED (Light Emitting Diode) lighting is in big demand in the commercial and residential markets. Likewise, the automotive industry is fast embracing the change to the more economic alternative.
For recreational vehicles, LEDs provide bright lighting, consume less power and emit far less heat, which is quite appreciated in this smaller living space.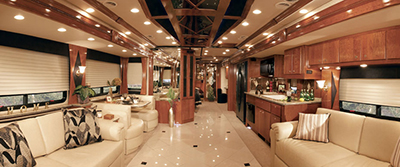 An additional advantage is the longevity of service these digital marvels deliver.  Fifty to eighty thousand operating hours is commonplace for LED life.  This means they could be turned on and lit continuously for 5.7 to 9.1 years. This certainly helps support the high cost of lighting replacements.
LED technology is now being found in RV's in their interior and exterior lighting. In many cases, they are replacing the earlier, lower-power lighting alternative of fluorescent fixtures. Fluorescent lights in many cases have  caused some interference with other electronic items—another argument in favor of LEDs.  Additionally,  compact and power-saving LED Television sets are also beginning to be utilized here.
The many varieties of LED replacement bulbs are endless. If you're worried that you'll lose the warm glow of old-fashioned lighting, keep in mind that LED lights come in a wide selection of Kelvin values, meaning that you can get the warm glow you have been used to. Dimming is also possible for some LED units with the right controller.
The only drawback to this futuristic lighting choice is price. LEDs cost five times as much as the old-style lights we have been accustom to. However, as more and more applications switch to LEDs, the price will come down. This will one day be the standard route.
In the meantime, you can start slowly replacing your RV lighting as the original units fail over time.  Another bright idea from Peter Mercer.