Rich in scenic beauty, wildlife and native culture, Alaska's state capital is a quaint but sophisticated town.
Juneau is tucked in a temperate rain forest where the mountains meet the sea amid 17 million acres of Tongass National Forest and a 1,500-square-mile ice field. The spectacular scenery of mountains, glaciers, fjords, lakes, streams and forests is home to wildlife that includes bear, eagles and whales.
Downtown Juneau sits snugly between Mount Juneau, Mount Roberts, and Gastineau Channel, and is compact and easy to navigate on foot. A maze of narrow streets run past a mix of new structures, old storefronts and quaint houses featuring early 19th century architecture left over from the town's early gold mining days. The waterfront bustles with cruise ships, fishing boats and floatplanes. With no road access to Juneau, it is the only state capital in the U.S. that can only be reached by plane or boat.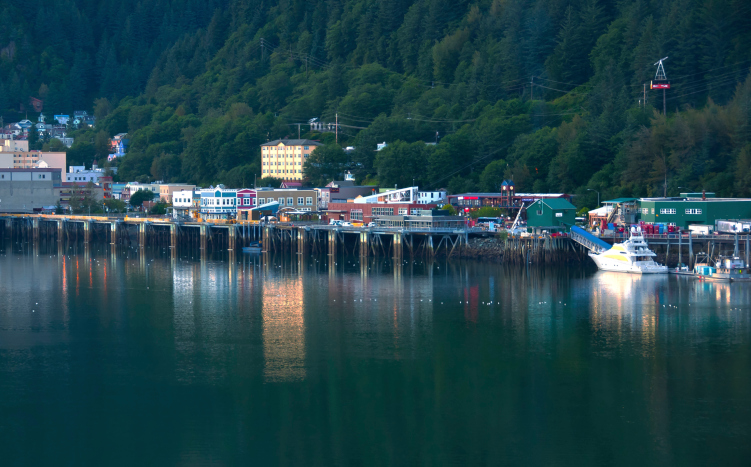 Juneau's main attractions include the state capitol building, Saint Nicholas Russian Orthodox Church, several museums and historic South Franklin Street, where turn-of-the-century buildings today are gift shops, restaurants and pubs. With its gold onion dome, St. Nicholas Russian Orthodox Church is a reminder of the Russian presence in 19th-century Alaska.
Just a short drive from downtown is Mendenhall Glacier, one of the city's most iconic sites. Visitors can watch icebergs calve off its frozen face into Mendenhall Lake or go for a hike. Cruises are a popular way to see the diverse marine life in the area, including Steller sea lions, Dall's porpoise, killer whales and humpback whales, which return to the area each summer to feed on krill and herring.
Most summer visitors reach Juneau via cruise ship and the state's ferry system, the Alaska Marine Highway.