Risotto with Butternut Squash and Shrimp—try this scrumptious Gluten Free Snowbird Recipe featuring two abundant Fall vegetables on a cool Southern night. This is an easy recipe adapted from Publix.com/Aprons that works well with the Fagor Automatic Pressure Cooker, that I recently described for you in the Good Sam Blog.
Recipe:
1 Tablespoon olive oil
½ cup leek, thinly sliced
½ bunch red chard
½ cup diced butternut squash
1 clove chopped garlic
¾ cup Arborio rice
9 ounces butternut squash soup
1-½ cups reduced sodium vegetable broth
5 ounces frozen extra-large, peeled and deveined shrimp
¼ cup crumbled blue cheese
¼ teaspoon sea salt
1/8-teaspoon black pepper
Step 1: Peel and chop garlic clove or mince in garlic press. Cut leek in half lengthwise and rinse well, then slice thinly crosswise (white part only.) Remove leafy portion of chard leaves from stems and chop coarsely (1 cup) then chop stems crosswise into small cubed pieces (1/2 cup).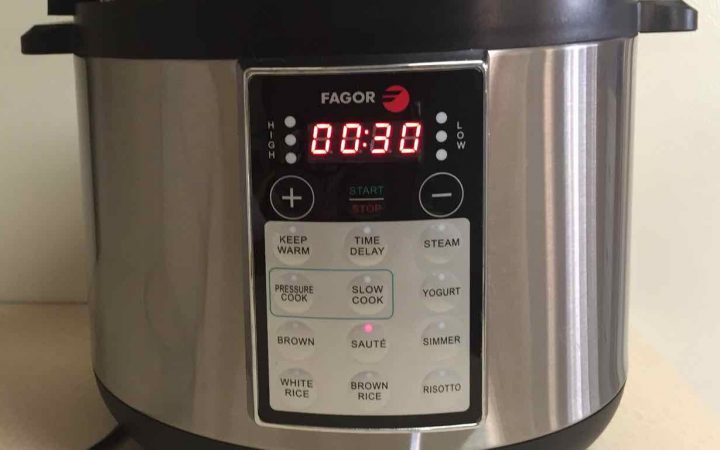 Step 2: Using Sauté selection on Fagor Pressure Cooker, pre-heat for 2 minutes. Add oil to pressure cooker, then sliced leeks, chopped chard stems, and diced butternut squash. Sauté for 3 minutes or until squash starts to soften. Add chopped garlic and sauté for 30 seconds longer. Push "Stop" on pressure cooker.
Step 3: Stir in Arborio rice, butternut squash soup and vegetable broth. Add shrimp, distributing evenly over top of rice mixture. Cover with lid valve set to pressure cook. Select Risotto setting on Fagor Pressure Cooker and push "Start" for automatic cooking time and pressure. When cycle is complete, reduce pressure by turning valve to "Steam" and then remove lid. Immediately stir in blue cheese, then chard leaves, salt and pepper.
If you are preparing this recipe without an automatic pressure cooker, use a large, heavy pan with a lid. After sauté process is completed, blend in ingredients listed in Step 3, cover and cook on medium for ten minutes, stirring frequently. Reduce heat to low, cover, and continue cooking for twenty minutes, stirring occasionally. Immediately stir in blue cheese, then chard leaves, salt and pepper.
Divide into serving bowls, arranging shrimp on top. Serves two with leftovers.
Bon appetite!
From along the road,
Chris