Gliding on the freshwater rivers of Florida via kayak gives you a dazzling and close-up introduction to a lush ecosystem. These crystal-clear, spring-fed rivers instill calm and relaxation in paddlers, and there's no better way to enjoy them than on a kayak.
Florida's Springs
Florida has more freshwater springs than any other state, with 1,000 known water sources producing steady streams of H20. They range in size from meager trickles of water to first-magnitude springs that discharge hundreds of millions of gallons of water every day. These springs typically remain at a tantalizing 72 degrees year-round.
Some of the springs support entire ecosystems. On any given day, kayakers can encounter a diverse array of plants and animals that includes majestic bald cypress trees as well as manatees, limpkins, turtles and even alligators.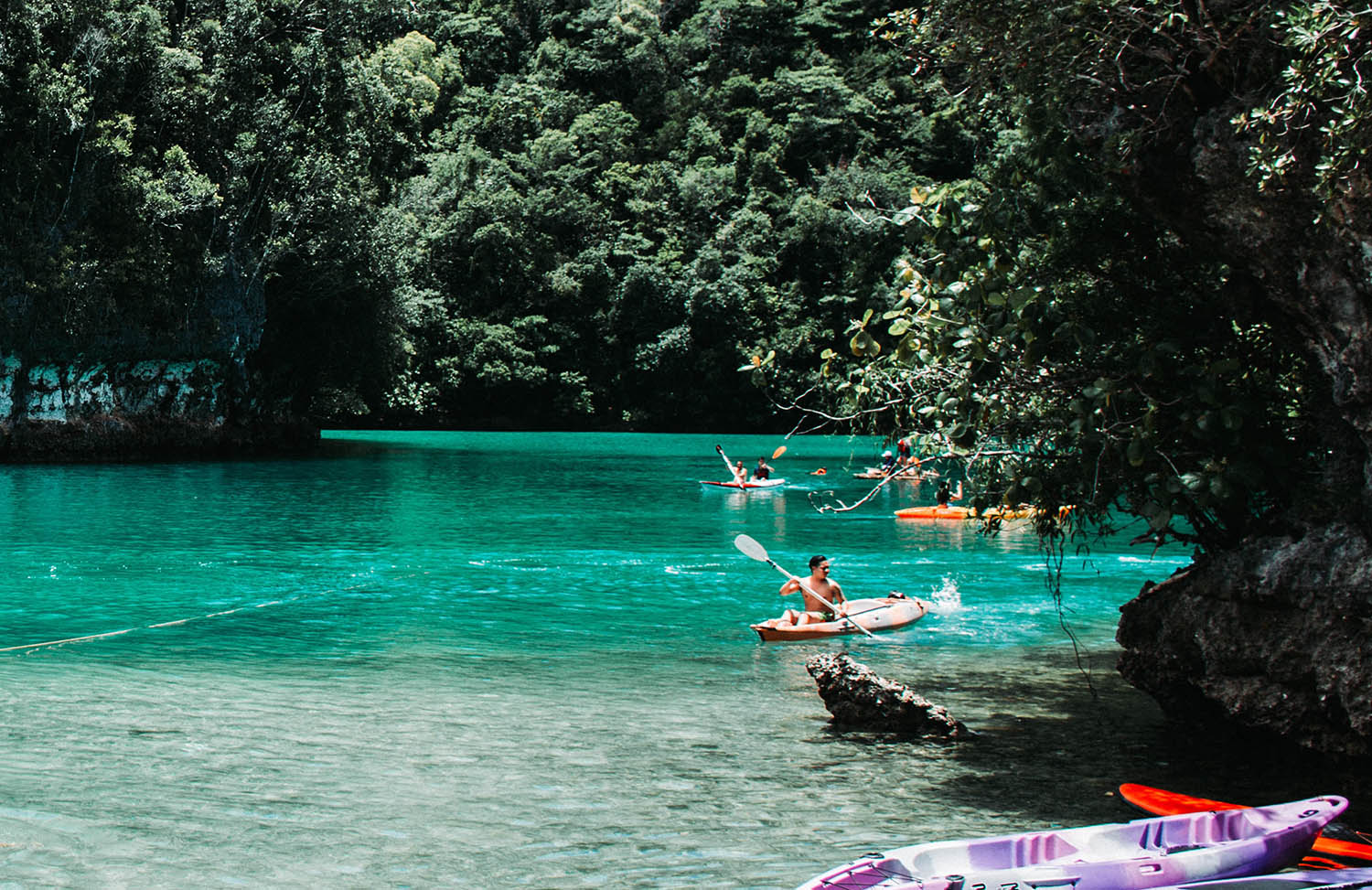 BYOK—Bring Your Own Kayak?
You don't need your own kayak to enjoy this adventure. There are vendors at every one of the following springs with kayak rentals. If you find you love kayaking as much as I do, you'll likely want to buy your own. Don't worry about space. RV travel and kayaks are a great combination. There are so many terrific options for portability from inflatables you can store in your RV to rooftop carriers for your vehicle. If you bring your own kayak and are concerned about portage, don't worry. You can still book shuttle service that accommodates both you and your vessel back to your vehicle from the most popular stopping points on these recommended rivers:
1) Rainbow Springs
Rainbow Springs State Park is home to Florida's fourth-largest freshwater spring and feeds the Rainbow River. Rainbow Springs once enjoyed popularity as a roadside attraction in the 1960s, with man-made waterfalls, animal shows, an aviary, a paddle-wheel riverboat and even a submarine. Today, only the waterfalls remain, but for $2 a person, visitors can launch at the headsprings of the 6-mile Rainbow River.
If you're more adventurous, start your journey at the public boat ramp on the Withlacoochee River. From there, you can paddle 6½ miles upstream to the headsprings and float back to your car.
Nearby, Ocala Sun RV Resort is a great base camp for your kayaking adventures. This big rig-friendly campground has every amenity you could want. Its central location puts guests close to the action at Rainbow Springs and Silver Springs.
2) Silver Springs
Silver Springs is another example of a historic roadside attraction that has returned to nature. In 2013, Silver River State Park and Silver Springs Nature Theme Park combined to become Silver Springs State Park. This merger opened the Fort King Waterway to paddling for the first time since the late 1800s. The waterway was formerly the setting of a jungle cruise for the theme park, and you will see some remnants of attractions along the way.
Before leaving the park, be sure to wander around and enjoy a glass-bottom boat tour on which passengers get to see the spring vents that release 550 million gallons of water per day. You can also wander around the grounds and visit the remains of old movie sets. Silver Springs was the site of old Hollywood productions such as the 1930s and '40s "Tarzan" movies with Johnny Weissmuller, and "Creature from the Black Lagoon" from 1954.
3) Weeki Wachee Springs
Closing out the converted roadside attractions is Weeki Wachee Springs. This is the deepest naturally formed spring in North America, producing over 100 million gallons of crystal-clear water a day. Now a state park, the iconic underwater mermaid show still plays to a packed house daily. The park also offers a river boat cruise, which explores the first part of the Weeki Wachee River and gives you an idea of what to expect once you launch your kayak.
The 5½-mile run down the Weeki Wachee River between the state park and Rogers Park is the easiest paddle for beginner kayakers. The current makes this downstream trip a breeze. You can float most of the way, just enjoying the beautiful scenery.
Admission to Weeki Wachee Springs State Park is $13, and that includes the river boat cruise, mermaid show and access to Buccaneer Bay Waterpark. Buccaneer Bay features a large white sandy beach, four waterslides and a natural lazy river that flows around the swimming area. You can pack a lunch or eat at the on-site restaurant.
Belle Parc RV Resort is the perfect place to call home while you're exploring the area. Offering luxury sites with lakeside views, the resort is centrally located to both Weeki Wachee Springs and Homosassa Springs.
4) Wekiwa Springs & Wekiva River
Kayakers can travel farther inland to get to one of Florida's most popular aquatic destinations: Wekiwa Springs. Located just 20 miles north of Orlando, Wekiwa Springs State Park is the perfect way to get your bearings after spending time at the bustling amusement parks. However, you won't beat the crowds here. It's so popular that people are often turned away on weekends and holidays in the summer. The park allows only 250 cars in at a time, and when that level is reached, park officials don't even allow additional bicycles, motorcycles or pedestrians in the park.
The spring's output of 45 million gallons of water per day feeds into the Wekiva River, a 17-mile long tributary of the St. Johns River. The spring pool is a popular swimming spot, thanks to its sandy bottom and average depth of 5 feet. The kayak launch does require you to portage your kayak a bit of a distance downhill, but you'll be rewarded by a 60-foot-wide spring run lined by purple pickerelweed blooms as you make your way toward the river.
You can't go wrong with a stay at the Wekiva Falls RV Resort, with its own natural spring-fed swimming lagoon featuring two water slides and a resident DJ on the weekends. The campground also has a separate boat launch area that leads to the Wekiva River so you don't have to compete with the crowds at the park.
5) Ichetucknee Springs State Park
We saved the best for last. Ichetucknee Springs State Park offers some of the best paddling opportunities in the state. Nine major crystalline springs combine to create the 6-mile Ichetucknee River, which flows through shaded hammocks and floodplain forests before it joins the Santa Fe River.
The headspring is pristine and has been preserved as a National Natural Landmark since 1972. Protections include a ban on motorized boats and enforcement of carrying capacity. It is a very popular tubing spot from May to September, but with three different launch points and nine springs, you can still find little pockets of peace. If you're there during the tubing season, try visiting on a weekday to avoid the heavier crowds. If you can, visit during the off-season. The weather is still fabulous, and you'll be able to enjoy the unique bluffs the river has carved out of limestone along the way.
So Many More
These are just a few of the best spring-fed rivers to tour Florida by kayak. Take a look at Paddle Florida for more ideas, and share your favorites with us below!