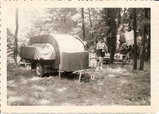 When I was 6 years old my father built our first RV camper. He made it from scratch using plywood and canvas. Prior to that time we had rented cabins but they were too expensive for lengthy outings. I remember spending summers camped beside the Allegheny River in Pennsylvania, cooking outside because the trailer was just large enough for sleeping quarters. It had no water, no heat and no electricity. We spread canvas tarps as roofs for additional outside open-sided "rooms."
Although I have since been camping in many other RVs, most with the conveniences of "home life," the memories of "roughing" it back in the late 1940's are still the brightest.
My wife and I are 12 months away from her retirement, at which time we will be purchasing a 40-foot 5th-wheel and going on the road full-time.
Submitted by Larry Longwell of Grove City, PA as a part of the RV Centennial Celebration "Share Your Favorite RV Memory" contest.
Do you have a favorite RVing or camping memory you'd like to share? Submit your favorite memory here!