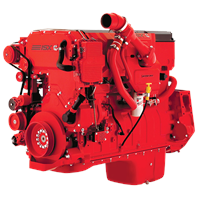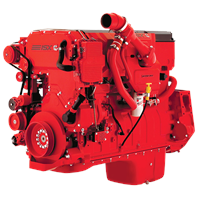 Diesel pushers require pretty brawny engines. So how much horsepower is enough? This is a common question often appearing in RV forums in regard to diesel pushers.
Well, there are six common Cummins engines and several Caterpillar that can be found in diesel pushers made in the last decade. They range in size from 6.7 liter displacement, at about 300 horse power, to 15 liters producing a whopping 650 ponies.
In most cases, you have no choice in engine size when purchasing a new motorhome. Each chassis comes with a standard engine offering. The engine model and power specifications are selected by the chassis maker. Generally, the engine power and torque must be matched to the weight and structure configurations of the vehicle to best suit its application. You cannot put a huge engine in a small or medium sized RV. The weight and torque may over stress the frame and related running components.
Diesel Pusher Platforms
However, rest assured you are in good hands. The chassis builders know their stuff and unite the right sized power plant to provide the best overall performance and handling. Generally the HP (Horse Power) to GVW (Gross Vehicle Weight) equates to about 1 HP per 100 lbs.
It therefore stands to reason that the larger and heavier the unit, the bigger the motor. Acceleration and grade climbing ability is similar for all sizes. A Cummins legacy ISC at 330 HP in a 32,000 lbs. GVW rig performs closely with an ISM 500 HP in a 44,000 GVW vehicle. Both are moving less than the 100 lbs. per horse power rule of thumb bench mark.
Diesl Pusher Performance
Many of the folks that question a diesel pusher's power, in my opinion, might be inexperienced at operating one. They have a far different feeling than that of a gasoline powered unit. There is further proof that the motorhomes we drive today have plenty of horse power. When you compare the same engine make and model in a commercial over-the-road truck application, you will find they are about 20% less horse power than those in a motorhome. For example, a Cummins ISM outputting 500 horse power in a motorhome is down rated in a truck application to between 400 and 450 HP. Keep in mind, too, that the truck's GVW is usually in the 80,000 lbs. range, or about 200 lbs. per HP.
So, I think we can assume that whatever HP your diesel motorcoach has, it will perform relatively equal to all other sizes.
Peter Mercer – With Bigger is Not Necessarily Better