Diesel pusher RVs cost significantly more than their gas-powered counterparts. Here's a breakdown of the differences.
Over the years, many motorhome enthusiasts and prospective buyers have asked, "Why do diesel-powered coaches cost so much more than gas-powered motorhomes?" This is often heard at RV shows, in dealer showrooms and over the campfire.
Well, perhaps one of the misleading assumptions is that the cost difference lies primarily between gas and diesel engines. While it's true that a diesel engine is a more expensive engine to buy, the differences don't stop there.
Let's look at two similar length class A coaches, one a V10 gasoline-powered motorhome, and a 6-cylinder, 8.9 liter-diesel pusher.
More than Horses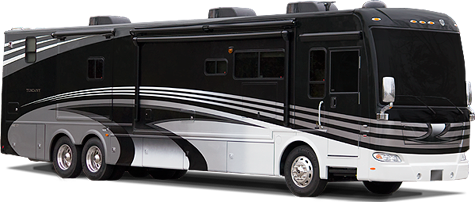 While both of these vehicles have about the same rated horsepower, this cannot be said about the engine torque. Torque, of course, is the force that helps the vehicle start moving from a stop and pulls it up steep hills. The diesel has substantially more torque, 1,200 ft/lbs to 457. With over 160 percent more twisting power, the diesel engine requires a far heavier mount and frame. That same high torque needs a much more robust torque converter and transmission.
Likewise, the entire driveline, mount and supports must be upgraded greatly to handle the power. The chassis frame channels must be of a heavier gauge to alleviate frame distortion. A much larger capacity drive axle is needed to deal with the higher torque and added weight of the heavier diesel engine. All of this requires larger, higher load capacity tires.
Diesel pushers, for the most part, are equipped with air-operated brakes and air suspension. The brake components are heavy duty, most linings will last for several hundred thousand miles. The air suspension requires a network of pneumatic devices, regulators, leveling valves and computerized control modules.
Power Plant Particulars
Now, let's look at some of the engine-only comparisons. The diesel, with its high compression ratio, requires two large engine batteries to drive a far larger starter motor. It also is equipped with a built-in air compressor. All current motorhome diesel engines are intercooled and turbo charged.
When all is said, the diesel pusher ends up with as much as 30- to 40-percent more GVW (gross vehicle weight) capacity.
We have only looked at some of the items that justify the far higher price. But it's clear that a diesel pusher is not just about fuel and engine differences.
Peter Mercer – Justifying Your Buying Dollars
Find both diesel and gas models at Camping World.