Cold weather RV travel — driving safety for traveling in snowy conditions.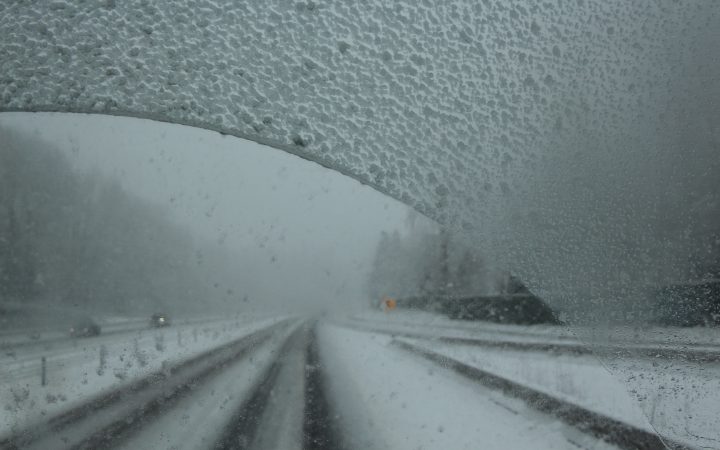 As the winter season approaches, many snowbirds hit the gas heading south. This migration starts as early as October and runs to as late as January. Some spend the Christmas season with their northern dweller family members. For many of these travelers, an already-cold climate follows them of their journey southward.
Cold weather tips
Here are some tips for the snowbird's cold journey south:
Check and top up tire pressures. Over time and with the colder ambient temperatures, the pressures lower significantly.
Test run the furnace or other heating appliance prior to departing. Don't forget also to test the generator if so equipped.
Motorhome owners with a basement should get an inexpensive remote thermometer and place the sensor in the basement near the water bay. This can help to monitor the basement temperature.
Take bottled water for drinking and personal use. Take RV anti-freeze to flush the toilet until you can fill the water tank.
Plan and depart around the best weather window. This may require leaving earlier or later than you really desired.
Pack enough food and like supplies to allow ample for possible delays en route due to weather or unforeseen events.
If running in wet conditions with a hard freeze predicted for that night, do not apply your park brake. Use wheel chocks to back up the parking brake, such as with a diesel pusher. Mechanical brake systems can freeze overnight.
If you have slide outs, do not extend them during an overnight stop when the forecast calls for snow. Accumulation, especially wet snow, can freeze hard and be difficult to clear in the morning. This can result in the inability to retract the slide(s).
Temperature Savvy
Don't forget to adjust this with any mountain or high ground traveling if applicable. For every 1,000 feet of elevation a decrease in the temperature of about 3.5-degrees is to be expected. This temperature change as you change elevation is called the lapse rate.  The 3.5 F. is the average lapse rate per 1,000 feet, however steeper or shallower lapse rates can occur. Just be temperature savvy!
With a little planning, a flexible time schedule, and common sense, you will arrive in the southern warmth of your winter paradise in due course.
Peter Mercer — Escaping the Winter's Grasp