The relaxing pace of the road-tripping lifestyle lends itself to leisurely pursuits, but trying to choose the best RVing hobbies can be tricky. Pick the right one and it can enhance your adventures, while the wrong one can clutter your rig and annoy everyone around you.
It's important to find a campground that accommodates your hobby and even supports it. Some RV parks offer classes in a wide array of skills and pastimes, while others give campers all the space they need to pursue their interests.
But first things first. If you don't have a portable pursuit yet, here's what you need to know about picking one for the road.
Finding the best RVing hobby for you starts with a lifestyle review
Hobbies relieve stress and engage our brains. They teach us patience and hone talents that get sidelined during our working days. RV travel is the perfect setting to explore new activities that we never have time to do in our everyday life. Fun examples of RVing hobbies I've seen travelers enjoy include:
Fiber arts (knitting, needlework, crocheting)
Jewelry making
Drawing and painting
Creative writing
Rockhounding
Mountain biking
Wood carving
Fly fishing
Parasailing
The list of hobbies you can do on the road is endless and is as varied as the people who pursue them. But one thing almost all hobbies seem to have in common is that they take up space. Whether it's one duffel bag, a storage cabinet or an entire basement area, most hobbies come with gear that steals precious storage space. That's why choosing RVing hobbies wisely matters if you don't want to trip over your stuff. As someone who once tried to cram too many hobbies into our RV, I speak from experience.
Before we started full-time RVing in 2007, I had an entire room in our house dedicated to my hobbies. From sewing to scrapbooking, scuba diving to guitar playing, I pursued plenty of extracurricular hobbies that required bulky gear. So when we packed our life into a little 24-foot fifth wheel, the rational side of me knew that I couldn't take it all—but that didn't stop the irrational side of me from trying.
For most of our first year on the road, I wished I hadn't brought along so much hobby gear. My guitar got banged up whenever I needed to retrieve something from the wardrobe. Even my knitting needle collection got in the way. After a while, I ditched my bulkiest hobbies, once I honed in on the kinds of activities that better suited my personality, and my home on wheels. I started with an RV lifestyle assessment.
Do your hobbies match your RV and lifestyle?
Before deciding to take along a hobby, it's important to know the most limiting factor that impacts your hobby choice. For most RVers, it's usually the size of the RV's storage space. For others, it may be travel logistics. In my case, both impact the kinds of hobbies we pursue. For example, my husband and I ditched our scuba diving hobby once we knew our 24-foot RV didn't have the space to store the gear. We thought we could bring our fins and masks along for snorkeling, but that seemed dumb once we realized we wouldn't be RVing anywhere near good dive sites.
Is it a noisy hobby?
Some hobbies are so noisy they won't win you friends in crowded campgrounds. For instance, we have met some RV woodworkers who carry tools of the trade like a miter box, belt sander and circular saw on the road. But the places and times when they practice their craft are limited. As for me, I make metal jewelry, which calls for loud hammering, hand-sawing, and drilling. Like woodworking, it's not exactly the most ideal hobby to do when staying in RV parks. I always hope my neighbors are hard-of-hearing.
How much does the gear weigh?
Rockhounding is a popular RVer hobby, but when it comes to your RV's Gross Vehicle Weight Ratio, it can be too much of a good thing. RV weigh station operators tell me they know of motorhome and trailer owners hauling dangerously heavy amounts of rocks on the road—especially when leaving Quartzsite, the rockhounding capital of the country. Every rock adds up, but no matter what kind of hobby you pursue, remember that every pound of gear counts toward the maximum amount of weight your rig can safely carry.
Can you do it all year long?
If you're a full-time RVer and your favorite outdoor hobby is something that you can only do seasonally, does it make sense to haul that gear along for the entire year? Snow skiing and snowboarding are two great examples. If you only get to use the gear a few weeks total and it takes up precious storage space, why not consider renting that bulky gear instead?
Find the hobby work-arounds
It might seem like RVing limits the kinds of hobbies you can pursue, but there are workarounds. For full-time RVers, leasing or buying a spot at a privately run RV park or co-op is always an option to acquire more storage space. These RV parks typically come with a small storage unit or casita and some parks even have communal facilities where you can pursue those hobbies. You'll find garages with shop tools, craft rooms with sewing machines and community gardens with shared gardening gear. They're just a few examples of how you can practice your hobby without carrying bulky gear in your RV.
My husband and I won't be buying into an RV park or co-op anytime soon, so in the meantime, we will pursue hobbies that are more practical for our 27-foot fifth wheel. Our running shoes don't take up much space. The mountain bikes double as transportation. And finally, my jewelry making generates a bit of income. Some day I may want to get back into guitar playing but until then, we'll focus on more practical hobbies that fit beautifully into our RV lifestyle. What kind of hobbies will fit with yours?
RV Parks that support your hobby
Now it's time to select from RV parks support hobbies. The list below is just the tip of the iceberg; scan our Find RV Parks & Campgrounds page to discover RV parks offering activities that match your interests.
Crafts of all kinds
Enroll in a crafts class at Voyager RV Resort and Hotel in Tucson, Arizona, and create a work of art that you can take with you on your travels. The resort's impressive curriculum includes classes on glass fusion, lapidary, stained glass, woodworking and more. You may discover new talents.
Mountain biking
New York's Adirondack Park is a biker's heaven, with trails that wind through the largest expanse of public land in the Lower 48. Lake George RV Park is a fantastic launching point for two-wheeled adventure, with bike rentals available at the park.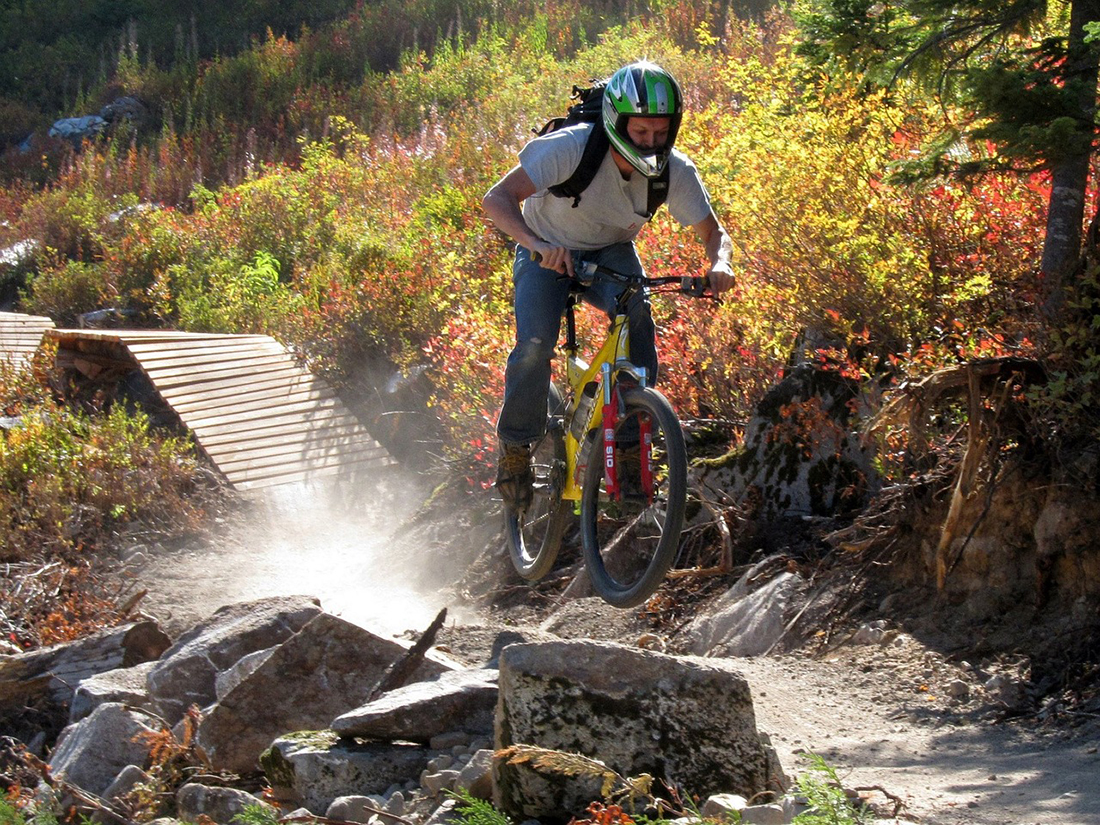 Fishing
Silver Palms RV Resort in Florida puts guests close to some of the best angling action in the country: Lake Okeechobee, the largest freshwater lake in the Sunshine State
Watersports
Have you ever stayed at an RV park that's bordered by water on two sides? Camp Hatteras RV Resort and Campground in North Carolina spans the width of the long and narrow Outer Banks barrier island. This gives guests access to the Atlantic on the east and Pamlico Sound to the west. Canoe, kayak and boat rentals in the park ensure that guests have a great time.
Wine tasting
If you're a wine buff, you could spend a lifetime exploring all of the vineyards in North America. But few RV parks give you more sipping opportunities than Rising River RV Park in Roseburg, Oregon. Sign up for a wine tour and explore the flavors that have placed this region on the wine-making map.
Fine food
Lovers of gourmet food will discover fine dining in an oak and pine forest north of California's Lassen National Park. Lessen RV Resort invites guests to dine at the campground's bistro, with a menu that includes fusion cuisine made from locally sourced grass-fed beef as well as organic chicken, eggs, vegetables and fruits. Entrées like Asian style short ribs with jasmine rice and mixed vegetables keep guests coming back for more.
Classic cars and RVs
On California's central coast, guests at Pismo Coast Village Resort take a trip down memory lane in May. That's when the park hosts its annual Vintage Trailer Rally. Classic vehicle buffs can inspect classic RVs as well as the cars and trucks of yesteryear that tow them.
Stargazing
A number of RV parks in "dark sky" regions cater to stargazers. In California, The Springs At Borrego RV Resort & Golf Course takes advantage of the crystal-clear desert skies with an onsite astronomy park. Look through a high-powered telescope and get an in-person lesson about constellations from experts. In Arizona, the  Butterfield RV Resort & Observatory has an onsite observatory for eager skywatchers.
Yoga
Research indicates that ancient practice benefits both physical and mental health. Normandy Farms Family Camping Resort in Foxboro, Massachusetts, teaches this art in regular classes at the highly-rated Good Sam Park. Flex your body and let go of your cares.
Offroading
Sitting on the banks of the Colorado River, Pirate Cove Resort and Marina positions guests close to some of California's finest offroading territory. If you didn't haul your own four-wheel toy to the campground, you can rent an ATV from the resort.