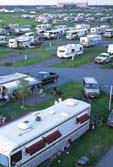 The Casino Campers are back on the road!
Chris and I have left our winter haunts in Florida and are traveling west.  Today we're at the IP in Biloxi, MS and plan to be at the Hollywood, Bay St. Louis tomorrow.  From there we'll make a family stop in Texas, then head out for three seasons of casino fun and other RV adventures.  Now that we're back on the road you can count on more frequent posts from me — hopefully each weekend.
In previous posts I've told you that casinos offer a great variety of RV accommodations ranging from simple blacktop boondocking to resort level RV parks.  Yesterday, a friend of mine at Midwest Gaming and Travel sent me a press release from Grand Casino, Hinckley MN, announcing that their RV resort just received a Woodall's 5 star rating.  The press release is reprinted below:  
February 5, 2009
GRAND CASINO HINCKLEY RV RESORT RECEIVES
PERFECT FIVE-STAR RATING
HINCKLEY, Minn. – The Grand Casino Hinckley RV Resort has been listed as one of only 260 parks in the
2009 Woodall's North American Campground Directory to attain the highest 5W rating in both the facilities and recreation categories. This score is achieved by less than 3% of the privately owned parks that Woodall's lists.
Woodall's assigns two ratings to each privately owned campground/RV park. One represents the park's facilities, such as RV sites, roads, service buildings, restrooms, and hook-ups. The other is a recreation rating, which factors both on-site and nearby amenities into the rating. Facilities and recreation ratings range from 1 "W" to 5 "Ws."
According to Ann Emerson, associate publisher of Woodall's annual publication, Grand Casino Hinckley's RV Resort stood out because of its physical development, personnel, recreation programs, and top-quality maintenance.
The Grand Casino Hinckley RV Resort has 271 RV sites with full hook-ups, including six handicap accessible sites, and provides free 24-hour shuttle service to Grand Casino Hinckley. Other amenities include a guest lodge with a convenience store, fireplace, laundry facilities, an outdoor seasonal pool, pet walking area, and fire pits.
For more information about Grand Casino Hinckley RV Resort & Chalets or to make a reservation, call 800/468-3517.
About the Woodall's North American Campground Directory
Viewed by many outdoor experts as the most comprehensive campground directory available, the
Woodall's North American Campground Directory contains information on campgrounds, RV sales and service centers, and visitor attractions for the United States, Mexico, and Canada.
About Grand Casino Hinckley
Grand Casino Mille Lacs and Grand Casino Hinckley, which are owned by the Corporate Commission of the Mille Lacs Band of Ojibwe Indians, are two of Minnesota 's premier entertainment facilities, offering gaming, accommodations, dining, conference and banquet facilities, and live entertainment. Grand Casino Hinckley is located on I-35, 75 minutes north of the Twin Cities and 65 minutes south of Duluth .
###
Happy Travels, and good luck in the casinos!
Mac