As the cost of living goes up, one way to find low-cost or even free campsites while RVing is by becoming a seasonal camp host. By volunteering or working as a camp host for a few hours each week, you can save money RVing and redirect it towards fun activities in beautiful places you've always wanted to see. Keep reading for three easy steps that can get you started.
If a camp host job at a Good Sam Campground sounds good to you, consider using your Good Sam discount card to visit the park before you take a job at that location. You'll save 10 percent on camping fees and get to discover if it's the right place for you to stay a while.
How a Camp Host Job Saves You Money When RVing
The first time my husband and I learned that camp hosting could help us save money on campsite fees, we were intrigued. Early in our travels, we pulled into a remote forest service campground and met two college professors on summer break. They were happy to work as camp hosts in exchange for free rent all season. For just a couple hours each day, they welcomed any new campers, tidied up vacant campsites, and shared bear safety tips with any new guests. In return, they enjoyed a rent-free summer in the Rockies. Not a bad deal we thought. It wasn't long before we started applying for camper jobs through the Workamper News jobs resource for RVers.
Over the last 15 years of full-time RVing, my husband and I have enjoyed free campsite rent in exchange for work-camping at resorts, ranches, and even an animal sanctuary. We've had a variety of part-time and full-time RVing jobs and most paid some kind of wage, as well as provide a free campsite in return. However, one of the most enjoyable and laid-back camper gigs was a camp host assignment at a municipal day-use picnic area in the shadow of Oregon's Mount Hood.
Should You Get Paid for Work Camping?
This Oregon camp host job was a volunteer assignment and did not give us a paid wage. Many camp-host jobs at public entities do not. But we didn't mind working without a wage, because our employer didn't demand much labor in return. Having fewer responsibilities allowed us to keep running our nomadic businesses as always. Each day, our only duties as camp hosts were simply picking up trash, opening and closing the property gates, and reporting any unusual activity to the sheriff. All told, we spent about 10 hours a week fulfilling our obligation as camp hosts. An easy work camping job like this was a dream come true!
According to Jody Duquette, owner of Workamper News Inc., the majority of 2023 work camping employers are now offering paid jobs for RVers. "Very few of our Hotline Ads advertise positions with no monetary compensation," she told me in an email. "Our system has more opportunities available for pay for all hours/salary plus RV site and fewer ads for site trade only."
Work-camping job perks generally include perks like RV site utilities, cable TV, WiFi, laundry use, free or discounted propane, and camp store discounts. Duquette also shared that when wages are offered, the rate of pay can be anywhere from $10 to $25 per hour. And about 15 to 20 percent of employers are offering some type of completion bonus to employees who stick it out all season. "That could be a certain dollar amount at the end of the season, or it could be based on number of hours worked," she explained.
Whether or not you decide to volunteer work camp or get paid depends on your unique situation. But no matter how you add it up, any work-camping job paid or volunteer assignment can help lower your RV travel costs and allow you to explore beautiful places for longer than you ever imagined.
Three Steps That Can Help You Get a Camp Host or Other Hospitality Job
The increase in RV ownership combined with an overall labor shortage in our country has created a domino effect at campgrounds and resorts across the country. More people RVing requires more work campers to keep hospitality businesses and public facilities running smoothly. As of today, there's no better time to become a "work camper" in exchange for free camping.
However, not even these conditions mean that camp host jobs and other types of work camping employment opportunities will just fall in your lap. Finding the best RV job for you means doing a little homework ahead of time. Here's how to stand out from the many RVers seeking seasonal employment.
Step 1: Show Employers You are Ready to Work
Most hospitality businesses are aware that many applicants don't have previous experience as work campers. That's OK! They aren't expecting work-campers to have hospitality MBAs. What matters more to these employers is a good track record of previous employment, well-rounded customer-oriented skills, a willingness to wear many hats, flexibility, and a collaborative attitude. For example, if you work as a front-desk clerk at a small family campground, don't rule out jumping in to help housekeeping staff during the busy season. Most RV jobs require employees to be team players who get jobs done quickly and professionally.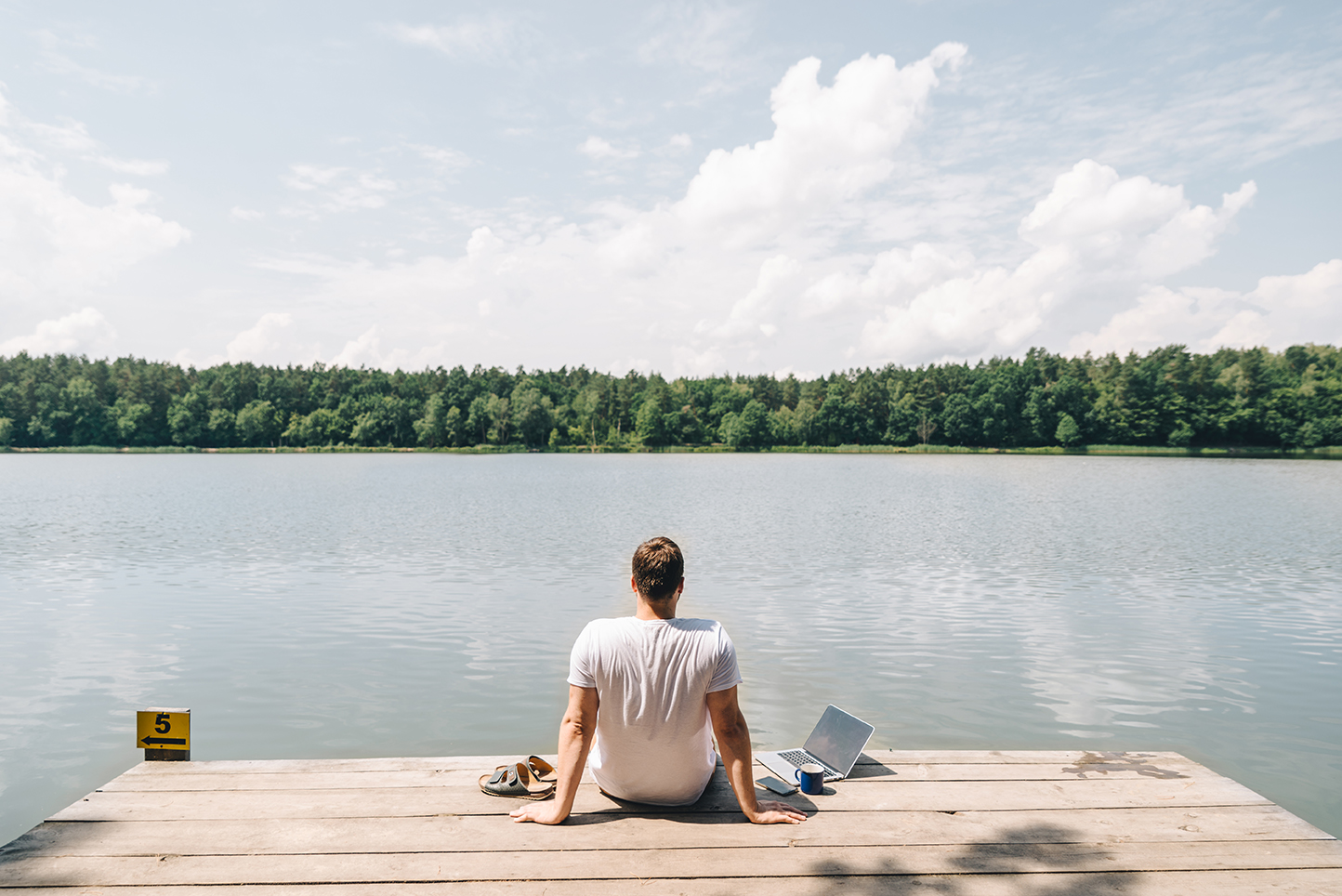 Creating an enticing work camper resume isn't too different from one used in career settings. Put your first resume together by listing your positive attributes and people skills above a timeline of your actual previous job experience. Between the two, you'll want to quickly share a few examples of how those attributes benefited your previous employers. Explain how those positive work habits can help hospitality businesses too.
Step 2: Talk to Other Camp Hosts and Experienced RV Job Seekers
If you're camping at an RV resort and you believe employees are happy with their jobs, go talk to them. There might just be a job opening at that business. Another good way to network is by going to Facebook to network with other RVers who work on the road. Just search groups for phrases like "RV jobs," "workamping," or "work camping" to meet other working RVers with experience who can help you gain some of your own. In full disclosure, my husband manages one of the largest Facebook work camping groups. Of course, I'm biased and think his site is best, but other good Facebook work camping resources exist too.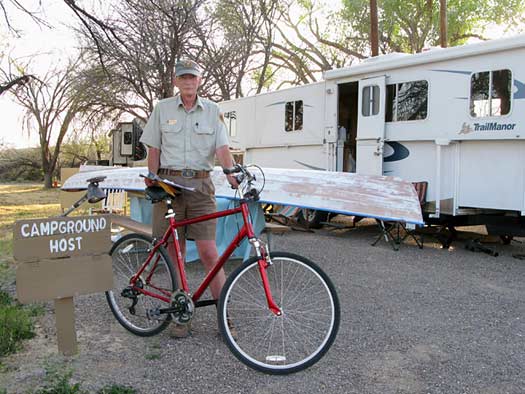 Step 3: Scout Out Camp Host Job Opportunities
Finding camp host jobs and other road gigs used to be a word-of-mouth thing. Not anymore. Now you can join one of the dozens of online RVer job classifieds and resources like Workamper News, Cool Works, and Working Couples. Do a web search for "Jobs for RVers" and many helpful resources will appear.
Some job sites are free to browse, while others are not. I encourage you to consider signing up with a paid RVer service like Workamper News. My husband and I have found all of our RV jobs through this resource. Generally, those employers who are willing to pay to advertise in outlets like Workamper News tend of be a higher caliber than those who aren't willing to pay to find employees.
Get Ready to Explore and Save Money Camping, Too!
My husband and I were only supposed to be full-time RVers for a year. Our decision to jump into camp host and other jobs for traveling is one big reason why we are still on the road. Not only have these roles lowered our campsite rent costs, but they've provided us with the privilege of meeting great people in beautiful places. I doubt we ever could have enjoyed them to the degree we have if we were just renting an RV site somewhere. Work camping and camp host jobs are terrific. I can't recommend this unique arrangement enough. Give it a try, you might just love it as much as we do!