The Alabama Gulf Coast beckons travelers.
Gulf Shores and Orange Beach, Alabama, invite you to dig your toes into the soft sand and taste the salty sea air coming off the Gulf Coast. Make sure you mark this spot on your travel itinerary if you're visiting the Deep South; whether it's high or low season on the coast, there's plenty to do and see in this Dixie getaway.
The Intracoastal Waterway and the opening of Gulf State Park, both in the late 1930s, helped usher in an era of coastal tourism for Gulf Shores. What began as a fishing community has evolved over the past several decades to become a destination for families, couples and solo travelers who enjoy maritime and land-based adventure. Neighboring the Gulf Shores community is the sandy hamlet of Orange Beach. It remains a bit of a hidden gem but still offers a fun-filled vacation opportunity for the visitors that swoop in each summer.
Alabama Gulf Coast History
See Gulf Shores history from up close with a visit to Fort Morgan and Fort Gaines. These military outposts played critical roles in Civil War engagements such as the Battle of Mobile Bay. Though weather and time have worn them down, they remain popular tourist sites and are the focus of strong preservation efforts and living history lessons. Twice a year, Fort Gaines stages reenactments of key battles.
A more detailed history of this Alabama Gulf coast community and its beginnings can be found at the Gulf Shores Museum, where exhibits on the early fishing community as well as its ongoing battle with natural forces (read: hurricanes) are on display.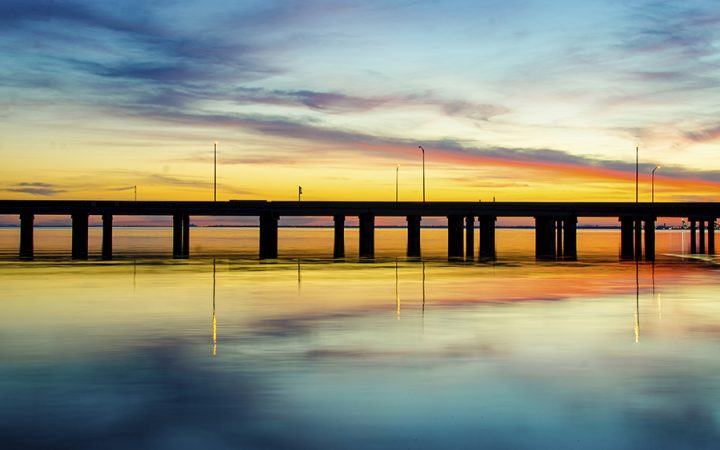 Of course, the modern draw of Gulf Shores remains its beaches, and Gulf State Park provides some of the quietest spots in the area. Lake Shelby Recreation Area is an ideal site for family activities like swimming, water skiing and boating. Anglers can obtain fishing licenses in the park and head into the waves to cast lines and catch "the big one."
Orange Beach is a fisherman's delight, and the community serves up ample opportunities to charter a boat and ride out into the Gulf of Mexico. Dolphin cruises, kayaking, scuba diving, snorkeling charters and sightseeing are popular options for visitors, too.
Coastal Alabama is a birder's paradise, and five different loops along the Alabama Coastal Birding Trail provide chances to see native birds, including wading species. Bon Secour National Wildlife Refuge provides similar opportunities as well as chances to see nesting sea turtles and the endangered Alabama beach mouse. The refuge's coastal dune ecosystem earned it a place among the 10 natural wonders of the state.
The Local Scene
After a long day in the surf and sun, cool off and appreciate the creativity of local talent at one of the many area art studios. Paintings, pottery and more can be found on the streets of Gulf Shores, as well as opportunities for guests to unleash their own inner artists.
Get up in the air with an aviation tour that lets the tourists do the flying, and see Gulf Shores' points of interest from a new perspective. See the ocean from another point of view by parasailing over the Orange Beach stretch of sand, or stay eye-level with the waves on a kayak excursion from Cotton Bayou.
Seafood is a star here, and in the summer months the shellfish are ripe for the picking. No matter your taste, there's an oyster house or shrimp shack, or white-linen seafood restaurant, somewhere along this stretch of south Alabama that will satisfy.
Burn some calories and while away a few hours at area golf courses where legends like Arnold Palmer have lent their touch to challenging greens against scenic backdrops at Cotton Creek Club and Cypress Bend Course, as well as Gulf Shores Golf Club and Kiva Dunes.
Orange Beach shines as much on land as it does on sea, and SanRoc Cay Marina doesn't disappoint. Pick up treasures at boutique shops, taste local cuisine or take in a spa experience on a side trip to this compact entertainment district. The Orange Beach Indian & Sea Museum shares the story of local native people and their culture, as well as the region's fishing and maritime traditions.
Take the family out for a laid-back evening of easy entertainment at Adventure Island in Orange, where an erupting volcano is the centerpiece. Little and big ones will enjoy a day trip to Alabama Gulf Coast Zoo or the Track Family Recreation Center. Beat the heat away from the beach at Waterville USA, and wrap up the day at The Wharf in Orange Beach with dinner and seasonal entertainment.
For More Information, check out Alabama Travel.