Each year we keep moving forward, growing stronger from our humble beginnings since 2013 when we had only a handful of RV resorts and campgrounds. Now Sun RV Resorts has more than doubled in size with a landmark year in 2016, adding over 100 more parks across the U.S. and Canada, and a very bright future ahead for 2017!
Let's take a moment to introduce our first acquisition in 2017, plus all of the newcomers who joined the Sun RV Resorts family in 2016. We can't wait for you to experience all of these wonderful parks. All are located in popular vacation destinations from coast to coast with premium amenity packages to enjoy and exciting local area attractions to discover.
Starting Strong in 2017
49er Village, our first addition in 2017, is located in the heart of Gold Rush Country and the Sierra foothills in Plymouth, California. An area known as the "gateway to the Shenandoah Valley." Escape for a couples retreat or bring the whole family to enjoy the premium accommodations, world class amenities, and unique local attractions.
A Historic Year for Growth in 2016
Nestled on the shores of its namesake, Lake Josephine is a Central Florida gem located in sunny Sebring. Enjoy spacious, pet-friendly accommodations and amenities. Like a heated swimming pool, planned activities, billiards, and pickleball. Including some of the best freshwater fishing on Lake Josephine, all from the comfort of your own boat or our convenient boat docks.
Discover the beauty and splendor of upstate New York at Adirondack Gateway! Located between the popular destinations of Saratoga Springs and Lake George. Guests can enjoy a family-friendly atmosphere with miniature golfing, two heated swimming pools, an arcade, snack bar, fishing pond, planned activities, themed weekends,  and live entertainment!
With the addition of Jellystone Park™ at Larkspur, we can now boast three Jellystone Parks™ in our extensive portfolio as well as a presence in the beautiful state of Colorado! This award-winning, family-friendly campground offers 100 acres of sprawling grounds with easy access to the best that Colorado has to offer. An ideal location between Denver and Colorado Springs.
Petoskey RV Resort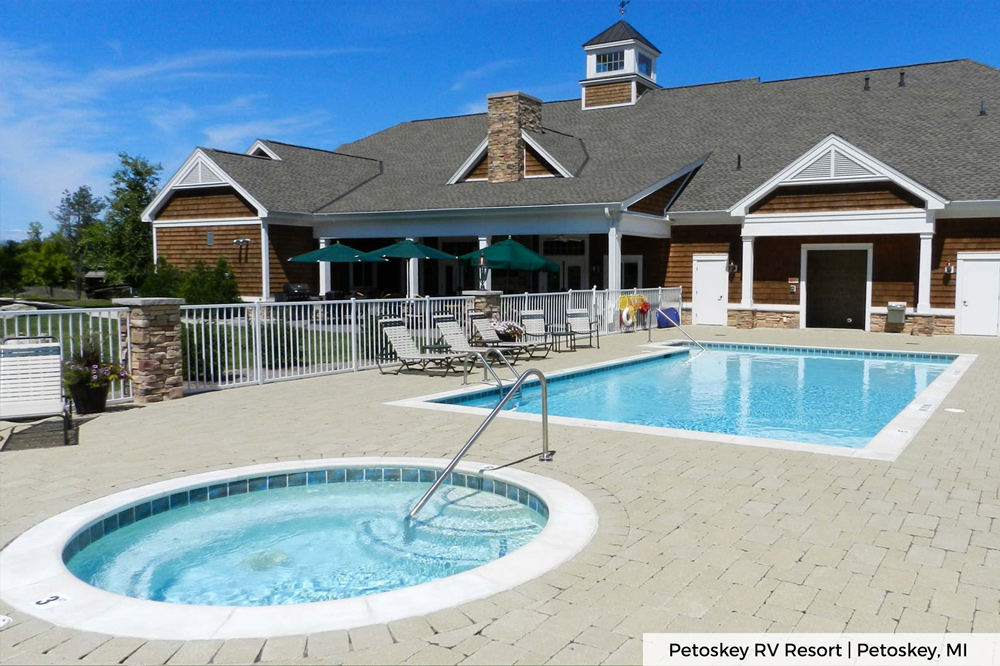 is a 26-acre gated resort nestled in the picturesque vacation town of Petoskey, Michigan. Just minutes from the shores of Lake Michigan. Enjoy upscale amenities like the temperature-controlled outdoor swimming pool and spa area. There's also a 9-hole putting course, state-of-the-art fitness center with saunas, tennis courts, pet-friendly walking paths, and the grand lodge!
In our largest acquisition to date, we are pleased to welcome Carefree Communities to the Sun family of RV resorts, campgrounds and manufactured home communities! With the addition of more than 60 RV resorts and campgrounds to Sun RV Resorts, a division of Sun Communities, Inc., our recreational portfolio has increased to over 100 properties.  All in desired locations from coast-to-coast and a presence in Ontario, Canada!
Pecan Park is a premiere RV resort destination in Jacksonville, Florida, an area known as the "River by the Sea." This park is the first full service RV campground south of the Georgia-Florida border offering a full amenity package and spacious, pet-friendly accommodations with all the comforts of home.
Check out these newcomers and all of our other fantastic resorts across the U.S. and Canada by visiting our website at www.sunrvresorts.com.