Halifax heats up for fun and festivals …
Experience all the highlights of Eastern Canada in Halifax. From its cutting-edge culinary culture and exciting festival scene to its alluring waterfront views and stunning architecture, this historic yet hip metropolis is sure to captivate you. Hospitality is also taken to new heights here. Haligonians (Halifax locals) welcome visitors with open arms and are eager to share their home with you.
Join fellow revelers in celebrating Canada's big sesquicentennial by attending the Canada 150 in Halifax, July 1. Halifax heats up as special events and entertainment will herald the the anniversary in the  city's own unique style. Find more anniversary celebrations here.
Behind this bustling port city is a significant military history. In 1749, English settlers landed in Halifax's natural harbor to establish a permanent fortified settlement. Dartmouth, the area across the harbor, was founded the next year. The first ferry ran between these two cities in 1752 and is still in operation, making it the oldest saltwater ferry system on the continent. Since merging with Dartmouth and other towns in 1996, Halifax is now known as the Halifax Regional Municipality (HRM). Today, the HRM is home to approximately 415,000 people, the largest Canadian urban center east of Montreal.
On the Waterfront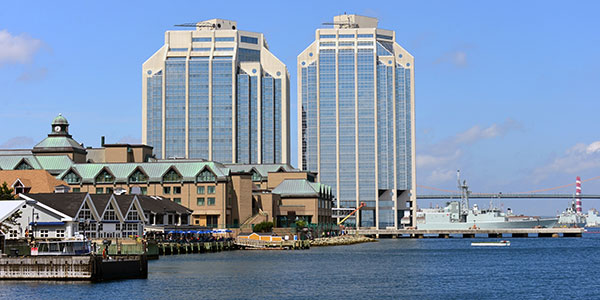 If you'd like to learn more about the city's fascinating history, take a stroll along its famous waterfront. The Canadian Museum of Immigration at Pier 21 lets you uncover 400 years of immigration history in Canada, while the Maritime Museum of the Atlantic allows you to explore the province's rich maritime heritage. You'll also find the Halifax Seaport Farmers' Market here, the longest running market in North America with over 250 vendors. When you've gotten your fill of history, explore the multitude of towering ships, shops, galleries and restaurants along the gorgeous boardwalk.
Nova Scotia Suds
Across the street from the waterfront is Alexander Keith's original 1820 brewery. Stop by to sip on crisp ales and enjoy an award-winning theatrical tour with costumed guides. Or, explore the city's booming craft beer scene by visiting popular microbreweries including North Brewing Company, Unfiltered Brewing, Good Robot Brewing Company and much more. If you're more of a wine drinker, you're in luck. Did you know Nova Scotia has over 16 wineries? Book a wine tour to see beautiful vineyards and taste some of the best wine Canada has to offer.
Haligonians not only like a good beverage, but they also live and breathe music, too. From folk and rock 'n' roll to indie and jazz, locals love music from all genres. As a result, Halifax hosts a handful of music festivals throughout the year. In July, the TD Halifax Jazz Festival keeps the city grooving with live jazz, blues, roots and world music for eight straight days. With over 500 performers and a main stage located on the stunning waterfront, this festival is always a summer highlight. In the fall, the highly anticipated Halifax Pop Explosion international music festival hosts over 150 bands, while showcasing emerging music, art and culture.
For More Information
Destination Halifax
877-422-9334
Nova Scotia
800-565-0000