Consider kicking off your Spring RV travels with a trip to the land of bluegrass. Kentucky is an outdoor recreation hotbed, with plenty of national parkland and state parks to visit as well as two of the state's main attractions combined: Louisville and the Kentucky Derby.
Whether you're here for horse racing, the Louisville food scene, or Kentucky National Parks, check out these Good Sam campgrounds worth including in your itinerary. We're organizing these by top-rated, close to the Churchill Downs, and the other incredible campgrounds throughout the state. Be sure to comment below and share where you've been or where you're planning to go.
Good Sam Top Rated Campgrounds in Kentucky
For the very best campgrounds in the state, look no further than these top-rated Good Sam spots. Remember, Good Sam Members save 10% on overnight stays at any of these parks. Below each campground link, you'll find a three-point rating score that represents their Good Sam rating, which is scored each year by Good Sam representatives who travel to each campground for evaluations.
Location: Eddyville, KY
Good Sam Rating: 10 / 10 / 9
Location: Georgetown, KY
Good Sam Rating: 9.5 / 9.5 / 9.5
Location: Corbin, KY
Good Sam Rating: 8.5 / 9.5 / 10
Location: Salt Lick, KY
Good Sam Rating: 8.5 / 9.5 / 10
Campgrounds in Kentucky within an hour of Churchill Downs Racetrack
If you're headed to the Kentucky Derby this Spring, below are Good Sam campgrounds located within an hour's drive of the Churchill Downs Racetrack. So you can set up camp and enjoy the festivities at the race and still get back to enjoy the campfire and the outdoors.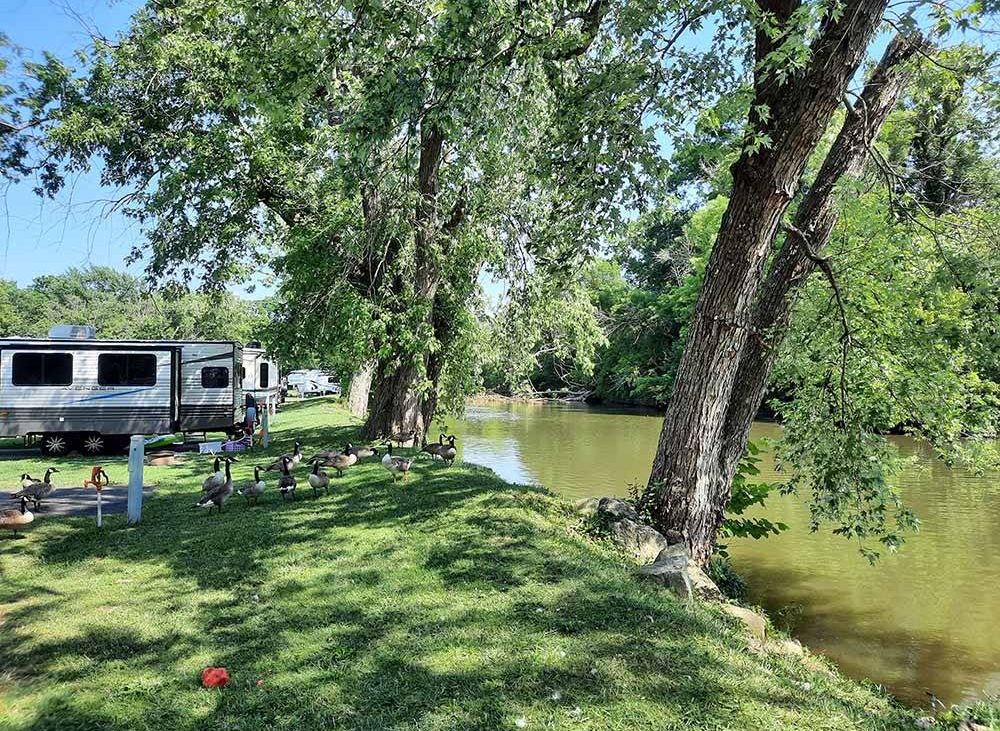 Location: Frankfort, KY
Good Sam Rating: 9.5 / 9.5 / 9
Located 1 hour east of Churchill Downs. 
Location: Cave City, KY
Good Sam Rating: 10/10/9.5
Located approximately 1 hour south of Churchill Downs.
Location: Bardstown, KY
Located 45 min from the Churchill Downs
New to Good Sam — Kumberland Campground & RV Resort
Welcoming the newest Good Sam Campground in the list, about two and a half hours southeast of the Churchill Downs Racetrack in Louisville is the Kumberland Campground & RV Resort, located on the banks of Cumberland Lake.
Good Sam Campgrounds
When you visit Kentucky, stay at any of the Good Sam Campgrounds listed below, and click or call to inquire about rates, availability, and amenities to find what you're looking for. And if you aren't a Good Sam Member, check out the 10% camping discount and other benefits that negate your annual fee.
Three Springs Campground
Corinth, KY 41010
(859) 823-0258
Thousand Trails Diamond Caverns RV & Golf Resort
Park City, KY
(888) 563-7040
Singing Hills RV Park
Cave City, KY
(270) 773-3789
Quiet Woods Green River Stables Horse Camp & RV Park
592 Robin Rd
Campbellsville, KY 42718
(270) 789-4525
Paddle Trail Campground on the Green River
Greensburg, KY
(270) 973-5500
Northern KY RV Park
Dry Ridge, KY
(859) 428-2000
Music Valley RV Park
Mount Vernon, KY
(606) 256-0101
Mountain Top Retreat Cabins & Campground
Cave City, KY
(270) 773-2995
Fern Lake Campground & RV Park
Paducah, KY
(270) 444-7939
Duck Creek RV Park
Paducah, KY
(800) 728-5109
Dad's Bluegrass Campground
Franklin, KY
(270) 253-5191
Birdsville Riverside RV Park
Smithland, KY
(270) 928-2772
4 Guys RV Park
10137 Campton Rd
Slade, KY 40376
(606) 663-4444