Winter Camping in Florida can be paradise, according to a Paradise Island RV Resort guest:
Coming from the Midwest and being an avid camper in those parts, it was a bit of a culture shock when we ventured out to do some winter camping in Florida. In South Dakota, there were acres of land and the campsites were large and spread out. They were also somewhat primitive in areas, which was okay, too, as we were prepared for that.
Arriving in South Florida, we find something quite different. We see campgrounds mostly in the city and in traffic, which is difficult when pulling a 37-foot fifth-wheel loaded for the winter. The sites are tight, looking somewhat impossible to maneuver and park my big RV. I wasn't sure that my awning wouldn't kiss the neighbor's awning!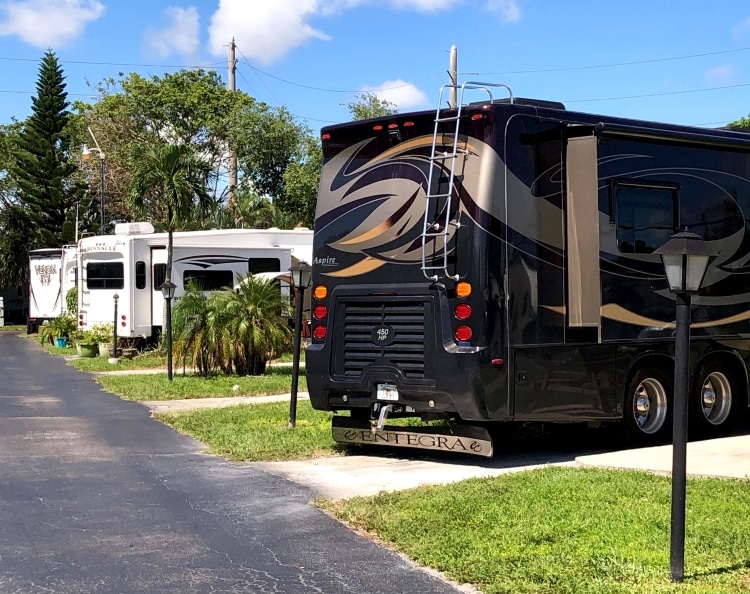 Settling In
We finally arrive to Paradise Island RV Resort, thinking I will surely need a glass of chardonnay to get parked and settled. We are greeted with smiling faces in the resort office and a calm maintenance attendant to assist us in parking. Paradise Island RV Resort's ad says it is "An Oasis in the Heart of Fort Lauderdale." Well, it is definitely in the heart of the city; we'll see about the Oasis part!
Once parked, we unpack, and what started as an asphalt parking space with a concrete slab for a patio suddenly became our home for the next four months. It is amazing how a person can make any space their own in a matter of minutes. We set up our outside furniture — carpet, grill and yard ornaments. Voila, this is ours! This is a smaller park, with 232 spaces, so we find that all of the amenities are really within a nice walk. There are a big, beautiful heated pool and beautiful 5-star hotel-like bathrooms, which were a nice surprise!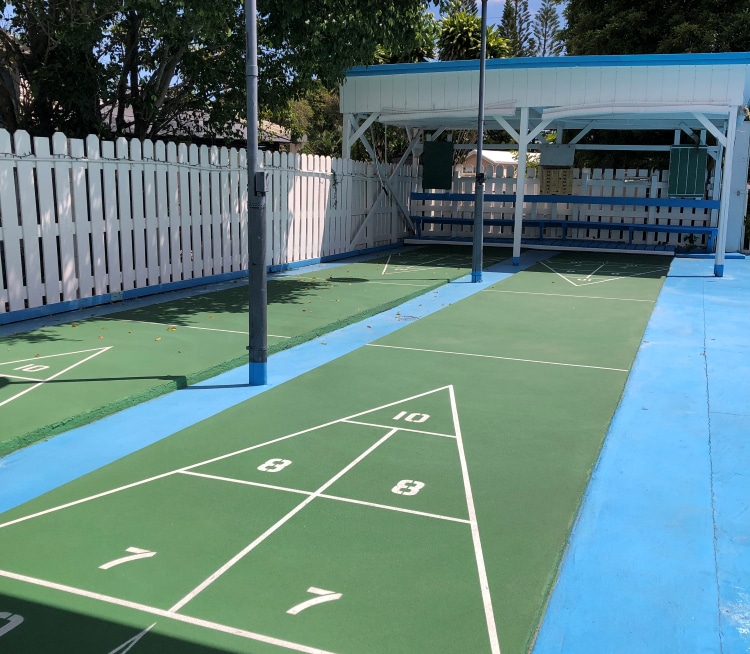 Fun in Fort Lauderdale
After getting settled, we explore a bit and this is what we found. The outside traffic and noise seemed to melt away. There was an unexpected International flavor to Paradise Island RV Resort. There were Canadians, both French and English speakers, middle-aged Brits, a young couple from Germany, another couple from the Netherlands and a family from Brazil. Also staying at the park were quite a few folks from the Northeast, including New York, New Jersey and Ohio.
We find the list of Activities… wow, no less than 30 different things to do here! Anything from water aerobics to shuffleboard, billiards, movie nights, bingo — something for everyone and every day and night of the week. And that's just inside the park. We are, after all, in the heart of Fort Lauderdale, where we can eat out any cuisine we crave, see professional sports, live music or just go to the beach!
It didn't take long to feel very "at home" in this little microcosm of the world. Funny how the television and internet suddenly have very little importance. We find that music, food and a smile are the international languages in a place like this. It is always nice to get home, but the memories of this "camping trip" will be forever. If your expectations are that you will have a ton of space and wilderness to explore, you will be disappointed. If you are looking for a different camping experience, try this… you might like it!