If you rely upon a GPS system while driving, updating its software on a regular basis is one of the most important routines you should adopt. Whether you are computer savvy or technically challenged, updating your GPS unit is relatively easy to accomplish. When you purchased your GPS system, it came with instructions for updating. In broad terms, you connect the GPS unit to your computer via a USB port by using a cable that came with the GPS unit. Then go online to the manufacturer's site (in our case Rand McNally's site.) Look for an icon, or possibly a tab, on their site that says "Updates," and click on it. Follow the instructions given. Each time you do this, your unit will be automatically updated with the latest information necessary for its functionality.
Updates for the Rand McNally "Good Sam" Branded GPS are free for life, and once per quarter, we're notified that it's time to go online and perform the update. The critical functions an update may include are:
Hazard warnings for speed limit changes, sharp curves, dirt roads, etc.
Road sections to avoid with traffic congestion, construction, tunnels or bridges
Exit information for RV parking and amenities
Traffic Wi-Fi updates for weather and fuel prices (for some GPS units this may be an add-on module purchased separately)
Comparisons of toll vs. non-toll routes, providing accurate charges and other information
Improved Point Of Interest (POI) searches
Searching for amenities with a travel center brand name such as Pilot Flying J and others
Up to date searches on 8,000 privately owned RV parks, including over 2,100 Good Sam Parks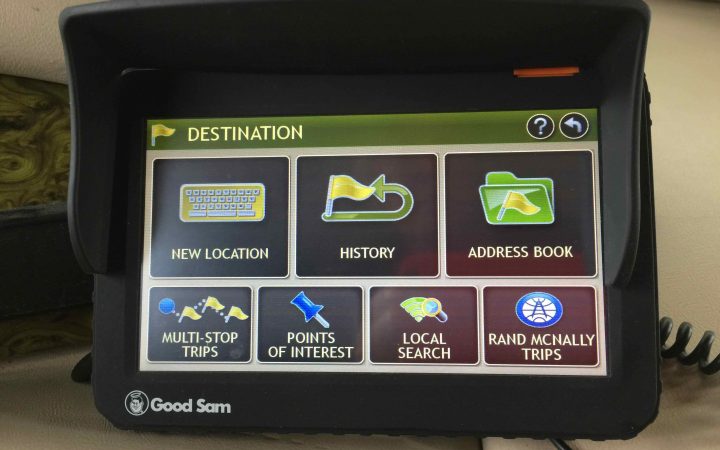 One of the complaints we hear most often from fellow campers is "my GPS system is not finding the desired information." Upon further questioning, invariably nthe camper has not updated his GPS system recently (or in some cases—never!) We gently share with our fellow traveler that the source of his or her problem is most likely the need for an update. Luckily this is a problem that is easily remedied.
From along the road,
Chris