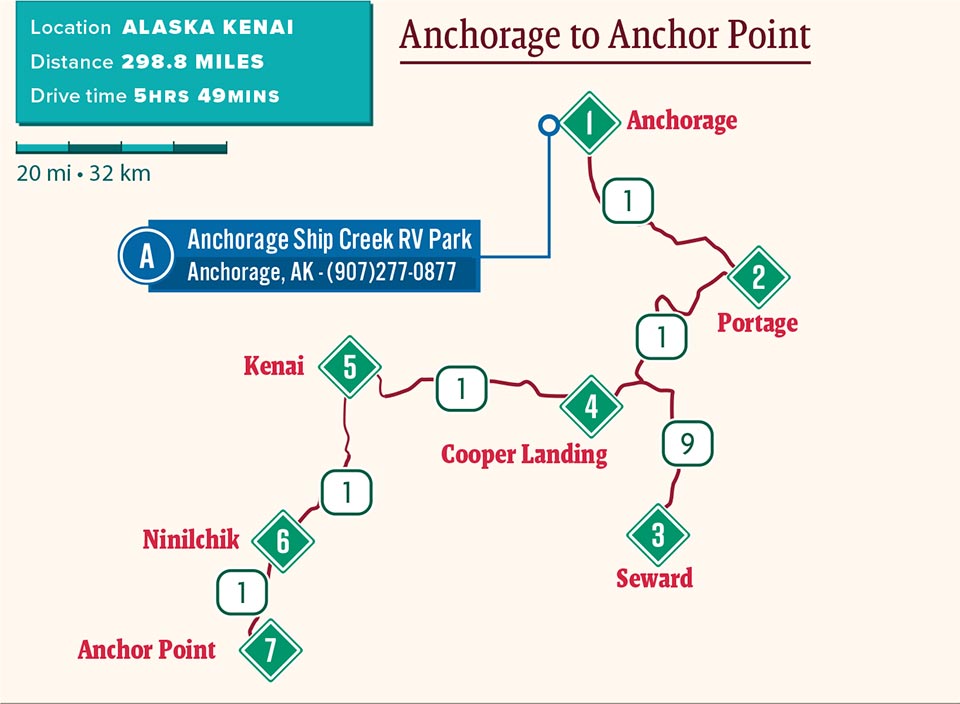 Alaska's wild west is a land of wildlife, glaciers and salmon-rich rivers. Folks who brave the trip from Anchorage all the way to Anchor point — the westernmost point on America's highway system — will be rewarded with untamed landscapes that bring you face-to-face with the Last Frontier.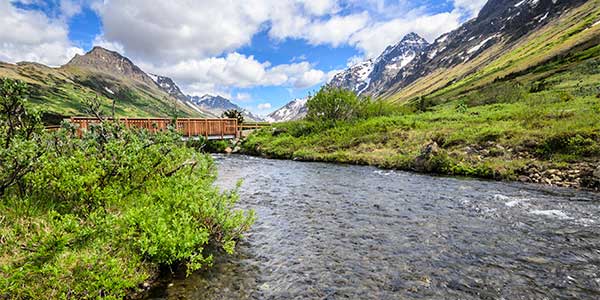 1. Anchorage
Starting Point • Entertainment, Nature, Outdoor Recreation, Quirky
A quirky but cosmopolitan city set amidst unspoiled wilderness, Anchorage is Alaska's nerve center. It's a place where river meets city, where locals fly-fish before they head to work, and where all day long forested trails on the fringes of town are packed with runners, cyclists and speed walkers. Just outside of town, Chugach State Park delivers some of the state's most varied outdoor recreation opportunities, including rafting, ATV tours and fishing.
Recommended Stopovers
Anchorage Ship Creek RV Park • Anchorage, AK – (907)277-0877
2. Portage
Drive 49.1 miles, 58 minutes • Nature, Outdoor Recreation
The road south on the Seward Highway to Portage Glacier transports travelers into a realm of ethereal beauty. Since 1995, Portage Glacier has receded to the far edge of the lake, and the iconic images of the Portage Glacier are now visible at Whittier. You can view Portage Glacier's ice "carve" dramatically into the water below from just 300 yards away.
3. Seward
Drive 78.2 miles, 1 hour, 23 minutes • Entertainment, History, Nature
Straddling the broad fjord of Resurrection Bay, Seward delivers quintessential Alaska. The town's evocative streets, punctuated with traditional wood-frame houses and historic storefronts, funnel to the town's dock with mountain, forest and sea views. The town is also home to two world-class attractions: the Alaska Sealife Center and the Seward Museum.
4. Cooper Landing
Drive 95 miles, 1 hour, 49 minutes • Outdoor Recreation, Sports
At the north end of Kenai Lake, Cooper Landing is known as a sport fishing mecca. Surrounded by majestic mountains, the historic town unfurls along the banks of the Kenai River, where anglers cast for prime sockeye, coho salmon, Dolly Varden and rainbow trout. Cooper Landing also provides the gateway to Class III whitewater rafting in the Kenai Canyon.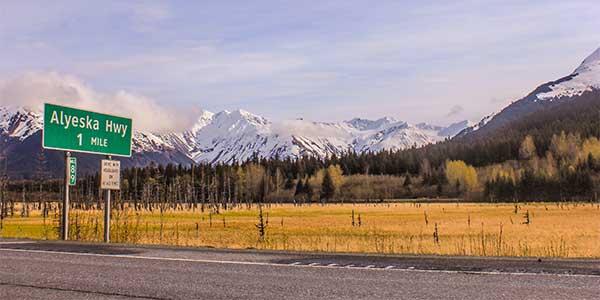 5. Kenai
Drive 11.1 miles, 17 minutes • Nature, Sports
Concentrated in a 300-mile radius of humbling topography — serrated mountains, colossal ice fields and turbulent seas — and staggering biodiversity, Kenai's outdoor adventure is epic. The Russian River is hailed as one of the greatest sport fishing destinations in the world. At Beluga Point Lookout, in late spring and early summer, the namesake whale can often be seen coasting the incoming tides to feed on salmon.
6. Ninilchik
Drive 45.7 miles, 54 minutes • History, Nature
The oldest settlement on the Kenai Peninsula, framed by Mount Redoubt (an active stratovolcano), the former Russian fur trading village of Ninilchik still clings to its Russian heritage. Evocative sights, including the town's first Russian school house, a number late 19th-century log cabins and the striking Russian Orthodox Church (built in 1900), add to the town's photogenic allure. Ninilchik is also famed for its superb summertime clamming at the Ninilchik State Recreation Area.
7. Anchor Point
Drive 21.7 miles, 27 minutes • Nature, Outdoor Recreation, Sports
The westernmost point on America's highway system, the small town of Anchor Point affords breathtaking scenery and delivers some of the best sport fishing in the world. With just shy of 2,000 outdoorsy residents, the town caters to nature-loving locals and visitors with a healthy choice of charter fishing outfitters, rustic lodging and a tackle shop. But Anchor River is where most attention is focused, with king salmon, silver salmon, Dolly Varden and steelhead trout luring anglers.