By Bob Difley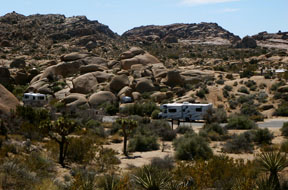 The temperature hit 113 degrees in Los Angeles this fall, an all time record. In northern California, the temperature topped out at 100 degrees in the coastal surfing town of  Santa Cruz, breaking the all time record of 99. The Northeast sweltered, breaking heat records. It seems like a silly time to be talking about heading south to escape winter's bone-numbing cold, blinding blizzards, endless gray skies, and altogether foul weather.
But global warming or not, snowbird season will arrive, and with it the frantic preparations and urgent scramble south with dark gray storm clouds building in the rear view mirror. If you are planning to spend a few months boondocking in the deserts this season, it is not too early to start planning.
You may find the following tips helpful as well as serving as a partial check list before you set out.
Take a hammer to that piggy bank you've been saving your spare change in and buy solar panels. Most of the desert is wide open to the sky and you get a full day's worth of charging—even with the shorter days. Even a single panel will provide enough power to run some of your systems, decreasing the amount of generator run time.
Stay warm on chilly desert evenings with a catalytic heater, which runs on propane, and since it has no fan draws no electricity. Your built in forced air heater will quickly drain your batteries while the propane heater will heat your rig for pennies an hour.
Assemble a desert day pack, for hiking, biking, or just sightseeing, consisting of sunscreen, a floppy brimmed sun hat, sunglasses, refillable water bottle, energy bars (i.e. Clif bars), stuff-bag nylon windbreaker, and a small first aid kit.
Stock your bookshelf with a selection of field guide books: deserts (such as Audubon's Deserts , southwestern wildflowers, western or local regional bird book, desert wildlife (though the Audubon book has a wildlife, bird, and wildflower section), desert plants, and a regional or state tour book like Lonely Planet or Moon guides. Mike and Terri Church's Southwest Camping Destinations lists all the campgrounds and related information for the southwest. Ed Abbey's Desert Solitaire is a good read also.
Arizona State Parks stay full during the height of the winter and fill early in the day, so if you will be using one and arriving after noon or sometimes earlier, check first whether they have overflow camping for the first night, then into a campsite on the second night as they do in Lake Havasu State Park. Otherwise you may be stuck without a campsite as the sun sinks over the yardarm.
Carry a Jerry jug or two or and inflatable water bladder for extra drinking water. Pour or pump into your water tank when needed.
If you plan on arriving while it is still hot or staying into April or beyond when it heats up again, buy windshield and side window sun screens to keep the inside of your RV cooler.
Buy a dump cap and fittings that will enable you to connect a common garden so that you can drain your gray water off into a hole or onto a thirsty bush, keeping your gray tank from filling up to fast and forcing you to drive off to dump.
Wear sturdy sided walking shoes or hiking boots when off trail to protect your ankles from cactus thorns and rattlesnake strikes (I'm kidding about the snakes—they hibernate all winter, as do scorpions and Gila monsters).
Leave your ear plugs at home or you won't hear the quiet–or the coyote serenade. And turn off your porch light if you want to see the spectacular Milky Way, as clear and sparkling as you ever imagined when seen through the clear, humidity free desert air.
If you have any money left over after prepping for your trip, you might also consider my desert ebook, Snowbird Guide to Boonndocking in the Southwestern Deserts. My other ebooks, including BOONDOCKING: Finding the Perfect Campsite on America's Public Lands, and additional RVing tips can be found on my website, Healthy RV Lifestyle.com