By Barry Zander, Edited by Monique Zander, the Never-Bored RVers
I've always considered New Orleans to be a culture much more than just a city.  Over the past three days, we were immersed in that culture.
First, however, let me explain just a bit about the scope of what there is about New Orleans that separates it from other cities (albeit, many with their own cachet).
Because of its location at the foot of North America's greatest river, it figured prominently in the Revolutionary War (site of the War of 1812) and took fire from the guns of Admiral Farragut as his gunboats passed by the city during the Civil War, and I might add that my Air National Guard unit had aircraft flying 24/7 for many years as a deterrent against possible attacks launched from Cuba.
The New Orleans area played a role in the space program as the home of the Michoud facility where the huge rockets were assembled.
My family's business for many years in New Orleans was importing coffee from South and Central America.  I think I heard a tour guide say it's still second in the nation in total shipping tonnage.  The vast antebellum (pre-Civil War) sugar cane fields grew the area's greatest crop, supplanted by rice and seafood.  It sits at the nave of the Gulf of Mexico's waters polka-dotted with offshore oil rigs.
It's where Jazz was born and the regions in and around the French Quarter continue to spawn many of the world's favorite musicians.  There's a New Orleans sound in pop music that's unmistakable.
New Orleans is undoubtedly one of the most sports-crazy metropolises in the world. "Who-Dat" Saints fans are as raucous as they come.
N'Awlins has come under French, Spanish, English and American rule, and probably never without conflict, which has added to the rich history … like seafood and andouille in gumbo.  Gumbo — we had some at Oak Alley Plantation Tuesday, plus crawfish etoufee,  jambalaya, bread pudding with rum sauce – and that was a day after our rally group got a true taste of New Orleans at a lavish buffet in the French Quarter's Court Two Sisters.
One more important point:  The effects of Hurricane Katrina, which skirted to the east of New Orleans in August 2005, is evident just about everywhere in the city outside of the French Quarter and business district, which escaped devastation, except for workers being homeless and often forced to relocate.  When a 20-foot
surge caused the levees to breach, flooding most of the city and its suburbs, a new history of the city began.  I'll give you a bit more about that in an upcoming edition of this blog.
I don't usually dwell that much on the specifics of places we visit, but I'm setting you up for our adventures in "the Crescent City," a.k.a. "the City that Care Forgot," a.k.a. "The Big Easy," many other a.k.a.s.
A day after members of our group were introduced to the first parades of the Mardi Gras season last Sunday, we boarded luxury buses for a tour of the city, followed by a walking tour of the historic French Quarter.
As regular readers of our blogs have learned, we are not in the business of spouting out statistics and historical details.  If you find our blogs interesting, we hope you'll put the area on your bucket list of places worth visiting.
My point is that I'm not going to bore you with dates and statistics that you can find on Wikipedia and a thousand other places.  Like a house under construction, all those separate parts are assembled into a home, which the residents appreciate as a place of relaxation, safety and good feelings.  They forget about the sticks and mortar that keep them safe.
I guarantee, you won't know New Orleans by reading about it.  Tourists become enchanted with the almost 300-year-old city by walking its streets, eating "po-boys" in its restaurants, talking to the locals, reading Pulitzer Prize-winning "Confederacy of Dunces."  You have to be here to soak up that culture I mentioned at the beginning of this article
Rather than talk you though some of our experiences, I'll let a few pictures provide a quick glance of what our eyes have beheld.
It's a whirlwind of events for us, things many locals might do over years of living in the city, but, like many residents of most towns, they never get around to doing it all.  I'm finally taking the plunge.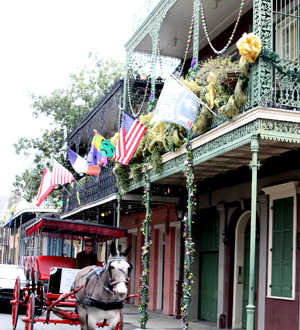 From the "Never-Bored RVers," We'll see you on down the road.
© All photos by Barry Zander.   All rights reserved