What could be more comforting on a cool and hectic evening than an easy Chicken Enchilada recipe? Pull this together quickly and then enjoy some fun with family and friends.
Recipe:
2 – boneless, skinless Chicken Breasts
½ medium diced Onion
1 – 4 oz. can Diced Green Chiles
1-teaspoon olive oil
1 – 14.5 oz. can Diced Tomatoes
14 ounces Red Enchilada Sauce
6 Flour Tortillas
10 ounces grated Cheddar Cheese
Garnish:
1 cup Sour Cream
1 cup chopped fresh Tomato
2 cups chopped Lettuce
½ cup sliced Black Olives
Side Dish Suggestion:
1 – 14.5 oz can Refried Beans
Shredded mozzarella cheese
Steam chicken breasts for 8 to 10 minutes in steamer basket above boiling water in covered pot (no peeking) or until internal temperature reaches 165 degrees. Allow chicken to cool and then shred meat with a fork.
Sauté onion over medium heat until translucent. Remove from stove and stir in diced green chiles. Mix in shredded chicken.
Place canned diced tomatoes into small food processor and pulse for 10 seconds. Combine with enchilada sauce. Add ½ of the enchilada mixture to the prepared chicken.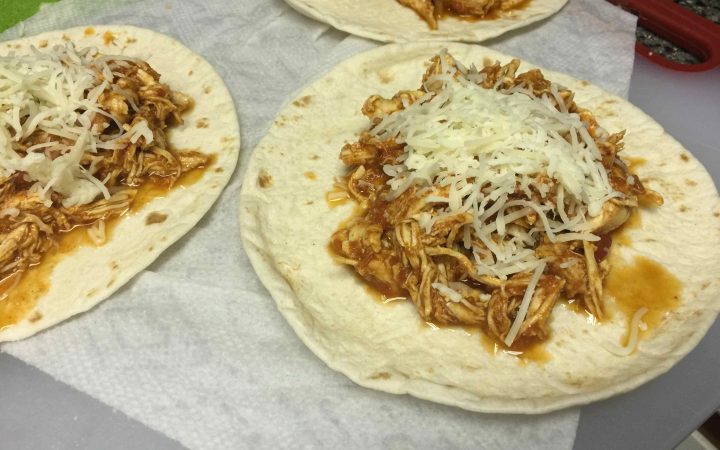 Microwave 6 flour tortillas between two damp paper towels for 30 seconds. Spray an 8-inch by 8-inch square pan with cooking spray, then cover bottom of pan with 4 oz. of the remaining enchilada sauce. Divide chicken mixture into six equal portions and place one portion in the center of each tortilla. Sprinkle 1 oz. of cheese over each chicken portion and roll. Place rolled tortilla in pan on top of enchilada sauce with seam side down. Pour remaining enchilada sauce over tortillas. Sprinkle remaining cheese over the top of the rolled tortillas.
Bake at 350 degrees for 25 to 30 minutes. Meanwhile warm the refried beans over low heat.
Serve with the garnishes suggested above sprinkled over the top of the enchiladas as desired, along with a side serving of refried beans topped with a bit of mozzarella cheese.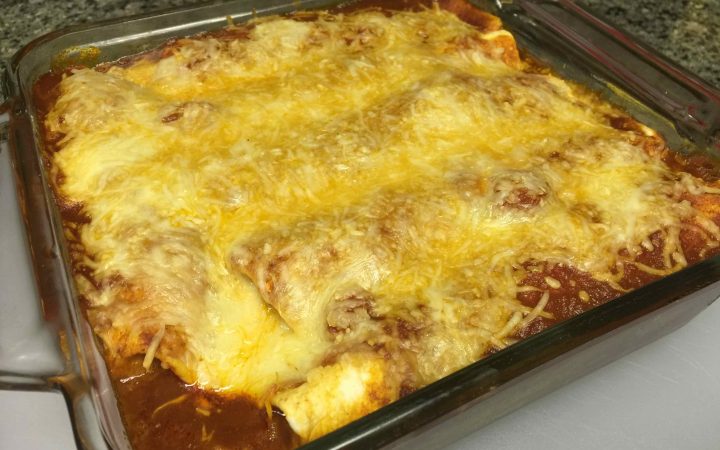 Makes 2-3 servings with leftovers.
From along the road in Texas,
Chris