Check out these highlights of RV-related news, events and video from this past week.
1. Canadian RV dealer picks Riverside for first U.S. shop: Undeterred by a recession that has battered the RV industry and its presence in the Inland region, a multimillion-dollar Canadian RV dealer will open its first U.S. dealership in Riverside, CA, to be closer to a travel trailer manufacturer whose models have sold well in Canada. The Riverside Press-Enterprise reports that Bruce Urban of Western RV Country Group of Companies in Alberta has big plans for the vacant American All-Star RV dealership.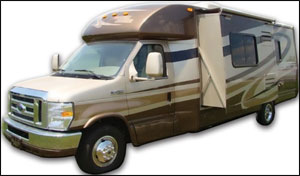 2. Innovative Class B+ Models Gaining in Popularity: Phoenix USA RV has emerged as one of the most popular manufacturers in recent months, as the RV market shifts toward smaller and more efficient models. The company's Class B+ models are slightly larger than Class B campers, but include the major amenities typically only found in larger rigs, such as a slideout and a full dry bath with shower. The result is a lightweight, easy-to-maneuver motorhome with a surprisingly spacious interior. Take an online photo tour of all the Phoenix USA RV models to see for yourself.
3. At last, RVing is for the dogs: Los Angeles Times reporter Rosemary McClure recounts her camping trip to Northern California with a friend and their two dogs. She describes the canine facilities at each campground stop of the trip, demonstrating that many campgrounds have gone above and beyond to cater to the large percentage of RVers who travel with pets.
4. Topeka RV expansion means new jobs: They are small steps, but steps in the right direction for the RV industry. WSBT TV in Mishawaka, Indiana, reports that Crossroads RV in LaGrange County is getting ready to hire more than 120 workers. Crossroads is reopening a plant in Topeka, because they need people and they need room to build their new product line. Read what Crossroads RV president Mark Lucas has to say about the reopening of the Topeka plant.
5. Dutchmen being aggressive in hopes to catch wave of new RV business: It's a bold move; bringing RV dealers from around the country to Elkhart County to get a look at a new product line. But Dutchmen RV hopes this will help their visibility and their attempt to re-invent their company. Dutchman president Don Clark told WNDU.com reporter Ryan Famuliner that they've made some huge changes to their company; ones that they think will help them succeed in this tough economy and beyond. Dealers from Maine to California got their first look at the products at a convention at the Elkhart County 4-H Fairgrounds on Oct. 21. Read more about the changes to the Dutchmen RV lineup.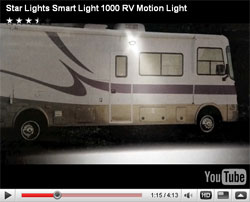 6. VIDEO: One Way to Secure Your RV After-Hours: Green RVer Brian Brawdy talks RV safety this week in a video about the Star Lights Smart Light 1000 RV Motion Light. The adjustable housing tilts downward to illuminate the ground–not your neighbor's RV–"giving you light where you want it, when you need it."
7. Making Modifications to Your RV: You know that really expensive extended warranty that covers your RV "bumper-to-tongue" after the factory warranty runs out that you added when you purchased your new RV? It won't help one bit if you do a mod that causes a failure on a covered part. Mark Corgan talks about what mods are safe to do and what just might cause you some grief down the road if you are not aware of your warranty conditions of coverage.