Check out these highlights of RV-related news, events and video from this past week.
1. When Will We See Hybrid Motor Homes?: Read the article by Lug_Nut to get his take on the long-term practicality of hybrid vehicles and the potential costs of ownership. Just remember to be courteous to others when joining the discussion on this controversial topic. 🙂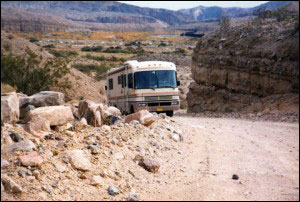 2. A River? In the Mojave?: Bob Difley reminds us that the road less traveled is often full of delightful surprises. If time is no object and you've got plenty of fuel in your tanks, try a detour off the Interstate once in a while to explore the local scenery.
3. 10 Gift Ideas For RVers: As the holiday season quickly descends upon us, Nick Russell shares his top 10 holiday gift ideas for RVers. All of these tried-and-true products have been used by Russell in his own RV travels.
4. Heartland RV plans to add 400 jobs in Elkhart facility: Marilyn Odendahl reports that Heartland Recreational Vehicles LLC — like Thor Industries and Jayco have done in recent weeks — announced Tuesday it will be hiring hundreds of production workers to handle a backlog of orders. In a press release, the manufacturer said it is currently adding 200 workers to the payroll and plans to bring on another 200 by March, making the company's work force total 1,200 employees. Also Heartland, which started production in 2004, has hired 13 workers for its customer service, parts and warranty operations.
5. Keystone RV boosting production: Kevin Allen, staff writer at The South Bend (Indiana) Tribune, reports that Keystone RV is hiring more workers this winter. Keystone RV will move into a vacant factory in the Goshen industrial park where the company has its headquarters and hire 100 people by early January to increase production of the company's Montana brand, said Bob Martin, the company's executive vice president.