Check out the latest RV-related news and events from this past week. This weekly series will feature only articles/videos of interest to the RV industry or RV community. Here's what's hot in the RV world this week:
1. Fleetwood Enterprises Inc. filed voluntary Chapter 11 bankruptcy petitions March 10 in Riverside, Calif. for itself and certain operating subsidiaries. The filings do not include any of the company's foreign or non-operating entities. "The vast majority of our suppliers and dealers should see no disruption in our business," commented Elden L. Smith, Fleetwood's president and chief executive officer. "We will continue to support our current and future product development and manufacturing."

2. Take a Free Winnebago Factory Tour! Get an inside look at RV construction on a tour of the main facility at the Forest City headquarters of Winnebago Industries. Tours will be offered twice daily from April 6 through November 1. Each tour starts at the Winnebago Industries' Visitors Center. The behind-the-scenes look into the building of an RV starts with a 20-minute video that offers a preview of the manufacturing process. Each tour lasts about an hour and a half.
3. If you use a Ford or Dodge pickup truck to haul your RV, be sure to read the latest pickup truck recalls. Chrysler has announced a recall of certain model year steering linkages, while Ford has recalled certain front wheel spindles.
4. Diesel-electric hybrid motors for recreational use may not be far in the distant future. Kenworth Truck Company announced it received its biggest truck fleet order from a Coca-Cola distributor that has studied the benefits of such technology for commercial use. The order is for 150 Kenworth T370 diesel-electric tractors and 35 Kenworth T370 hybrid trucks.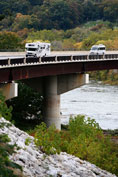 5. Happening Now! Check out these regional RV shows this weekend for great deals on new rigs and informative seminars and vendor booths.
3rd Annual Iowa RV & Travel Show, March 12-15 in Des Moines at the Iowa Events Center–HyVee Hall. Comparison shop for RVs side by side, or explore the vendor booths for RV accessories and vacation spots. Tickets are $8 for adults, $3 for kids ages 6-12, and children under 5 are free. Save time and money by getting discounted tickets online today!
5th Annual Virginia RV Show, March 13-15 in Hampton at the Hampton Roads Convention Center. Browse for accessories, campgrounds and RV resorts, maintenance and service plans, and much more. Tickets are $7 for adults, $2 for kids ages 6-12, and children under 5 are free. Save time and money by getting discounted tickets online today!