Check out the latest RV-related news and events from this past week. This weekly series will feature only articles/videos of interest to the RV industry or RV community. Here's what's hot in the RV world this week: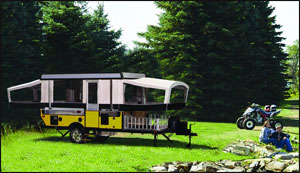 1. Camping is making a comeback as a popular vacation option, CNN reported March 26. Outdoor equipment company REI has seen family tent sales soar 28 percent this month over last year. In this economy, camping is a great way to "get away from it all" without spending a lot to get there.
2. Get the RV packed and ready for the Texas Spring Samboree happening April 2-5 at the West Texas Fair Grounds in Abilene. This "Day at the Beach" event will feature RV exhibitors, commercial booths, seminars, entertainment and much more!
3. Woodall's Launches Free RV Buyer's Guide Website: This new website allows users to search information for thousands of new and previous-year RV models. The website also allows users to find RV-related articles, calculate their payments, get information about RV financing, and more. Check it out for yourself at www.woodallsRVBG.com.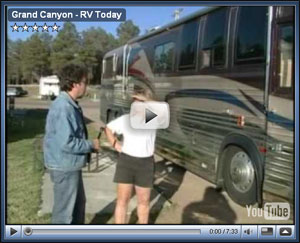 4. RV Today visits the Grand Canyon: Watch the short video about the canyon and the nearby city of Flagstaff, AZ. This is a great stopping point on your way to or from The Rally in Albuquerque on Route 66, coming up April 17-20!
5. Roadmaster Inc. Not Affiliated With Roadmaster Chassis: To dispel any confusion, Roadmaster Inc. is a leading RV towing products manufacturer in the U.S., while Roadmaster chassis is a manufacturing division of Monaco Coach Corporation, which filed for Chapter 11 bankruptcy protection in early March. Although they have similar names, they are not related and are part of separate corporations.