Check out these highlights of RV-related news, events and video from this past week.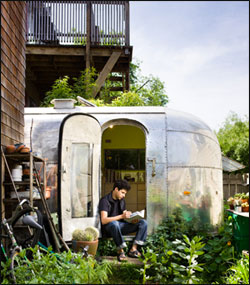 1. The Airstream Life: Landscape architect and new Airstream owner Andreas Stavropoulos tells a tale of renovating a 1959 Airstream travel trailer into a modern, mobile design studio.
2. RV Shows, your Wintertime RV Fix: Mark Polk shares the joys of attending RV Shows in the off-season to get prepped for your next adventure. Make the most of your visit to an RV show by reviewing Mark's tips.
**24th Annual Washington Camping RV Expo happening this weekend, Jan. 15-17, at Dulles Expo Center in Chantilly, VA. Parking is FREE and admission is $10 for adults 17 and up (no charge for kids 16 and under). Show Hours: Friday noon – 8pm, Saturday 10am – 8pm, Sunday 11am – 5pm.
3. For snowbirds, Spring is just around the corner: Bob Difley describes the wonderful array of "spring" wildflowers in the southwestern deserts. The first splashes of color pop up in January and conclude with the blossoming cacti in April.
4. RVs Are Among $1 Million in Stolen Vehicles Recovered in California : A LoJack Corp. stolen vehicle recovery system hit in Los Angeles County, Calif., led to a raid on what industry officials are calling the largest theft ring in their company's history. During a 10-hour search warrant operation, detectives found and recovered 35 vehicles and countless other items including motorhomes, John Deere and Kawasaki Mule utility vehicles and even an Airstream Inc. camping trailer reported stolen out of Santa Clarita more than three years ago.