Check out these highlights of RV-related news, events and video from this past week.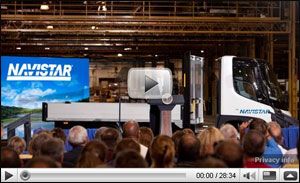 1. Obama Announces Grants for Elkhart County: Continuing his effort to establish a 21st century clean energy economy, the President announced an unprecedented $2.4 billion investment in 48 new advanced battery and electric drive projects, funded through the Recovery Act. The projects were selected by the Department of Energy, and it is hoped that these projects and ideas will help propel America forward in establishing the next generation of advanced vehicles. Watch video of Obama's speech and read more of the plan's details at the White House website Blog.
2. Fleetwood Prepares to Sell off Manufactured Housing Operations: Fleetwood Enterprises Inc. has extended until Saturday, Aug. 8 the bid deadline on the sale of its manufactured housing unit. The auction, should it be required in the case of competing bids, will be delayed similarly to Aug. 10, at 2 p.m. The final hearing to approve the sale will remain as scheduled on Aug. 12.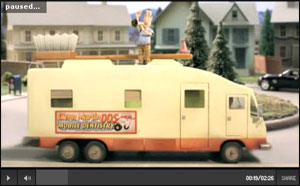 3. New Show on Nickelodeon This Summer Features Family RV Travel: "Glenn Martin, DDS" is an animated (yet mature) TV series coming to Nick-At-Nite, about a dentist and his family traveling the country in an RV with a giant toothbrush on top. After learning that his favorite childhood park is about to be destroyed, Glenn takes his family on a cross-country road trip to protest the demolition. Although the protest is ultimately a bust, Glenn and wife Jackie realize that the trip has brought their family closer together and they decide to keep on traveling. Watch video clips of Glenn Martin, DDS.
4. RVs Getting Lighter, More Fuel Efficient: RV maker Komfort RV has introduced the SatelLite, a travel trailer built with Eco Composite in place of most of the wood and other materials used in traditional RV construction. The plastic-like material weighs less and has greater strength and durability than wood, and won't rot out from leaks or water intrusion. This composite can truly be called a revolutionary development in RV manufacturing. Read more about the benefits of Eco Composite in RV construction.
5. Vintage Travel Trailers Gather in Indiana: The Vintage Trailer Jam, a rally for owners of vintage travel trailers, brought 30 campers to Granger from all over Indiana, Michigan, Ohio, Illinois, Wisconsin, Minnesota and Tennessee. Vintage RV enthusiasts gathered at the South Bend East KOA to swap stories and admire trailers from yester-year. Next year's event is scheduled for July 29-Aug. 1, so mark your calendars now!