Check out these highlights of RV-related news, events and video from this past week.
1. The Best Tip to Limit Exposure to Swine Flu: Expert RV traveler Brian Brawdy discusses the most important way to stay healthy in the midst of this emerging influenza outbreak. Staying healthy while traveling can be a challenge, but it's not impossible if you follow this basic tip and take care of yourself.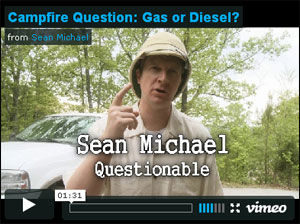 2. Gas Or Diesel Tow Vehicle?: RV.net blogger Sean Michael poses this campfire question: which fuel is better for a tow vehicle, gas or diesel? There are many factors in making this decision for a vehicle to tow your RV, from cost to efficiency. Watch the video then leave a comment to tell Sean which fuel type you chose!
3. KOA RV Campgrounds Gets New Chief Operating Officer: Kampgrounds of America announced the appointment of Pat Hittmeier as its Chief Operating Officer. The Billings, Montana-based company has more than 450 campground locations across North America and has been in business since 1962. Hittmeier's work experience includes 28 years of service with KOA, most recently as vice president of the company's Sales and Campground Development Division.
4. Monaco Reaches Agreement to Sell Assets to Navistar: RV manufacturer Monaco Coach has reached an agreement to sell its major assets to Workhorse International Holding Co., a subsidiary of Navistar. The deal's terms state that Navistar would acquire manufacturing facilities in Indiana and Oregon, in addition to all brands, intellectual property, inventories and equipment relating to Monaco's motorized and towable recreational vehicle divisions. Learn more about the conditions of the sale.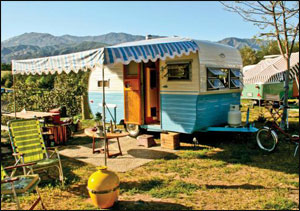 5. Circling the Campfire in Vintage Travel Trailers: More than 60 RV enthusiasts gathered at Lake Casitas last week in Ojai, California to show off their vintage travel trailers and authentic camp accessories. With the help of his teenage kids, event organizer Craig Fraki has painstakingly refurbished seven old trailers from the 50s and 60s as a hobby over the years. This event serves as a celebration of RV travel and its evolution over the years from the 1930s to today.
6. Boondocking Is Not Free: Ever wonder what the realistic costs of boondocking are? While boondocking is a great value, it is not actually free like many people presume. RV.net blogger Nick Russell explains his RV's boondocking equipment and what his average expenses are to give you an idea when considering the jump to camping off the grid.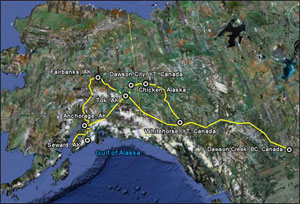 7. Travel to Alaska via Blog: A lot of RVers have traveled to Alaska or are planning their first trip this season. But if you aren't quite ready to make the journey this year, follow the Alaska travel blog of seasoned RVers Greg and Marilyn Gundy, who are making a return trip this summer. They'll be chronicling their route and experiences along the way, making recommendations of must-see sights to help others plan their Alaskan adventures.
8. Which Famous Person Would You Take on an RV Trip?: The Recreation Vehicle Industry Association asked that very question in a recent survey of RV owners, and has released the top responses! President Obama came in second, but can you guess who was the #1 pick? Post a comment below to share which famous living person YOU would take on an RV Trip!