Shopping for treasure in spectacular Quartzsite.
Snowbirds, here's your chance to join a few thousand of your closest friends and fellow RVers at the world's largest swap meet. Here, vendors and fellow RVers sell or swap just about anything under the sun. Your only problem at the end of the day is finding enough room in your RV to store your shopping acquisitions.
So are you ready for some wheelin' and dealin'? When the weather is unbearably cold in the north, there's a perfect place in western Arizona with temps in the 80s and plenty to do, but don't forget your sunscreen.
Quartzsite sits at the crossroads of Interstate 10 and highway 95 just east of the California border. This sleepy little desert town of about 3,000 residents comes alive every January and February, when about a million RV enthusiasts put down stakes in anticipation of two months of events and swap meets geared directly to them.
Quartzsite Sports, Vacation and RV Show
For over 30 years, people have been coming to Quartzsite to participate in the Sports, Vacation and RV Show. From its humble beginnings in 1984 with only 60 vendors, this show has grown to the largest gathering of RVers in the world.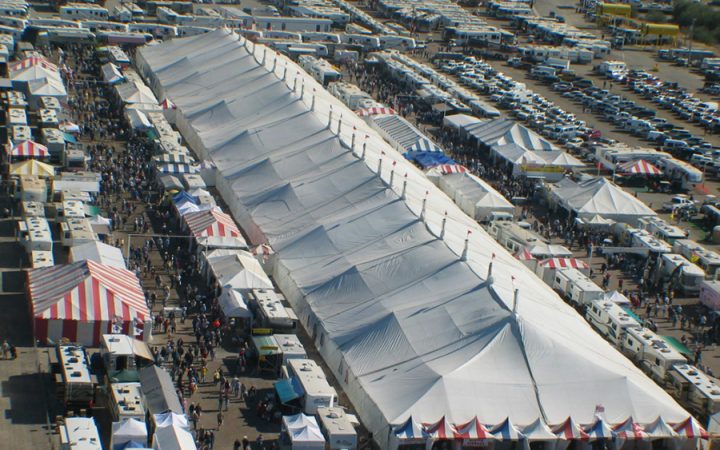 The show's vendor list has grown with the crowds. You can find people at this show that can fix your awning, your brakes or even that funky little light in your bathroom that you just can't get to. You can also attend workshops, get info on your next destination or check out the RV of your dreams.
Of course, visitors will find an abundance of food and entertainment throughout the day and evening. Stay at one of the local private RV parks, or camp in one of the roughly 20,000 dry camping Bureau of Land Management sites that border the show grounds. Show organizers manage shopping traffic into and out of the show, and there is free parking and free admission.
More Shows
Even though the Sports, Vacation and RV Show is what most people think of when they hear about Quartzsite, it isn't the only show in town. In fact, as soon as the Sports, Vacation and RV Show is over, the Quartzsite, Hobby, Craft and Gem Show begins. It's a shopping paradise. This event boasts every hobby and gem imaginable, plus a Rock and Roll Classic Car Show that keeps visitors happy for days. Oh, and there is still a great deal of RV merchandise, so much so, that many refer to this show as the "RV Show–Part Two."
At the same time as these shows are happening, you can catch the Desert Garden International Gem, Mineral and Jewelry Show, the Southwest Art Show Roundup and a Hot Air Balloon Festival as well as many others.
Shopping the Rock Capital of the World
Before the RVers and Snowbird's found winter solace in Quartzsite, the area was known as the Rock Capital of the World because of another show that started the whole phenomenon and is still going strong today. The Quartzsite Improvement Association's Pow Wow and Gem and Mineral Show has nearly 500 vendors annually, whose merchandise must consist of at least 75 percent gem, mineral or jewelry. This event is a must see while you're in Quartzsite.
Shopping and Swapping
Do you love swap meets and flea markets? Well, you're in luck in Quartzsite because this place is a swap meet addict's dream-come-true. Most of these events start on early November and don't end until the weather starts to change in April. People come from far and wide to buy, sell or trade everything from antiques and fine jewelry to cow skulls. You name it; you'll find it. One word of caution – make sure you save room in the RV to take all of the treasures home with you.
Escape the Crowds
If you need a break from the crowds, escape into the desert at the Kofa National Wildlife Refuge and Signal Peak. Hike all day on any of the rugged trails that have been carved into the landscape by hikers of the past. On the trails, you can catch a glimpse of the herd of big horn sheep that call the area home. If you're a birder, be on the lookout for the white-winged dove, American kestrel or the northern flicker. You'll also see beautiful cactus flowers and the Kofa Mountain barberry, a rare plant found only in this part of the country. Signal Peak is the most prominent mountain in the area, but only experienced hikers should attempt its peak.
ATV Rally
If hiking isn't your bag, bring your ATV and ride on hundreds of miles of trails around Quartzsite. Pack a lunch and spend the day revving your engine in off-road glory. You'll want to be sure to stick around after the big shows to participate in or just watch the Desert Bloom ATV Rally held annually around President's Day.
For More Information, check out the Quartzsite Sports, Vacation & RV Show.