By Bob Difley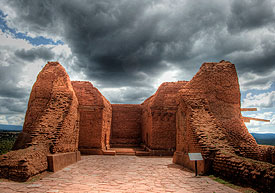 The winning photograph (left) in this year's National Historic Landmark Photo Contest was of the ruins at New Mexico's Pecos Pueblo National Historic Landmark. This is the same spot where Spanish explorer Coronado passed on his search for Quivira, one of the legendary "Seven Cities of Gold" in 1540.
Unfortunately, when Coronado found Quivira, he found no gold. And it was even more unfortunate for El Turco, the Indian slave that told of the gold and led the the expedition there, who was promptly strangled.
In this, the 12th annual photo contest, entries came from all 50 states from both amateur and professional shutterbugs. Next year's contest particulars will be posted in the spring on the National Historic Landmarks website.
You can see the contest photos on the National Park Service's website.
National Historic Landmarks are nationally significant historic places designated by the Secretary of the Interior because they possess exceptional value or quality in illustrating or interpreting the heritage of the United States. A National Historic Landmark may be a historic building, site, structure, object, or district. Fewer than 2,500 historic places bear this national distinction. Working with citizens throughout the nation, the National Historic Landmarks Program draws upon the expertise of National Park Service staff to identify and nominate new landmarks and to provide assistance to existing landmarks.
Check out my website for more RVing tips and destinations and for my ebooks, BOONDOCKING: Finding the Perfect Campsite on America's Public Lands (or for Kindle version), Snowbird Guide to Boondocking in the Southwestern Deserts (Kindle version), and 111 Ways to Get the Biggest Bang out of your RV Lifestyle Dollar (Kindle version).