When travelling on a cross-country motorhome journey, evening mealtimes are difficult to predict. Will you find a suitable campground early enough to prepare a nice hot meal, or will you just settle for a quick-fix dinner if the arrival time is late? Well, if you are trying to make a good day in distance, the latter will more than likely be the case.
But there is a way to enjoy a piping-hot delicious dinner, ready whenever you are, whether you stop at 5 p.m. or at 9 p.m. Yes, a variety of tender-cooked meat and vegetables, all prepared the night before, or first thing that morning, simmering in a hot crock-pot.
Here's basically what's required. Your coach will need to be equipped with an inverter to alleviate the need to operate your generator. A crock-pot, filled with your choice of ingredients, set to the appropriate temperature and covered. Place the unit into the galley sink to secure it from the movement while traveling. Tip: Fold a piece of paper towel and place it slightly under the lip of the lid. This will keep it from chattering as steam escapes while cooking.
There is an unlimited number of recipes you can choose from, available in books or on-line, including ones for special diets, such as low-carb, diabetic, vegan, etc. Cooking a whole chicken, rubbed with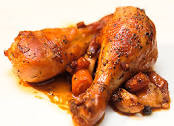 spices or loaded with garlic cloves, is an easy, quick meal that cooks on low for 4 to 8 hours. Stews, pork with sauerkraut, ribs, chili, spaghetti sauce, pot roast, corn beef and cabbage, chicken in honey sauce, cheesy bacon ranch potatoes, pulled pork, soups of every kind, even desserts like monkey bread or chocolate lava cake–just about anything you like can be cooked in the crock-pot and ready when you are.
Just google your favorite, such as "whole chicken crock-pot recipe," and you'll find numerous meals to choose from. One of the best searches is "Pinterest slow cooker recipes." The list in Pinterest is endless, complete with photos.
A couple of really good books are Fix-It and Forget-It Lightly by Phyllis Pellman Good and The Everyday Low-Carb Slow Cooker Cookbook by Kitty Broihier. Your crock-pot usually comes with great recipe selections, too.
So, if you don't currently own a crock-pot, you might want to pick one up. They are available in several sizes, from a small one-person units to family sized cookers. If you already have one at home, take it with you and get creative on the road.