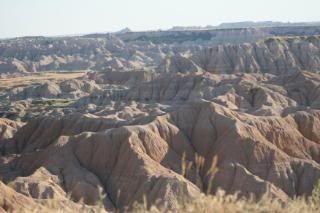 Last summer we loaded up the kids (ages 13,11 and 6) and headed for the hills. The Black Hills of South Dakota to be exact. We spent 3 weeks on this trip and easily could have added a couple more. Coming from Michigan along the I-80/I-90 we hit many fun places along the way…
The Jolly Green Giant in Blue Earth, MN. We were going a little "corn crazy" and were delighted to spot the billboard advertising the 55 ft tall green man. The kids were happy to stretch their legs and we now have an interesting photo for the family album.
The Corn Palace, Mitchell S.D. We had heard about this one from our friends on RV.net. The exterior of the building is covered with colored corn cobs making up murals. I believe it changes every season. There wasn't anything inside to look at the day we visited. Parking is a couple of blocks away and in all we spent more time detouring from the freeway then we actually did at the Corn Palace.
Wall Drug, S.D We began seeing signs for Wall Drug in Minnesota. We lost count at 75. The signs were very amusing, and we had to stop if for no other reason to say that we had. It was 111 degrees the day we visited. The heat was almost unbearable outside with no breeze whatsoever. The Wall Drug soda fountain and ice cream shop was bustling that day for sure ! The kids enjoyed the T-Rex that roared every 15 minutes, the silly photo ops, the water misters that went off in the backyard and the small arcade. It really is a tourist trap with the same souvenirs you find anywhere else- mugs, hats, t-shirts, novelty toys, etc. But it is an experience worth stopping for. Plan on at least 2 hours to see it all.
The Badlands National Park– the entrance to the loop road is not far from Wall Drug. We chose to go about an hour before sunset. I loved the way the shadows changed on the formations as the sun was going down. It was also cooler and we saw more wildlife than if we had gone midday. We hit all of the scenic overlooks along the way, including the fossil area and in all probably spent 2 hours there.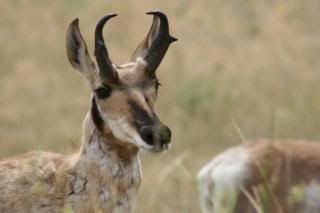 We chose Rafter J Bar Ranch in Hill City as our base camp. It is a very nice campground (though nowhere near as green as in the pictures on the website !) with a nice pool, all you can eat pancake breakfast, trail rides, and clean bathrooms. We visited all of the other area campgrounds and we would choose Rafter J again for our next visit.
Next week I will finish our trip including links and information on Mt. Rushmore, Crazy Horse and Custer State Park.
Until next week,
~Shannone