Cowboy caviar is one of those dishes that always seems to be a crowd pleaser. The dip called cowboy caviar, or Texas Caviar as it's also known, came from Texas in the 1940s, and is a favorite dish for potlucks, barbecues, and camping get togethers! There's no actual caviar in this recipe, instead crunchy corn, fresh bell peppers, smooth avocados, and sometimes even some spicy jalapeños are all mixed with black beans and black eyed peas for a flavorful dip. While it's often eaten with tortilla chips, it's also wonderful on fish and chicken, in omelets, over rice, or heaped on top of toasted or grilled pieces of bread.
And what better time to make cowboy caviar than to celebrate the National Day of the Cowboy? That's right, the fourth Saturday of July is National Day of the Cowboy, and this year that day is July 24th. This holiday was created to celebrate the cowboy, an iconic symbol of the American west. And since the western states are such a popular destination for RVers, it seems like a perfect fit.
But even if you're not heading to a rodeo or an old western town this summer, this bean-based salad is worth making for your next RV trip. Cowboy caviar is one of those great recipes that holds up really well in the fridge for several days. Which means it's a perfect dish to make at home before you go. And with all the beans and veggies, it's pretty healthy as well!  It's also very easy to throw together and can be made in less than 15 minutes. All you need to do is chop up the veggies, mix up the dressing, and toss everything together! And if you prep this ahead of time, you'll be able to pop it out of the fridge or cooler on your trip and enjoy it right away.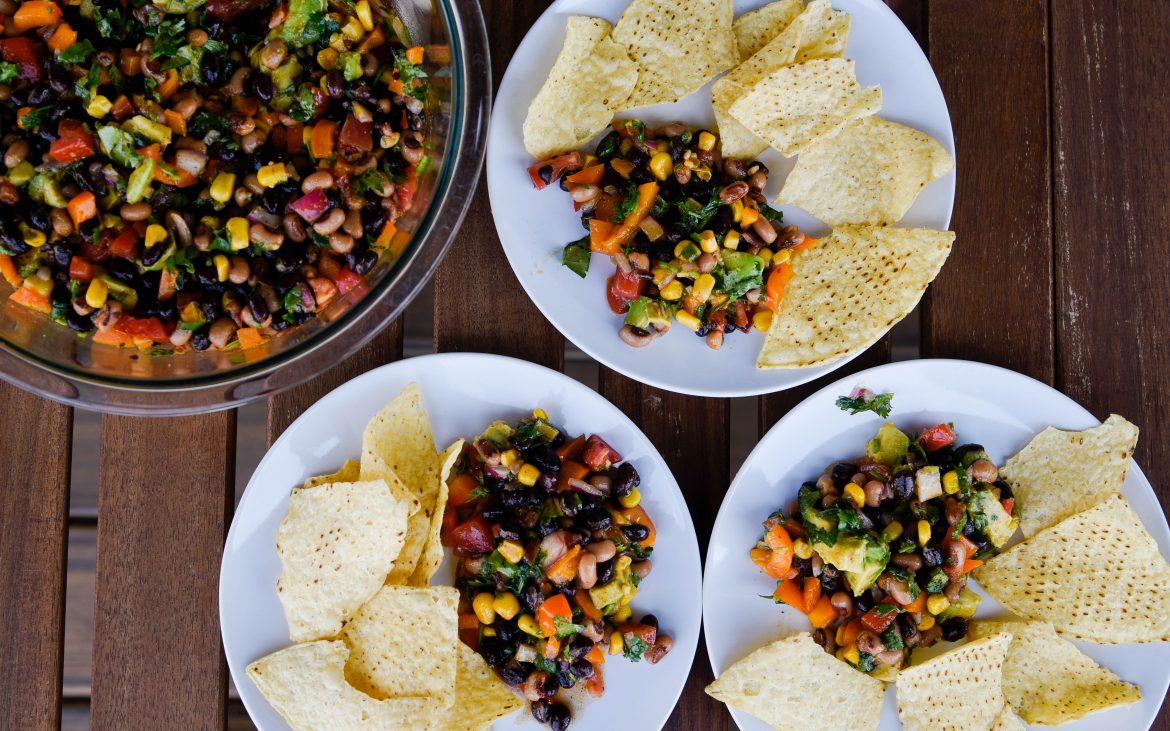 It's also a very customizable recipe that can be changed to your preferences. Here are a few suggestions and options for adjusting the amounts and ingredients.
Notes on Ingredients
Sugar: The sugar level in this recipe can be adjusted to your taste. Our recipe calls for 1 tablespoon of sugar, but you can add an additional tablespoon if you'd like it to be sweeter. You can also omit it entirely if you'd like a no sugar option.
Corn: You can use frozen corn or canned corned for this recipe. If you're using frozen corn, be sure it defrosts before adding it to the mixture. If you use canned corn, drain and rinse the corn before adding.
Vinegar: This recipe uses white wine vinegar, but you can also use red wine vinegar or apple cider vinegar for a stronger flavor. We'd recommend not using balsamic vinegar since it has a different flavor and will change the taste of the recipe.
Cilantro: If you're someone who can't stand cilantro, feel free to swap it out with Italian parsley instead.
Beans: Canned beans are the easiest to use in this recipe, however you can use dried beans as an alternative. If using dried beans, cook them beforehand according to their instructions and add a cup of the cooked black beans to the mixture in place of the canned beans. You can also swap out the black beans in this recipe for red beans, white beans, or kidney beans.
Onion: We like the color and flavor of a red onion in this recipe, but you can also use a Vidalia or sweet onion instead.
Jalapeño: If you like your dip spicier, feel free to a minced jalapeno to the mix. Or for some extra kick make it a serrano pepper! You can also leave this out entirely if you'd prefer more of a mild dip.
Dressing: If you're in a pinch, you can forget the dressing ingredients all together and just use a premade Italian salad dressing instead. It'll change the flavor a bit and you'll lose the ability to customize the ingredients, but it's a good option if you're in a hurry and don't want to mix up a separate dressing.
It's called a dip, but it's actually pretty versatile! You can also use this recipe as a topping for fish, chicken, or grilled meats, try it in an egg scramble or omelet over the campfire, or add it as a topping to a bowl of rice. Once you make it, store it in the fridge in an airtight container until ready to serve.
Cowboy Caviar / Texas Caviar Recipe
Ingredients:
1 (15 oz) can black beans, rinsed and drained
1 (15 oz) can black eyed peas, rinsed and drained
1/3 cup red onion, diced
2 Roma tomatoes, diced
1 cup frozen sweet corn, thawed (can also use canned corn)
1 bell pepper, diced
1 cup cilantro, chopped
2 avocados, diced
Optional: 1 jalapeño, deseeded and minced
Dressing:
1/3 cup olive oil
3 TBSP white wine vinegar
1 tsp chili powder
1/4 tsp garlic powder
1 tsp salt
1 TBSP sugar
Directions:
In a bowl, whisk together the dressing ingredients and set aside.
Chop, mince, and dice vegetables.
In a large serving bowl, combine the beans, black eyed peas, onion, tomatoes, corn, bell pepper, cilantro, and jalapeño if using.
Pour dressing over the ingredients and mix well until everything is well coated. Add more salt or sugar to taste. Cover and chill in the fridge for at least 30 minutes so the flavors can marinate together. Add the avocado right before serving so it doesn't turn brown.
Serve with chips as a dip or as a side dish.
If you happen to have any left over, the dip will keep in the refrigerator for up to 3 days in an airtight container.