Rich in Tradition
Located in the heart of Pigeon Forge, Camp Riverslanding is rich with heritage and home to tradition. Danny Beck, of Augusta, Georgia, has made Camp Riverslanding one of his homes away from home. In the past, Beck and his family had camped in Cherokee, NC, but nearly two decades ago he made a decision to camp in East Tennessee which became a long-standing tradition.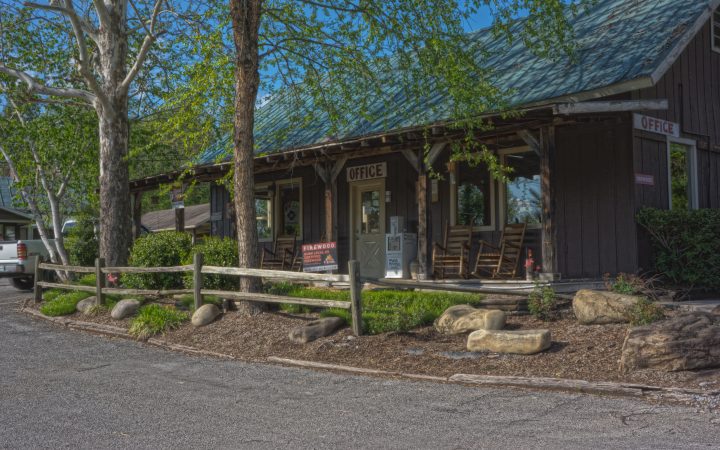 Traveling through Pigeon Forge, he stopped at 304 Day Springs Road  – Camp Riverslanding – and decided not to go any further. Now, more than 20 years later, Beck and his Family have returned year after year.
Beck and his wife, Rita, stay a week at a time, three or four times a year. Each time, they stay at one of the campground's 36 riverfront sites – which are truly riverfront where visitors can fish or tube on the Little Pigeon River.
This year, the Beck's stays are coinciding with the campgrounds 50th anniversary celebration weekends which will take place May 4 – 6, August 17 – 19, and November 16 – 18. Prices will be rolled back to $28 a night, which is about $25 off the regular rate. The celebration doesn't stop there. During these weekends, free commemorative t-shirts will be given away, there will be live music, and lots of birthday cake.
Rich in History
Historically, the property was a dairy farm settled by the Broady family in 1910 and was converted to a campground in 1968 when Mindle Collier and T.C. Runion purchased the farm. In 1972, the Collier's took complete ownership and the family has maintained it ever since.
All of the original buildings have been restored and are used in day-to-day operations. The farmhouse is the oldest home in Pigeon Forge and has been constructed into a vacation home that sleeps 12 people.
The former milkhouse is now home to the game room, the one-time barn is presently the pavilion and event space, and farm's storehouse functions as the campground's main office.
Big on Fun
This history gives the campground a nostalgic feel, but the campground is far from being antiquated.
Three years ago, the campground underwent a $750,000 renovation including a newly constructed bathhouse with all of the modern amenities including private bathing rooms and laundry facilities.
Outside the bathhouse, visitors can be found year round in the heated pool. The splash pad is a favorite among visiting children.
Each of the 118 campsite have full RV hook-up including water, electric, sewer, cable, and Wi-Fi.  A short walk from the bathhouse leads to a playground and jump-pad that would please any child.
The fun doesn't stop there – the campground is home to tennis and basketball courts, a dog park, and game room. Three Pigeon Forge trolley stops are located throughout the campground. Visitors can avoid high parking fees in exchange for a 50 cents ride.
Camp Riverslanding is truly a place where moments become memories. To get a glimpse at life inside the campground, visit campriverslanding.com or call 865-453-8181 for more information.