At dusk last night, we took a stroll around Cajun Palms RV Resort, a Good Sam 10/10*/10 park just off Interstate 10 near Breaux Bridge, Louisiana. It's easy to see just why this RV resort has a perfect rating. The park is spectacular and we felt our research on the Good Sam Club's Trip Planner for a one-night stop here really paid off.
The pool at this park is phenomenal. There are wading pools for kids, a beach style slanted entry to walk down into the water along another edge, water slides, bridges to swim under and pirate and dragon themed sculptures to swim through and around.  Or pose poolside next to a pirate.  A serpentine shaped hot tub has seating all along its edge to accommodate any number of relaxing campers. Thirsty? No problem! Just step a few feet away from the water's edge to not just one but two beverage bars and relax at a table in the shade.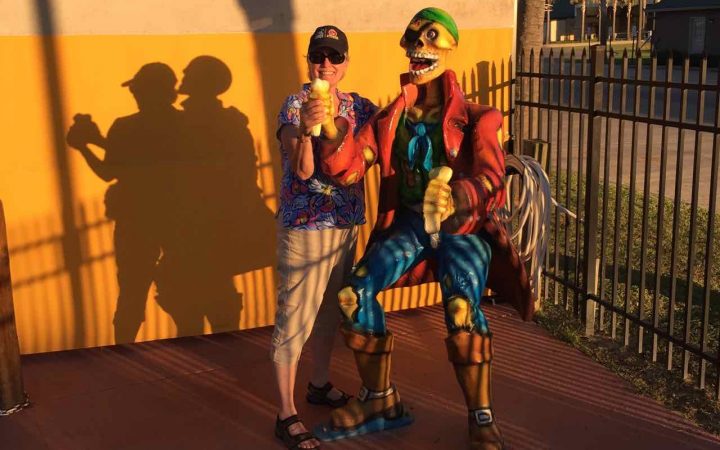 Then there are the ducks—possibly fifty of them wandering around the park in a covey from one to another of the lakes on the property or relaxing on the grass in between. They are like a self-appointed welcoming committee. Happy, possibly looking for a handout and just plain comical to watch would be my words to describe them! From our reception upon arrival at our space to our morning goodbye, both our cat and we found them to be delightful.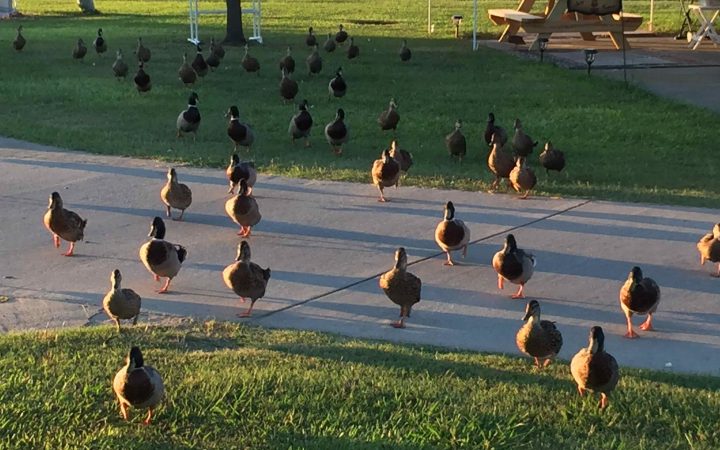 A short drive from Interstate 10 but out of its sight and sound, this park has large, paved sites with lots of grass and trees on either side of our RV. There is a restaurant nearby you can walk to or they will even deliver to your site! While it is a quiet time right now just before the snowbirds arrive here, we felt lucky to enjoy its amenities during our brief stay and I wanted to share it with you.
From along the road,
Chris