Texas Hill Country highlights any visit to the Lone Star State. The area stretches from the east in Austin to the south in San Antonio. Each city in the area serves up another reason to prolong your visit. Meander through the area, from the paved roads of sophisticated towns to the natural terrain. There are no bad stops.
This slice of Texas is made up of 85 cities that accentuate everything that Texas Hill Country has to offer. As you camp and drive, make sure everything on your to-do list is checked off. Remember the Alamo in San Antonio, or bounce around the area and visit one of the seven naturally occurring caves. Even when visiting the cities, you are reminded that nature is ever present, from bats that appear when the sun goes down to the seas of bluebonnets that blanket endless fields.
A Capital Experience
Start your trip off in the state capital of Austin. The city was voted as a top travel destination in polls conducted by CNN Headline News and Travel & Leisure magazine. It's no wonder, seeing as the city gets about 300 sunny days per year. Walking through the city proves to be a treat for the eyes, as well as the palette. Marvel at historic buildings and sites while chowing down on the local cuisine.
Austin is known as the "Live Music Capital of the World" and is home to over 100 live music venues. In October, visitors can get tickets to the Austin City Limits music festival and hear a range of artists, from alternative to rock and everything in between.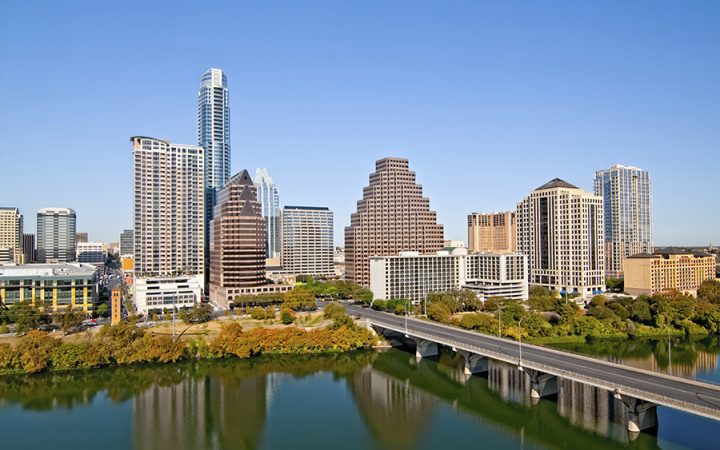 If a trip during the festival doesn't fit your schedule, try out a weekend at Esther Follies, a vaudeville treat that has become one of the most popular theaters in Austin. The show combines music, comedy and magic. The show is open to older crowds on Thursdays at 8 p.m. or Friday and Saturday at 8 p.m. and 10 p.m.
San Marcos During Summer and Beyond
Head south from Austin and make a stop in San Marcos. From June to August, you can enjoy the Texas Hill Country city's Summer in the Park series every Thursday night. Bask in the community feel as you savor great music and food. San Marcos is rated as one of the top places to shop in Texas, with over 100 stores, including American Eagle, LOFT outlet, Vera Bradley outlet, and Saks Fifth Avenue Off 5th.
Make a stop at Wonder World Park while in San Marcos and visit the only cave in the country that was formed from an earthquake. Don't worry about a cave-in, though. The massive fault is considered inactive by seismologists. After walking underground, take a ride on the Stratavator, play in the anti-gravity house or visit the wildlife-petting park.
Texas Hill Country and a Wild Ride
If travels take you through Texas during a hot summer, then Schlitterbahn Water Park should be one of your stops. Several locations thrive in Texas, but the Schlitterbahn in New Braunfels sports the Master Blaster uphill water coaster. The ride goes down a three-story plunge before climbing high again and launching into a twisted tunnel ending in a pretzel-shaped downward spiral. The park is rich with water rides for those looking for a thrill or just to cool off on a hot day.
Go Deep Near Boerne
Drive toward Boerne to see the "Cave without a Name," which was discovered in the 20th century. This steam cave is made up of six distinct rooms and is continuing to change every day. Though it is considered one of Texas' best-kept secrets, it is a well-lit and secure place to visit with walkways throughout the caverns to keep visitors on the right path.
Continue your trip into Boerne and visit the Wild West. Enchanted Springs has an exotic animal park and 86-acre working ranch that has herds of Longhorns, horses, buffalo, zebras and a wide variety of other animals. If you want to saddle up your own horse and feel like a cowboy, visit Stricker Trails and take a one-hour, two-hour or, for the little buckaroos, a corral ride on the property.
Fredericksburg—at the Center of Texas Viticulture
Above Boerne, Fredericksburg is known as the center of the Texas wine industry. The city is about 70 miles North of San Antonio and home to 14 wineries. Gillespie County has won both state and national recognition for their excellent quality of wine. Visit a tasting room to sample wines from all over Hill Country or take a tour through the local wineries and see how it ends up in your glass.
Those who prefer their fruit unfermented will enjoy fresh peaches that line the roads that lead to Fredericksburg. Gillespie County provides 40 percent of Texas peaches. If you drive along Highway 290 or Highway 87 from mid-May to the first week of August, you can stop at a stand to get a fresh snack.
For More Information, check out Travel Texas.