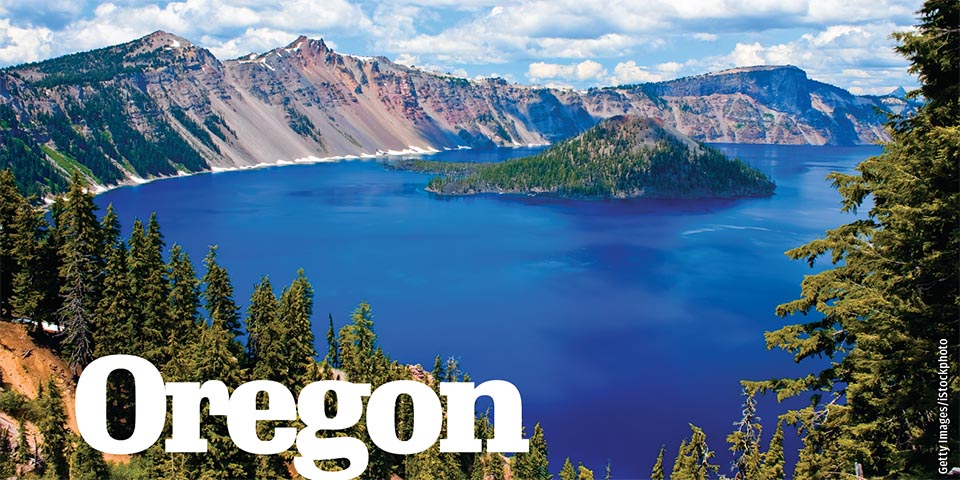 Oregon combines wine tasting, pioneering history and rugged landscapes into a cocktail of adventure. This is where fossil-packed deserts meet raw coastline, where microbreweries serve beer alongside chic wineries.
Coming Up Roses
Portland is ahead of the curve when it comes to hip hangouts, forward-looking art and colorful characters. The locals are known for bringing their unconventional approach to cuisine, which has given birth to a delicious and diverse food scene. Get ready to have your taste buds blown away at artisanal food shops, farm-to-table restaurants and more than 75 craft breweries.
Superlative Salem
The heart of Oregon's identity resides in Salem. Here, you'll discover the Oregon State Capitol, the Hallie Ford Museum of Art and the Elsinore Theatre. In Eugene, catch a glimpse of future track and field stars at the newly renovated Hayward Field, and sip award-winning pinot noir at nearby wineries in the Willamette Valley.
---
Regional Dish
Oregon Marionberry Pie
Marionberry pie is a scrumptious treat you won't find anywhere else. The marionberry is a blackberry hybrid created at Oregon State University in the 1940s. It's a fragile fruit that doesn't ship well, which is why you haven't seen it in other parts of the country. While you're here, load up on this famous dessert and grab a jar of some marionberry jam before you go.
---
Jaw-Dropping Destinations
America's deepest lake may also be its most beautiful body of water. Crater Lake National Park sits within the Cascade Mountains in southern Oregon and plummets 1,949 feet. Follow the trails around the banks to explore old-growth forests and ascend the nearby slopes to get a bird's-eye view of the water. During winter, the best way to experience the frozen landscape is by skiing or snowshoeing along the 31-mile rim.
Indigenous Roots
Long before pioneers traversed the Oregon Trail, Native Americans roamed the lands and subsisted on its resources. Gain insight into this history at Pendleton's Tamástslikt Cultural Institute. Discover artifacts and demonstrations at the Museum at Warm Springs.
Tantalizing on Oregon Trails
Oregon's famous trails lead hikers to beautiful vistas and amazing discoveries. Most famously trudged is the 382-mile Oregon Coast Trail, which weaves through Sahara-like dunes, old-growth forests and the famed Cannon Beach. The Trail of Ten Falls loop hike in Silver Falls State Park takes hikers to several cascading waterfalls, while the trek to the Gold Butte Lookout in the Willamette National Forest ends with 360-degree views of the Cascade Range. If you'd rather pedal past volcanic foothills and alpine lakes, head to Columbia River Gorge and Mount Hood National Forest for miles upon miles of mountain biking trails.
A Wine Lover's Paradise
Looking for a great place to sample Oregon's world-famous  Pinot Noir? Olde Stone Village in McMinnville is the perfect destination for a wine-tasting trip. With more than 250 wineries within 20 miles of town, the question is not "where can I find a tasting room?" but instead — "how do I choose?" Put together an itinerary and sample some vintages. And if you prefer to set out on foot, downtown McMinnville is with one of the loveliest stroll-friendly communities you're likely to find anywhere. It boasts more than a dozen wine-tasting rooms scattered amongst its galleries, gift boutiques, antique shops, pubs and top-quality restaurants.  The cuisine offerings include international fare from Spain, France and Peru and local options from the Bayous of Louisiana to the Coast of Oregon. The Thursday farmers market is one of the best anywhere. Lovers of flying machines will enjoy exploring the Evergreen Aviation & Space Museum in town.
Oregon's Indoor Spaces
While Portland's green spaces frequently pull people outdoors, visitors will also be attracted to the indoor spaces found in the town's many museums. Learn about the state's history with a visit to the Oregon Historical Society's museum. Because of its location along the Pacific Ocean, Oregon's waterways have played a pivotal role in the state's history; learn more at the Oregon Maritime Museum. The Oregon Museum of Science and Industry is a treat, especially for families with children who will enjoy the hands-on exhibits. While not a monument in the proper sense of the word, Portland's biggest bookstore certainly is monumental. Filling up an entire city block, Powell's City of Books offers up a maze of books.
Ride the Rapids
Ready to cast a line for hefty fish? South of Bend, fishing enthusiasts can venture into the Deschutes River for steelhead, or go to East Lake for brown and rainbow trout. Sparks, Hosmer and Davis lakes all cater to fly-fishing enthusiasts. If you're new to the sport, contact a local outfitter to learn all about flies, casting and reeling.
Gold Beach
Looking for a laid-back place to visit on Oregon's Pacific coast? Unspoiled, pet-friendly sand beaches stretch for miles north and south of the town of Gold Beach. The rocky headlands are favorites with photographers, tide pool buffs and clammers. The beaches are seeded with thousands of glass floats from February through April for treasure hunting season in Gold Beach.
Ancient Trees
East of the Oregon coast, in the lush Rogue River-Siskiyou National Forest, hikers can walk under the limbs of 500-year-old Myrtle trees, including one of the world's largest Green Myrtlewood specimens. Crafts made from the wood, so heavy that it will not float, are a popular find in Gold Beach's art galleries and shops.
Ride the Coast
From Gold Beach, the Oregon Coast Highway is one of the most scenic drives in the Pacific Northwest, with the California Redwoods and the Cape Blanco Lighthouse — the westernmost point in Oregon — within an hour's drive north or south. The Patterson Bridge over the Rogue River, with its Art Deco-styled pylons, is another must-stop for photographers.