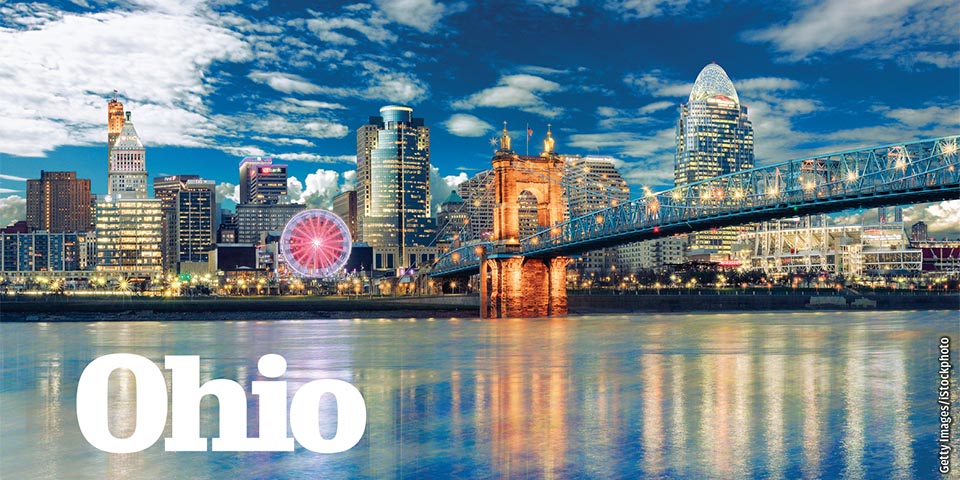 Many consider Ohio to be a microcosm of the United States. Bustling cities, family farms, storied professional sports teams, lush landscapes and even rock 'n' roll have a special place here. Welcome to the "heart of it all."
Midwest Metro Areas
Cleveland is home to the Rock & Roll Hall of Fame, a jaw-dropping display of memorabilia, costumes and instruments from some of music's superstars. If you're a sports nut, cheer on the Indians, Browns and Cavaliers at a home game — these teams boast fantastic histories of heartbreaks and triumphs. Continue your sports safari by touring the Pro Football Hall of Fame in nearby Canton. Learn about league legends like "Papa Bear" Halas, "Broadway Joe" Namath and "Mean Joe" Greene.
Colossal Columbus
As Ohio's biggest city, Columbus packs all the pleasures you'd expect in a major metro area. Short North Arts District, a hip neighborhood overflowing with art venues, markets and eateries. In Cincinnati, feast on local delicacies like Cincinnati chili and goetta, a German-inspired meat and grain sausage. Cincy's sports offerings include football's Bengals and Major League Baseball's Reds, a team that once counted icon Pete Rose as one of its members.
Parks and Pastoral Escapes
Take a hike in Cuyahoga Valley National Park, which straddles the Cuyahoga River. Follow 125 miles of trails, admire the majestic Brandywine Falls or paddle the river's current. Before you go, enjoy a scenic trip on the Cuyahoga Valley Scenic Railroad and keep your eyes peeled for bald eagles and blue herons along the way.
Buckeye Biking
Grab a bike and hop on the Ohio and Erie Canal Towpath Trail, which runs 85 miles south from the Cleveland lakeshore along a historic canal built in the 1800s. Back on the northern shore, you'll find 200 miles of coastline along Lake Erie with lots of walking and bike paths. Take a drive along the Lake Erie Coastal Ohio Trail scenic byway for epic views of Erie. Several state parks and public beaches provide outdoor recreation in this scenic location.
Ohio Angling
Lake Erie is a top pick for chartered fishing expeditions. To the south, about 60 miles east of Cleveland, one of the state's largest lakes, Mosquito Lake, is a favorite for anglers and boaters. For something different, check out Punderson Lake, formed by a glacier that left a deep crater. Its deep, cold waters provide an exceptional trout habitat. Paddlers won't want to miss the Hocking River, known for the stunning scenery of its banks.
---
Regional Dish
Ohio "Buckeye"
Move over Reese's, there's a better peanut butter treat in town. Dubbed the "buckeye," this creamy confection resembles the nut from Ohio's state tree and consists of a peanut butter ball dipped in chocolate. Follow the Ohio Buckeye Candy Trail to sample dozens of these sweet morsels at 37 stops.
---
Midwestern Mountains and Rivers
The rollicking foothills of the Appalachian Mountains and the lush landscapes of Wayne National Forest make southeastern Ohio a popular region for outdoor recreation. Put yourself in the scenery with a hike in Hocking Hills State Park, where you'll find unique sandstone formations, picturesque waterfalls and abundant wildlife.
Underground Railroad Fame
Because the Cincinnati was so close to the border of Kentucky —a slave state before the Civil War — the city became a crucial stop on the Underground Railroad during the 1800s. This nationwide network of safe houses and routes was used to help slaves get to free territory. The city also was home famous abolitionists, including Levi Coffin and John Rankin. Visitors can explore this incredible history in the National Underground Railroad Freedom Center in downtown Cincinnati. The town also is the home to the Mt. Airy Forest, where visitors will find Everybody's Treehouse. The ADA-accessible structure gives explorers a unique perspective of these lush woods.
Ashtabula
Located in northeast Ohio on the shores of Lake Erie, Ashtabula is a hilly region packed with recreation. Get on board a fishing charter for walleye and perch in Lake Erie. Cyclists can hit the Western Reserve Greenway Bike Trail, a 44-mile paved rail-trail that traverses Ashtabula and Trumbull Counties. The trail runs past farms and through wooded areas. During the summer, the thick canopy provides shade for riders. Interpretive signs along the way detail the area's history.
Alum Creek
Just north of Columbus, Alum Creek State Park boasts lots of watery fun. There are five boat ramps around the lake and boats with unlimited horsepower are permitted on the lake. Alum Creek Lake has a jagged shore that provides excellent fishing opportunities. Game fish found in the lake include large mouth and small mouth bass, bluegill, crappie, sunfish, channel catfish, saugeye, walleye and muskellunge.
Animal Attractions
Looking for a unique zoo experience? Go "wild" at the Farm at Walnut Creek, where more than 500 animals from six different continents are on exhibit. Visitors can get up close and personal with giraffes, camels, zebras and kangaroos alongside horses, llamas and deer at this educational farm in the community of Sugarcreek.