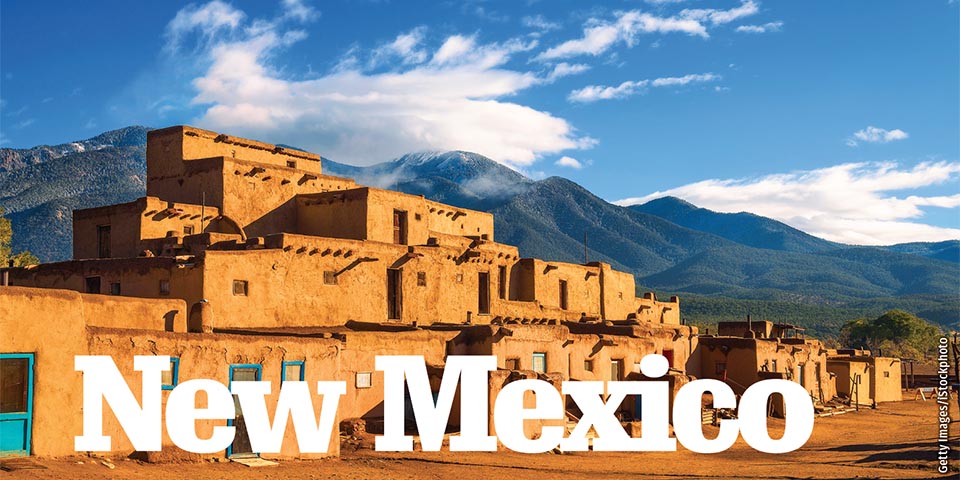 New Mexico enchants with its scenery, food and culture. Visitors fall under a spell when exposed to the exquisite blend of Native American, Spanish and Mexican history found throughout the diverse region.
Superb Cities
With roots stretching back to Spanish colonization, Santa Fe shines as the state's window to the past. Even modern buildings are built in a cohesive adobe style, giving the city a look that aligns with its heritage. New and old intermingle seamlessly. Traditional Native American arts markets stand beside modern galleries. Street vendors sell tamales on sidewalks beside fine restaurants.
---
Regional Dish
New Mexico Green Chiles
Picked early to keep their color, Hatch green chiles can be found on just about every menu in New Mexico. At home slathered on enchiladas, thickening a spicy stew or topping off a breakfast skillet, it's no wonder this versatile veggie is a fan favorite. Of course, if it's even more variety you're after, try ordering yours "Christmas"-style and you'll get both red and green chiles adorning your plate. It's the gift that keeps on giving with each delicious bite.
---
Monumental Sands
Only in New Mexico do white sands stretch on as far as the eye can see. Head to White Sands National Monument, where a sea of rolling dunes fills a 275-square-mile patch of the Tularosa Basin. Whether you take a driving tour, go for a hike or hit the sands on a sled, the natural beauty is astounding.
Breaking Good in Albuquerque
As high as Denver and surrounded by beauty, Albuquerque is the state's biggest city and filled with iconic sites. See spots where the hit TV show, "Breaking Bad," was filmed and take a dive into Americana on the Route 66 corridor. Visit the Old Town area for a step into the past or go into the modern museums. Take the tram up to Sandia Peak for an amazing 11,000-square-mile panoramic view.
Big as an Elephant
Discover where New Mexicans go for a break from the dry desert. For recreation on the water, Elephant Butte Lake and Navajo Lake state parks are popular choices. Paddlers seeking serene waters and natural beauty will find both at Abiquiu Lake or the Gila River, each one offering unparalleled landscapes.