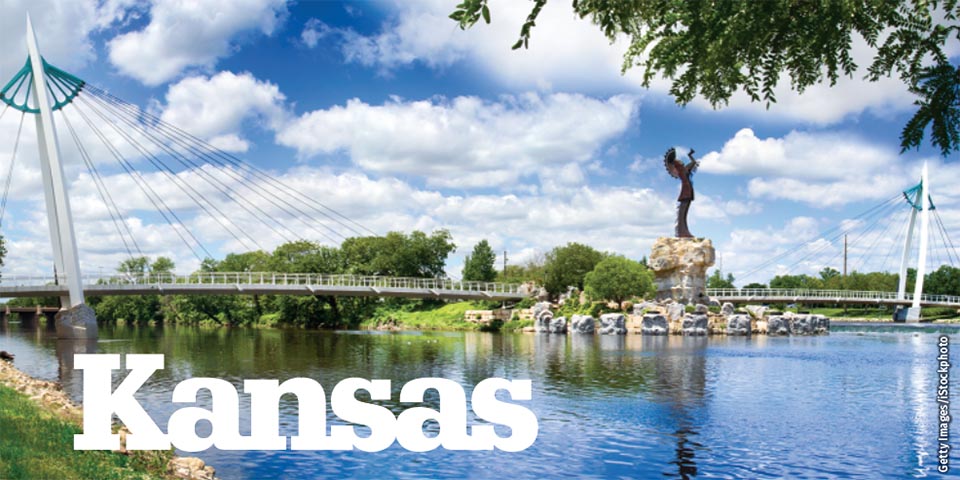 The Sunflower State encompasses wide-open prairies, welcoming small cities and more than a few jaw-dropping wonders. Kansas is a quintessential slice of America's heartland, connecting Midwest to true West.
Cowtown Company
With deep roots in the cattle business stretching back to the mid-1800s, Wichita gradually grew to become the state's largest city. Wichita's first visitors stopped at this trading post as they drove cattle along the Chisholm Trail. Today's visitors will find the town packed with historical museums, family-friendly attractions and a thriving recreation area along the riverbanks. Head about 170 miles west and transport back to Kansas' Old West days at Dodge City. Once a stop on the Santa Fe Trail, this town retains its Western charm.
---
Regional Dish
Kansas Barbecue Sandwich
From brisket to ribs, Kansans know their barbecue. Many will tell you that nothing beats the famous "Z-Man" sandwich at Joe's Kansas City. Often touted as the best BBQ sandwich in the country, it's made with hefty layers of brisket and topped with smoked provolone, onion rings and a homemade sauce. Its legendary status compels locals to wait 45 minutes in line for a taste.
---
Fishing and Floating
Scott State Fishing Lake will dazzle you with its beauty and challenge your angling skills with robust catches. Located in the wooded canyons of the western prairie, this lake offers cold, spring-fed waters, teeming with bluegill and saugeye. Paddlers will want to hit the waters of the Kansas River Trail, which connects several spots along this 173-mile waterway.
Prairie Pastimes
A vast stretch of prairie once covered 170 million acres across the continent. But as settlers began to work the soil, much of the prairies were turned into farmland, and towns and roads took over in between. But not all of it was occupied by humans. In Kansas, you can tour the remaining 11,000 acres of untouched grasslands at Tallgrass Prairie National Preserve. Guided bus tours help visitors learn about this habitat. While there, hop on the Flint Hills Scenic Byway to tour beautiful landscapes.