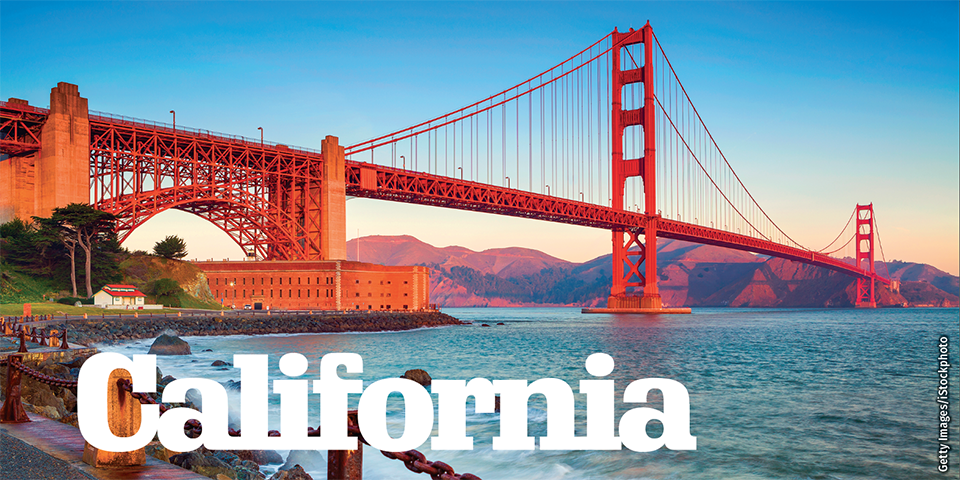 In the Golden State, dreams often get confused with reality. From meeting Mickey and Minnie in Disneyland to sipping vintages in Napa, to motoring the coastline of Big Sur, the Golden State grants all your wishes.
A Tale of Two Valleys
In the space of a day, you can tour proving grounds of the latest high-tech gadgets in Silicon Valley and then sip world-class vintages in Napa Valley. In San Francisco, dig into fresh seafood along Fisherman's Wharf, admire the iconic Golden Gate Bridge and take a drive down Lombard Street, the most crooked road in the world. You can also take a ferry to Alcatraz Island to see the infamous prison that once housed America's most notorious felons.
Blue Water on the Border
Straddling Northern California's eastern border with Nevada, Lake Tahoe shimmers with topaz waters that will make you want to bust out the canoes and sailboats. If you're new to water sports, enroll at the High Sierra Waterski School to learn the ins and outs of its namesake pastime along with jet skiing, kayaking or paddleboarding. The lake also supports large populations of mackinaw, kokanee salmon and brown and rainbow trout. You can reel in these prized catches from the Truckee River on the west shore, Boca and Stampede reservoirs in the north or Taylor Creek in the south.
Disney Dreams
Disneyland immerses visitors deep in the fantasy worlds of some of the most creative minds in the entertainment business. The Happiest Place on Earth is located in Anaheim and promises a magical day filled with rides, shows and character experiences. Planning a romantic getaway? Whisk your partner to Sonoma or Napa Valley and spend your time touring scenic vineyards.
---
Regional Dish
California Avocado Toast
This West Coast trend has become a mainstay of menus across California and it's no wonder why. Simple yet versatile, avocado toast can be easily mixed and matched to suit your palate. Top it with a fried egg, drizzle it with olive oil, or even add some spice with a few slices of pickled radish, and you've got a version all your own. Nothing says summertime in the Golden State like this homegrown cult classic.
---
LA LA Land
Beaches blend with pop culture in the fabulous city of Los Angeles. Visit iconic attractions like the TCL Chinese Theatre, Walk of Fame and Grammy Museum. When you're done being star-struck, head to Santa Monica pier for old-fashioned amusements or Venice Beach to watch the region's most eccentric characters stroll the boardwalk.
Awesome Archipelago
Forming a chain off the coast of Ventura County, Channel Islands National Park is located just off the coast of Ventura County and harbors wildlife found nowhere else in the world, resulting in the nickname, "Galapagos of North America." This ecological wonderland is filled with rare plants and an abundance of wildlife. Paddle around the five islands and you've got a good chance of encountering whales, seals and dolphins.
Walk Among Giants
Northern California's nutritious soil and damp climate create conditions that are perfect for some of the largest living organisms in the world. Witness these treasures at Redwood National and State Parks. Declared a UNESCO World Heritage Site in 1980, this protected area houses the tallest trees on the planet. Hike the Trillium Falls Trail or Prairie Creek Trail to gawk at ancient redwoods or drive down the Newton B. Drury Scenic Parkway to enjoy the peaceful landscape.
Valley of the Dazzled
Enter a world of stark badlands, mountainous sand dunes and endless salt flats. Located along California's eastern border with Nevada, Death Valley National Park preserves desert terrain that ranges from creamy dunes to jagged peaks. These otherworldly landscapes have been used as the backdrop for countless movies including Star Wars and Blade. Visit during spring to see "super blooms" of colorful desert flowers.